US Amateur Q at Monroe Final Results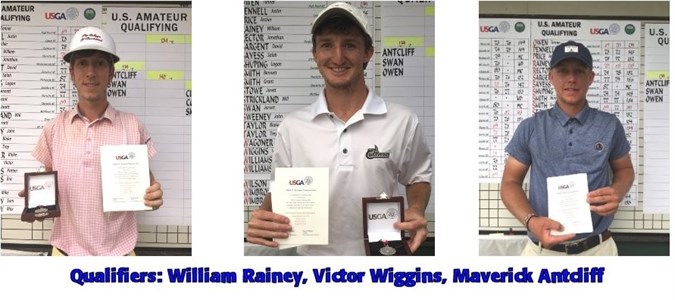 MONROE, NC – Final round results from U.S. Amateur Championship sectional qualifying hosted by Monroe Country Club in Monroe, NC on Thursday, July 16, 2015 (6692 yards, par 36-36—72, Rating: 72.97132).
Two North Carolinians earned medalist honors at this qualifying site. Victor Wiggins from Gastonia, NC and William Rainey from Charlotte, NC both shot two-day totals of six-under par 138. The third qualifying position was earned on the first playoff hole by Maverick Antcliff from Augusta, GA, who shot a two-day total of five-under par 139. Jarrett Swan from Mt. Pleasant, SC and Tanner Owen from High Point, NC were the first and second alternates respectively.
The three qualifiers advanced to the United States Amateur Championship at Olympia Fields Country Club in Olympia Fields, IL from August 17-23, 2015.
Hole by hole scoring can be viewed here: https://www.ghintpp.com/carolinasgolf/TPPOnlineScoring/ResultsStroke.aspx?id=1218
Final Results
Place

Competitor

Score

Qualifiers

T1

William Rainey, Charlotte, N.C.

70-68--138 (-6)

T1

Victor Wiggins, Gastonia, N.C.

70-68--138 (-6)

3

Maverick Antcliff, Augusta, Ga.

71-68--139 (-5)

Alternates

4

Jarrett Swan, Mt. Pleasant, S.C.

70-69--139 (-5) 1st Alternate

5

Tanner Owen, High Point, N.C.

69-70--139 (-5) 2nd Alternate

Failed to Qualify

T6

Grant Smith, Charlotte, N.C.

69-72--141 (-3)

T6

Christian Cichan, Charlotte, N.C.

74-67--141 (-3)

T6

Chad Cox, Charlotte, N.C.

70-71--141 (-3)

T9

Walker Cress, Concord, N.C.

72-70--142 (-2)

T9

Jake Marriott, Naples, Fla.

69-73--142 (-2)

T11

Joseph Davis, Trabuco Canyon, Calif.

74-69--143 (-1)

T11

Conner Lewis, Davidson, N.C.

76-67--143 (-1)

T11

Louis Muir, Mount Pleasant, S.C.

71-72--143 (-1)

T11

William Gordon, Davidson, N.C.

72-71--143 (-1)

T11

Josh Fickes, Beaufort, S.C.

72-71--143 (-1)

T16

Barry Dyche, Charlotte, N.C.

70-74--144 (Even)

T16

Sam Wimbrow, Concord, N.C.

71-73--144 (Even)

T16

A.t. Cashwell, Concord, N.C.

68-76--144 (Even)

T16

Taylor Coalson, Dobson, N.C.

74-70--144 (Even)

T16

Joseph Cansler, Clemmons, N.C.

72-72--144 (Even)

T21

Clay Brown, Davidson, N.C.

73-72--145 (+1)

T21

Hardin Councill, High Point, N.C.

72-73--145 (+1)

T21

Dwight Cauthen, Columbia, S.C.

70-75--145 (+1)

T21

Justin Pennell, Lenoir, N.C.

73-72--145 (+1)

T21

Blake Taylor, Atkinson, N.C.

68-77--145 (+1)

T21

Josh Nichols, Kernersville, N.C.

72-73--145 (+1)

T27

Eric Edwards, Salisbury, N.C.

75-71--146 (+2)

T27

Mike Gentry, Indian Trail, N.C.

74-72--146 (+2)

T27

Sean O'Connor, Indian Trail, N.C.

69-77--146 (+2)

T27

Hunter McCombs, Morganton, N.C.

71-75--146 (+2)

T31

Trey Taylor, Gaffney, S.C.

72-75--147 (+3)

T31

Michael Freeman, Asheville, N.C.

72-75--147 (+3)

T31

Drake Cassidy, Hartsville, S.C.

71-76--147 (+3)

T31

David Kostyal ii, Wilmington, N.C.

71-76--147 (+3)

T35

Logan Shuping, Salisbury, N.C.

74-74--148 (+4)

T35

Corey Iacofano, Charlotte, N.C.

73-75--148 (+4)

T37

Shaw James, Marvin, N.C.

73-76--149 (+5)

T37

Nix Duncan, Augusta, Ga.

73-76--149 (+5)

T37

Ian Boat, Matthews, N.C.

76-73--149 (+5)

T37

Chris Jones, Charlotte, N.C.

74-75--149 (+5)

T37

David Donovan iv, Hampstead, N.C.

75-74--149 (+5)

T42

Jake McGlone, Charlotte, N.C.

77-73--150 (+6)

T42

Max Wimbrow, Concord, N.C.

76-74--150 (+6)

T44

William Claytor, Shelby, N.C.

73-78--151 (+7)

T44

Robert Mackintosh, Burlington, N.C.

73-78--151 (+7)

T46

Jarett Stowe, Matthews, N.C.

75-77--152 (+8)

T46

Jonathan Rector, Hendersonville, N.C.

74-78--152 (+8)

T46

Archer Price, Gastonia, N.C.

75-77--152 (+8)

T46

Blake Wagoner, Cornelius, N.C.

73-79--152 (+8)

T46

Dong-Jun Kim, Waxhaw, N.C.

76-76--152 (+8)

T51

Harrison Frye, Gastonia, N.C.

75-78--153 (+9)

T51

Elki Kow, Boiling Springs, N.C.

76-77--153 (+9)

T53

Will Strickland, Greer, S.C.

73-81--154 (+10)

T53

Bennett Smith, Charlotte, N.C.

77-77--154 (+10)

55

Kell Graham, Matthews, N.C.

76-79--155 (+11)

T56

David Sargent, Cornelius, N.C.

77-79--156 (+12)

T56

Matt Cooper, Indian Trail, N.C.

76-80--156 (+12)

T56

Alex Burris, Greensboro, N.C.

75-81--156 (+12)

T56

Aman Gupta, Concord, N.C.

73-83--156 (+12)

60

Joshua Nichols, Charlotte, N.C.

76-82--158 (+14)

61

John Sweeney, Florence, S.C.

76-86--162 (+18)

62

Jake Kennedy, Mt. Ulla, N.C.

76-WD--WD (WD)

Did Not Qualify for Final Round

T63

John Freeman, Asheville, N.C.

78 (+6)

T63

Thomas Garbee, Asheville, N.C.

78 (+6)

T65

Thomas Eubanks, Charlotte, N.C.

79 (+7)

T65

Drew Jurs, Gastonia, N.C.

79 (+7)

T67

Lee Dowdy, Belmont, N.C.

80 (+8)

T67

Eric Williams, Greensboro, N.C.

80 (+8)

T67

Mike Wilson, Summerville, S.C.

80 (+8)

T67

Patrick Langdon, Charlotte, N.C.

80 (+8)

71

Hendrik Hanegraaff, Waxhaw, N.C.

81 (+9)

72

Daniel Heisig, Charlotte, N.C.

82 (+10)

73

Colin Kent, Winston Salem, N.C.

83 (+11)

74

Bryan Covar, Lexington, S.C.

84 (+12)

75

Salah Sayess, Statesville, N.C.

87 (+15)

T76

Judson Johnson Holliday, Aynor, S.C.

WD (WD)

T76

Rich Morrison, Marana, Ariz.

WD (WD)

T76

Chadwick Bass, Matthews, N.C.

WD (WD)

T76

Brad Dalke, Hobart, Okla.

WD (WD)

T76

Corey Gallagher, Roanoke, Va.

WD (WD)

T76

Shawn Heinchon, Greenville, N.C.

WD (WD)

T76

Justin Lang, Winston-Salem, N.C.

WD (WD)

T76

Patten Williams, Davidson, N.C.

WD (WD)