US Amateur Q at Benvenue Final Results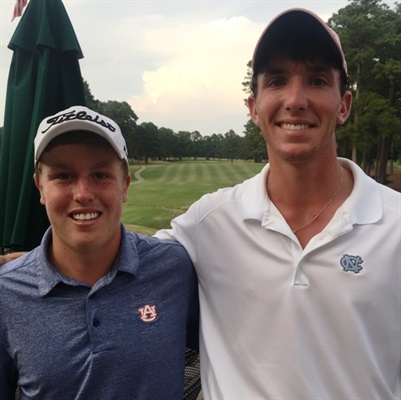 ROCKY MOUNT, NC – Final results from U.S. Amateur Championship sectional qualifying hosted by Benvenue Country Club in Rocky Mount, NC on Monday, July 20, 2015 (6555 yards, par 36-36—72, Rating: 71.8/137).
Two qualifying spots and two alternate positions are available at this qualifying site.
Reigning three-time Carolinas Amateur and current North Carolina Amateur Champion Carter Jenkins from Raleigh, NC shot 10-under par 134 over 36 holes to earn medalist honors. The University of North Carolina golfer was joined by Auburn University golfer, and 2011 Carolinas Junior Boys Champion Will Long from Gastonia, NC as qualifiers for the 115th US Amateur Championship. University of Alabama golfer Jonathan Hardee from Greer, SC and 2010 Carolinas Amateur Champion Logan Harrell from Huntersville, NC were 1st and 2nd Alternates respectively.
The two qualifiers advanced to the United States Amateur Championship at Olympia Fields Country Club in Olympia Fields, IL from August 17-23, 2015.
Hole by hole scoring can be viewed here: https://www.ghintpp.com/carolinasgolf/TPPOnlineScoring/ResultsStroke.aspx?id=1216
Final Results
| | | | |
| --- | --- | --- | --- |
| Place | | Competitor | Score |
| | | Qualifiers | |
| 1 | | Carter Jenkins, Raleigh, N.C. | 65-69--134 (-10) |
| 2 | | Will Long, Gastonia, N.C. | 66-70--136 (-8) |
| | | Alternates | |
| 3 | | Jonathan Hardee, Greer, S.C. | 71-67--138 (-6) 1st Alternate |
| 4 | | Logan Harrell, Huntersville, N.C. | 70-69--139 (-5) 2nd Alternate |
| | | Failed to Qualify | |
| T5 | | Walker Simas, Charlotte, N.C. | 72-68--140 (-4) |
| T5 | | Thomas Eldridge, Raleigh, N.C. | 71-69--140 (-4) |
| T5 | | Kevin O'Connell, Raleigh, N.C. | 68-72--140 (-4) |
| T5 | | Seth Gandy, Durham, N.C. | 72-68--140 (-4) |
| T5 | | Harley Abrams, Boca Raton, Fla. | 72-68--140 (-4) |
| T10 | | Blake McShea, Zebulon, N.C. | 70-71--141 (-3) |
| T10 | | Thomas Walsh, High Point, N.C. | 73-68--141 (-3) |
| T12 | | Jake Mondy, Blacksburg, Va. | 71-71--142 (-2) |
| T12 | | Harrison Rhoades, Raleigh, N.C. | 70-72--142 (-2) |
| 14 | | Austin Morrison, Charlotte, N.C. | 71-72--143 (-1) |
| 15 | | Jack Sides, New Bern, N.C. | 72-73--145 (+1) |
| T16 | | John White, Charlotte, N.C. | 73-73--146 (+2) |
| T16 | | Chad Day, Raleigh, N.C. | 73-73--146 (+2) |
| T16 | | Wesley Ballance, Rocky Mount, N.C. | 73-73--146 (+2) |
| T16 | | Patrick Cover, Huntersville, N.C. | 75-71--146 (+2) |
| T20 | | Jackson Spires, Fayetteville, N.C. | 77-70--147 (+3) |
| T20 | | William Anderson, Atlanta, Ga. | 72-75--147 (+3) |
| T22 | | Bradley Kauffman, Greer, S.C. | 72-76--148 (+4) |
| T22 | | Jeremy Nevius, Mountainside, N.J. | 75-73--148 (+4) |
| T22 | | Keegan Hoff, Charlotte, N.C. | 74-74--148 (+4) |
| T22 | | J.d. McNeill, Raleigh, N.C. | 74-74--148 (+4) |
| T22 | | Zane Lewis, Apex, N.C. | 77-71--148 (+4) |
| T22 | | Nicholas Adams, Goldsboro, N.C. | 72-76--148 (+4) |
| T22 | | Press McPhaul, Greenville, N.C. | 75-73--148 (+4) |
| T29 | | Joshua Chandler, Washington, N.C. | 72-77--149 (+5) |
| T29 | | Luke Haithcock, Burlington, N.C. | 76-73--149 (+5) |
| T29 | | Jay Roberts, Davidson, N.C. | 69-80--149 (+5) |
| T32 | | Drew Johnson, Oak Ridge, N.C. | 76-74--150 (+6) |
| T32 | | Mitchell Robinette, Charlotte, N.C. | 77-73--150 (+6) |
| T32 | | Cole Jefferys, Macclesfield, N.C. | 74-76--150 (+6) |
| 35 | | Buck Williams, New Orleans, La. | 77-74--151 (+7) |
| T36 | | Ross Robison, Wilmington, N.C. | 77-75--152 (+8) |
| T36 | | Dylan Lukes, Chapel Hill, N.C. | 74-78--152 (+8) |
| T36 | | Kevin Womack, Burlington, N.C. | 76-76--152 (+8) |
| T36 | | Grant Houser, Holly Springs, N.C. | 74-78--152 (+8) |
| T40 | | Jacob Lehman, Guelph, ON | 80-73--153 (+9) |
| T40 | | Nathan Young, Oak Ridge, N.C. | 77-76--153 (+9) |
| T40 | | Jonathan Pilkenton, Lenoir, N.C. | 80-73--153 (+9) |
| T43 | | Zachary Freeman, Angier, N.C. | 75-81--156 (+12) |
| T43 | | John Grimes, Pinehurst, N.C. | 78-78--156 (+12) |
| T45 | | Fred Choi, Hong Kong | 79-78--157 (+13) |
| T45 | | Alex Taylor, Gastonia, N.C. | 73-84--157 (+13) |
| 47 | | Jacob Haithcock, Burlington, N.C. | 81-77--158 (+14) |
| 48 | | David Cook, Cedar Point, N.C. | 79-80--159 (+15) |
| T49 | | Nick Cromer, Archdale, N.C. | 81-79--160 (+16) |
| T49 | | Wes Simmons, Kinston, N.C. | 84-76--160 (+16) |
| 51 | | Kurtis Lucas, Hubert, N.C. | 81-80--161 (+17) |
| 52 | | Chris Tanner, Kinston, N.C. | 79-83--162 (+18) |
| 53 | | Harrison Joyner, Milton, Ga. | 81-82--163 (+19) |
| 54 | | Kyle Norville, Tarboro, N.C. | 85-81--166 (+22) |
| T55 | | Shawn Will, Raleigh, N.C. | 81-WD--WD (WD) |
| T55 | | Riley Davis, Kinston, N.C. | 71-WD--WD (WD) |
| T55 | | Anthony Perrino, Mooresville, N.C. | 83-WD--WD (WD) |
| T55 | | William Herring, Lillington, N.C. | 79-WD--WD (WD) |
| T55 | | Michael Balzer, Bluffton, S.C. | 82-WD--WD (WD) |
| T55 | | Alex Cauble, Belmont, N.C. | 81-WD--WD (WD) |
| T55 | | Landon Isaacs, Gastonia, N.C. | 78-WD--WD (WD) |
| T55 | | Micah Alexander, Durham, N.C. | 85-WD--WD (WD) |
| T55 | | Kenny Park, Cumming, Ga. | 76-WD--WD (WD) |
| T55 | | Corey Stamper, Waynesville, N.C. | 82-WD--WD (WD) |
| T55 | | Davis Morrison, Charlotte, N.C. | 73-WD--WD (WD) |
| T55 | | Anthony Alex, Ponte Vedra Beach, Fla. | 79-WD--WD (WD) |
| T67 | | Zach Barrier, Greensboro, N.C. | WD (WD) |
| T67 | | Francis McCahill, Fayetteville, N.C. | WD (WD) |
| T67 | | Shawn O'Donnell, Holly Springs, N.C. | WD (WD) |
| T67 | | Brent Cooper, New Bern, N.C. | WD (WD) |
| T67 | | Evan Smith, Bluefield, W.Va. | WD (WD) |
| T67 | | Patrick Morris, Hampstead, N.C. | WD (WD) |
| T67 | | Philip Oweida, Charlotte, N.C. | WD (WD) |
| T67 | | Pat Thompson, Asheville, N.C. | WD (WD) |
| T67 | | Matthew Canavan, Raleigh, N.C. | WD (WD) |