9 Advance to U.S. Women's Am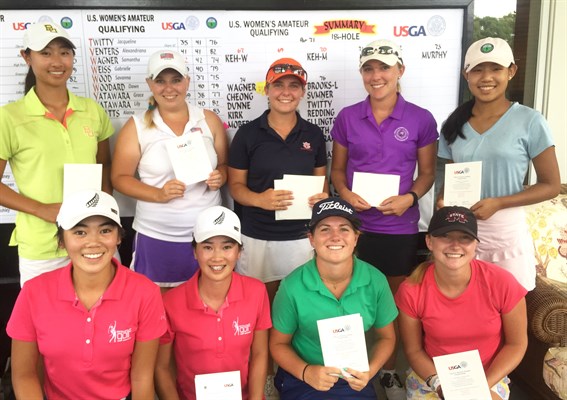 Event: U.S. Women's Amateur Sectional Qualifying
Host Site: Sapona Ridge Country Club, Lexington, NC
Playing Dates: July 21, 2015
Complete Results: https://www.ghintpp.com/carolinasgolf/TPPOnlineScoring/ResultsStroke.aspx?ID=1222
Lexington, N.C. – Final results of the U.S. Women's Amateur sectional qualifier hosted by Sapona Ridge Country Club on Tuesday, July 21, 2015. Par 35-36—71 6393 yards.
Nine ladies punched their ticket to the U.S. Women's Amateur Championship that will be held at Portland Golf Club in Portland, OR on August 10-16, 2015.
Kelli Murphy of Elgin, S.C., Moon Cheong of Charlotte, N.C. and Katie Kirk of Davidson, N.C. were the three Carolinians that earned their way for a trip out West. This is Kirk's second straight year qualifying for the amateur.
Savanna Wood of Boone, N.C. and Mary Katherine Donovan of Hampstead, N.C. were first and second alternates after a three hole playoff among nine people all shooting 75.
This qualifier was conducted by the Carolinas Golf Association on behalf of the United States Golf Association.
Final Results
Qualifiers
Place

Competitor

Score

1

Wenyung Keh, New Zealand

33-34--67 (-4)

2

Munchin Keh, New Zealand

35-35--70 (-1)

3

Dylan Kim, Plano, Texas

35-37--72 (+1)

4

Kelli Murphy, Elgin, S.C.

36-37--73 (+2)

T5

Katie Kirk, Davidson, N.C.

36-38--74 (+3)

T5

Samantha Wagner, Windermere, Fla.

32-42--74 (+3)

T5

Moon Cheong, Charlotte, N.C.

36-38--74 (+3)

T5

Brigitte Dunne, Camarillo, Calif.

36-38--74 (+3)

T5

Elsa Moberly, Science Hill, Ky.

35-39--74 (+3)
Alternates
| | | | | |
| --- | --- | --- | --- | --- |
| 1st | | Savanna Wood, Boone, N.C. | | 38-37--75 (+4) |

| | |
| --- | --- |
| 2nd Mary Katherine Donovan, Hampstead, N.C. | 38-37--75 (+4) |
| | |
Complete Results
Place

Competitor

Score

1

Wenyung Keh, New Zealand

33-34--67 (-4)

2

Munchin Keh, New Zealand

35-35--70 (-1)

3

Dylan Kim, Plano, Texas

35-37--72 (+1)

4

Kelli Murphy, Elgin, S.C.

36-37--73 (+2)

T5

Katie Kirk, Davidson, N.C.

36-38--74 (+3)

T5

Samantha Wagner, Windermere, Fla.

32-42--74 (+3)

T5

Moon Cheong, Charlotte, N.C.

36-38--74 (+3)

T5

Brigitte Dunne, Camarillo, Calif.

36-38--74 (+3)

T5

Elsa Moberly, Science Hill, Ky.

35-39--74 (+3)

T10

Sarah Bae, Pinehurst, N.C.

36-39--75 (+4)

T10

Sydney Legacy, Lexington, S.C.

37-38--75 (+4)

T10

Lauren Stephenson, Lexington, S.C.

36-39--75 (+4)

T10

Kayla Sciupider, Etowah, N.C.

35-40--75 (+4)

T10

Mary Katherine Donovan, Hampstead, N.C.

38-37--75 (+4)

T10

Savanna Wood, Boone, N.C.

38-37--75 (+4)

T10

Julianne Alvarez, New Zealand

36-39--75 (+4)

T10

Paphangkorn Tavatanakit, Thailand

38-37--75 (+4)

T10

Giovana Maymon, Mexico

37-38--75 (+4)

T10

Danielle Fuss, Rochester, N.Y.

37-38--75 (+4)

T20

Anna Redding, Concord, N.C.

38-38--76 (+5)

T20

Sarah Bertram, Concord, N.C.

36-40--76 (+5)

T20

Alexis Kershaw, Winston-Salem, N.C.

35-41--76 (+5)

T20

Reona Hirai, Summerville, S.C.

39-37--76 (+5)

T20

Jacqueline Twitty, Chapin, S.C.

35-41--76 (+5)

T20

Caroline Ellington, New Bern, N.C.

38-38--76 (+5)

T20

Kathleen Sumner, Charleston, S.C.

36-40--76 (+5)

T20

Lisbeth Brooks, Waunakee, Wis.

37-39--76 (+5)

T20

Riley Smyth, Cary, N.C.

37-39--76 (+5)

T20

Ivon Reijers, Spain

35-41--76 (+5)

T30

Grace Yatawara, Salisbury, N.C.

39-38--77 (+6)

T30

Katie Mitchell, Fernandina Beach, Fla.

40-37--77 (+6)

T30

Sierra Sims, Austin, Texas

38-39--77 (+6)

T30

Taylor Dodson, Aiken, S.C.

37-40--77 (+6)

T30

Teleri Hughes, Knoxville, Tenn.

35-42--77 (+6)

T30

Sarah Schmelzel, Phoenix, Ariz.

37-40--77 (+6)

T36

Catherine Ashworth, Fuquay-Varina, N.C.

40-38--78 (+7)

T36

Emily Brooks, Chapel Hill, N.C.

39-39--78 (+7)

T36

Morgan Laird, Waxhaw, N.C.

35-43--78 (+7)

T36

Nicole Autrique, Mexico

38-40--78 (+7)

T40

Bethany Galloway, Charlotte, N.C.

40-39--79 (+8)

T40

Gabrielle Weiss, Southern Pines, N.C.

39-40--79 (+8)

T40

Louise Oxner, Greenville, S.C.

40-39--79 (+8)

T40

Dawn Woodard, Greer, S.C.

39-40--79 (+8)

T40

Mary Ellen Shuman, Saint Simons Island, Ga.

37-42--79 (+8)

T40

Sydney Snodgrass, Harrisville, W.Va.

36-43--79 (+8)

T40

Mary Chandler Bryan, Chapin, S.C.

41-38--79 (+8)

T40

Kelsey Badmaev, Columbia, S.C.

38-41--79 (+8)

T40

Jensen Castle, West Columbia, S.C.

40-39--79 (+8)

T40

Maria Lira, Mexico

36-43--79 (+8)

T40

Elsa Maria Diaz, San Antonio, Texas

39-40--79 (+8)

T51

Cecily Overbey, High Point, N.C.

36-44--80 (+9)

T51

Madison Glennie, Clearwater, Fla.

39-41--80 (+9)

T53

Carley Cox, China Grove, N.C.

41-40--81 (+10)

T53

Sammi Lee, Winter Park, Fla.

40-41--81 (+10)

T53

Lela Oakley, Cheraw, S.C.

39-42--81 (+10)

T53

Juliana Sebastian, Columbia, S.C.

39-42--81 (+10)

T53

Rika Park, Japan

40-41--81 (+10)

T58

Lily Yatawara, Salisbury, N.C.

42-40--82 (+11)

T58

Holly McCann, Raleigh, N.C.

42-40--82 (+11)

T58

Sarah Pabst, Niceville, Fla.

41-41--82 (+11)

T58

Kelly Okun, Naples, Fla.

39-43--82 (+11)

T58

Alexandriana Venters, Apex, N.C.

41-41--82 (+11)

T58

Brenda Gonzalez, Mexico

40-42--82 (+11)

T64

Hannah Craver, Winston-Salem, N.C.

41-42--83 (+12)

T64

Alaina Yeatts, Durham, N.C.

43-40--83 (+12)

T64

Page Morehead, Spartanburg, S.C.

41-42--83 (+12)

T64

Ashley Thompson, Clyde, N.C.

37-46--83 (+12)

T64

Allyson Dunn, Kingsport, Tenn.

41-42--83 (+12)

T64

Evelyn Dole, Raleigh, N.C.

42-41--83 (+12)

T64

Annetaylor Hough, Spartanburg, S.C.

41-42--83 (+12)

T64

Taylor Demby, Chesterfield, S.C.

41-42--83 (+12)

T72

Kendall Dobbins, Summerfield, N.C.

39-45--84 (+13)

T72

Madison Moosa, Charlotte, N.C.

42-42--84 (+13)

T72

Mariah Hopkins, Danville, Va.

43-41--84 (+13)

75

Savannah Hallman, Mt. Pleasant, S.C.

44-41--85 (+14)

76

Rachel Jones, Asheboro, N.C.

46-41--87 (+16)

77

Katie Rose Higgins, Lewisville, N.C.

42-46--88 (+17)

78

Maddi Macclurg, Cary, N.C.

41-48--89 (+18)

79

Alei Mitchell, Wilmington, N.C.

44-48--92 (+21)

80

Megan Burnham, Gastonia, N.C.

45-49--94 (+23)

81

Alexis Jarrell, Davidson, N.C.

46-52--98 (+27)

T82

Nicole Chin, Irmo, S.C.

WD-WD--WD (WD)

T82

Alexis Belton, Fort Worth, Texas

WD-WD--WD (WD)