U.S. Mid-Amateur Q Colonial Results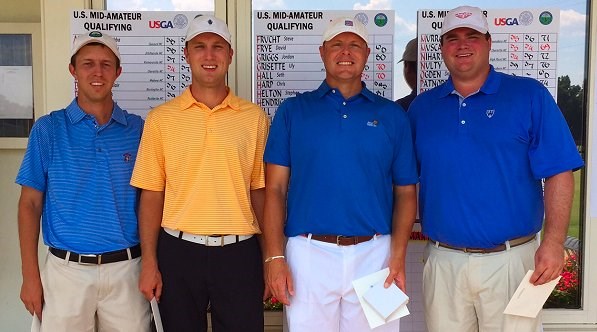 Medalists (L-R): Joe Kastelic, Justin Tereshko, Chris Cassetta, Michael Muscatell
THOMASVILLE, NC – Final results from U.S. Mid-Amateur Championship sectional qualifying hosted by Colonial Country Club in Thomasville, NC on Tuesday, September 1, 2015 (6702 yards, par 36-35—71, Rating: 71.8/125).
Four qualifying spots and two alternate positions were available at this qualifying site.
Michael Muscatell of Charlotte, NC, Joe Kastelic of Hickory, NC, Justin Tereshko of Greensboro, NC and Chris Cassetta of Winston-Salem, NC each carded a two-under 69 to earn their spot at the U.S. Mid-Amateur Championship.
Uly Grisette of Winston-Salem, NC (1st alternate) and Justin Pennell of Lenoir, NC (2nd alternate) claimed the two alternate positions after a six hole playoff.
The four qualifiers advanced to the United States Mid-Amateur Championship at Johns Island Club in Vero Beach, FL from October 3-8, 2015.
Hole-by-hole scoring can be viewed here: https://www.ghintpp.com/carolinasgolf/TPPOnlineScoring/Default.aspx?id=1217
Final Scores
| | | |
| --- | --- | --- |
| Place | Competitor | Score |
| | Qualifiers | |
| T1 | Michael Muscatell, Charlotte, N.C. | 35-34--69 (-2) |
| T1 | Joe Kastelic, Hickory, N.C. | 35-34--69 (-2) |
| T1 | Chris Cassetta, Winston-Salem, N.C. | 35-34--69 (-2) |
| T1 | Justin Tereshko, Greensboro, N.C. | 33-36--69 (-2) |
| | Alternates | |
| T5-1st Alt | Uly Grisette, Winston Salem, N.C. | 35-35--70 (-1) |
| T5-2nd Alt | Justin Pennell, Lenoir, N.C. | 36-34--70 (-1) |
| | Failed to Qualify | |
| T5 | Seth Hall, Greensboro, N.C. | 37-33--70 (-1) |
| T5 | Tommy Miller, Boone, N.C. | 36-34--70 (-1) |
| T9 | Ron Kirkpatrick, Charlotte, N.C. | 35-36--71 (Even) |
| T9 | Michael Murray, Greensboro, N.C. | 35-36--71 (Even) |
| T9 | Kevin Womack, Burlington, N.C. | 36-35--71 (Even) |
| T9 | Blair Bowland, Burlington, N.C. | 36-35--71 (Even) |
| T9 | Korky Kemp, Greensboro, N.C. | 36-35--71 (Even) |
| T9 | Brian Westveer, Charlotte, N.C. | 33-38--71 (Even) |
| T9 | Jay Roberts, Davidson, N.C. | 34-37--71 (Even) |
| T9 | Daniel Hendrickson, Charlotte, N.C. | 36-35--71 (Even) |
| T9 | Brett Boner, Charlotte, N.C. | 34-37--71 (Even) |
| T9 | Paul Tucker, Waxhaw, N.C. | 37-34--71 (Even) |
| T9 | Ben Pinkleton, Brown Summit, N.C. | 38-33--71 (Even) |
| T9 | Tj Wagner, Charlotte, N.C. | 38-33--71 (Even) |
| T9 | Buck Brittain, Tazewell, Va. | 37-34--71 (Even) |
| T22 | John Eades, Charlotte, N.C. | 36-36--72 (+1) |
| T22 | Benjamin Nihart, High Point, N.C. | 34-38--72 (+1) |
| T22 | Wade Boteler, Mebane, N.C. | 37-35--72 (+1) |
| T25 | Braxton McLennan, Charlotte, N.C. | 39-34--73 (+2) |
| T25 | Brad Clark, Chapel Hill, N.C. | 37-36--73 (+2) |
| T25 | Daniel Hurley, Durham, N.C. | 36-37--73 (+2) |
| T28 | Jason Craver, Winston Salem, N.C. | 37-37--74 (+3) |
| T28 | Rob Beasley, Kernersville, N.C. | 37-37--74 (+3) |
| T28 | Bubba Aughtry, Concord, N.C. | 38-36--74 (+3) |
| T28 | Brad Mangum, Granite Falls, N.C. | 34-40--74 (+3) |
| T28 | Todd Chadwick, Winston-Salem, N.C. | 38-36--74 (+3) |
| T28 | Scott Patnode, Belmont, N.C. | 38-36--74 (+3) |
| T34 | Dj Barksdale, Statesville, N.C. | 38-37--75 (+4) |
| T34 | Brian Sanders, Greensboro, N.C. | 37-38--75 (+4) |
| T36 | Michael Nulty, Greensboro, N.C. | 39-37--76 (+5) |
| T36 | J.D. McNeill, Raleigh, N.C. | 39-37--76 (+5) |
| T36 | Dustin Moore, Greensboro, N.C. | 40-36--76 (+5) |
| T36 | Patrick Brady, Reidsville, N.C. | 39-37--76 (+5) |
| T36 | Lon Eskind, Waxhaw, N.C. | 37-39--76 (+5) |
| T41 | Daniel Welborn, Charlotte, N.C. | 39-38--77 (+6) |
| T41 | Jonathan Pilkenton, Lenoir, N.C. | 43-34--77 (+6) |
| T43 | John Rudolph, Charlotte, N.C. | 36-42--78 (+7) |
| T43 | Jimmy Vassil, Indian Land, S.C. | 36-42--78 (+7) |
| T43 | Joe Jaspers, Huntersville, N.C. | 37-41--78 (+7) |
| T46 | Michael Frederick, Homestead, Fla. | 43-36--79 (+8) |
| T46 | Eric Williams, Greensboro, N.C. | 39-40--79 (+8) |
| T48 | Jordan Griggs, Charlotte, N.C. | 39-41--80 (+9) |
| T48 | Gary Wilkerson, Charlotte, N.C. | 39-41--80 (+9) |
| T48 | Brady Eckard, Hickory, N.C. | 39-41--80 (+9) |
| T51 | Stephen Helton, Danville, Va. | 40-41--81 (+10) |
| T51 | Brent Surratt, Indian Trail, N.C. | 42-39--81 (+10) |
| T51 | James Carey, Charlotte, N.C. | 40-41--81 (+10) |
| T51 | Peter Melvin, Charlotte, N.C. | 41-40--81 (+10) |
| T55 | Skip Corneliussen, Greensboro, N.C. | 42-40--82 (+11) |
| T55 | Steve Frucht, Clemmons, N.C. | 39-43--82 (+11) |
| 57 | Jon Hill, Thomasville, N.C. | 46-38--84 (+13) |
| 58 | Jimmy Taylor, Phoenixville, Pa. | 39-46--85 (+14) |
| T59 | Robert J. Wansker, Charlotte, N.C. | WD-WD--WD (WD) |
| T59 | Frank Edwards, Charlotte, N.C. | WD-WD--WD (WD) |
| T59 | Jeremy Ray, Pfafftown, N.C. | WD-WD--WD (WD) |
| T59 | David Frye, Davidson, N.C. | WD-WD--WD (WD) |
| T59 | Tyler Payne, Mount Airy, N.C. | WD-WD--WD (WD) |
| T59 | David Ogden, Pinehurst, N.C. | WD-WD--WD (WD) |
| T59 | Chris Harp, Pinehurst, N.C. | NS-NS--NS (NS) |
| T59 | Robert Burrow, Charlotte, N.C. | WD-WD--WD (WD) |
| T59 | Josh Showfety, Greensboro, N.C. | WD-WD--WD (WD) |
| T59 | Andrew Price, Huntersville, N.C. | WD-WD--WD (WD) |