Carolinas Golf Hall of Fame Nominees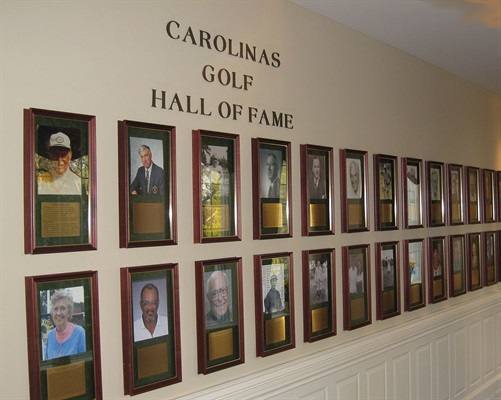 SOUTHERN PINES, N.C. -- The Carolinas Golf Hall of Fame nine-member selection committee has a difficult task. They will come together this fall to review the eighteen nominations submitted for consideration of induction into the class of 2016.
The nominees have all made significant contributions to our sport. They represent business, administration, education, professional tours, amateurs, volunteers, and the caddy industry. The selection committee will review and discuss each candidate before ultimately voting a maximum of two into the 2016 Carolinas Golf Hall of Fame. Those who did not achieve a majority will remain on the ballot for a total of five years.
Here is a synopsis of each candidate's resume.
Dean Cassell, Charlotte, NC: The highlight of Cassell's extensive resume is the influence he had in the design and marketing of the current golf ball as an executive with Acushnet Titleist company.
Ron Crow, Pinehurst, NC: A volunteer who has been instrumental in the organization of thousands of volunteers required to marshal the U.S. Open (2005, 2014) and U.S. Women's Open (2007, 2005, 2014). Crow also has a ten-year run heading up the North & South volunteers.
Michael Dann, Seven Lakes, NC (deceased): Longtime staff member of the Carolinas Golf Association serving as the Director of Handicapping & Course Rating. Dann also worked with Golf World when it was located in Sothern Pines, NC and with the Golf Hall of Fame when it was housed in Pinehurst.
Charles Dudley, Greenville, SC (deceased): A quality amateur golfer who had a life full of trophies and important friendships. His golfing accomplishments include winning the 1947 North-South Amateur, 1952 Carolinas Amateur, playing in the 1952 U.S. Open and six U.S. Amateurs.
Frank Ford III, Charleston, SC: Ford has worn many hats in golf administration, as a fine amateur player, and as a volunteer. In 2005 he received the USGA's Ike Grainger Award.
John Gerring, Greenville, SC: PGA Professional serving as head golf professional for many venues. Beloved for his fine work developing young golfers. He is a member of the National PGA Hall of Fame.
Bill Haas, Greenville, SC: PGA Tour Professional – still on the field of play. This Wake Forest graduate is currently ranked 29th in the world, has six career wins, and lifetime earnings of over $20 million.
Walter Hall, Advance, NC: After distinguishing himself as an amateur, he took on the PGA Senior Tour (Champions Tour) with success.
John Harris, Charlotte, NC: The man who was instrumental in the development of Quail Hollow and bringing the PGA Tour to Charlotte. He has his thumbprint on such events at the Kemper, the Wells Fargo, the PGA Championship (2017) and the President's Cup (2021).
Jerry Hogge, Fayetteville, NC: Over 25 years at Methodist College has produced countless quality golf professionals who are serving the game all over the world.
William Mann, North Myrtle Beach, SC: A true renaissance man whose career moved through agronomy to club professional to club owner and currently to teaching at Coastal Carolina University. He served as president of the Carolinas PGA and the PGA of America.
Willie McRae, Pinehurst, NC: Pinehurst Resort and Country Club caddie for over 60 years. He has caddied in several national championships and is a charter member of the Pinehurst Caddie Hall of Fame.
Donald Padgett II, Pinehurst, NC: Recently retired from his ten years as President of Pinehurst Resort. Prior to that he was vice president and general manager of Firestone Country Club for 25 years.
Clarence Rose, Goldsboro, NC: The 1978 North Carolina Amateur Champion, Rose played on the PGA Tour for 16 years winning the International in Colorado. Currently the head golf professional at Walnut Creek Country Club, he has contributed greatly to his community.
Ellen Shulby, Pinehurst, NC: Volunteer rules official who probably has logged more on-course hours than anybody. She has served the game over 40 years, helping 21 golf associations and six golf tours.
David Strawn, Charlotte, NC: Amateur golfer. His list of achievements in competition fill a page – single spaced. One of his many accomplishments was finishing runner-up in the US Amateur in 1973.
Heyward Sullivan, Greenville, SC: Amateur golfer already a member of the Furman University Athletic Hall of Fame and South Carolina Golf Hall of Fame is best described as "a gentleman golfer who never took the game too seriously as a competitor."
Dorathy Dotger Thigpen, Charlotte, NC (deceased): Amateur golfer. An early pioneer of the game won the first two Women's Carolina Championships in 1922 and 1923. She is an inspiration for many of today's women golfers.
About the Carolinas Golf Hall of Fame

Founded in 1981, it recognizes individuals who have contributed to the game of golf and have a connection to the Carolinas. The plaques commemorating all of the inductees are housed in the convention hall of the Carolina Hotel of Pinehurst Resorts. The Carolinas Golf Hall of Fame is under the care of the Carolinas Golf Association.
Any group or person, excluding current members of the Hall of Fame Committee, may nominate a candidate for the Carolinas Golf Hall of Fame by September 1st of each selection year. Candidates will be elected by the Hall of Fame Committee. Nominees may include, but are not limited to Amateur Players, Golf Professionals, Superintendents, Administrators, Volunteers, Coaches, or Media. Specifically, all candidates will be screened based on (1) Golf playing ability and record; (2) Coaching / teaching ability or accomplishments; (3) Involvement and service to organized golf (local, state, national); (4) Impact on or contributions to the game.
Any person may be considered for induction into the Hall of Fame who has distinguished themselves in one or more of the judging categories above, and whose accomplishments were in some way tied to the Carolinas or who by birth or residency is or has been recognized as a Carolinian. The primary emphasis will be on golf-related accomplishments and service to the game relative to the states of North and South Carolina.
https://www.carolinasgolfhof.org.
##30##