Super Sr. Tourn. of Champions FInal Results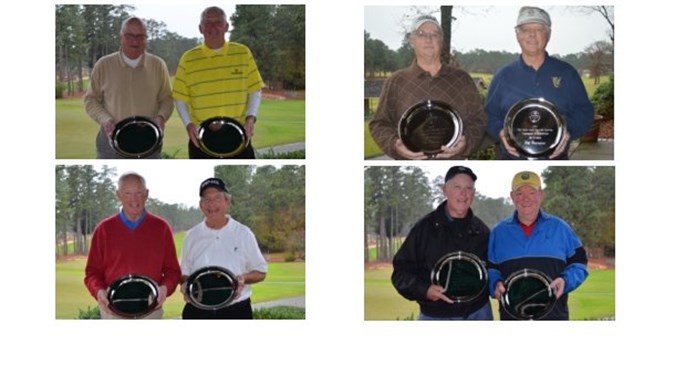 SOUTHERN PINES, N.C. -- Final results from the Carolinas Golf Association's Super Senior Four-Ball Tournament of Champions at Pine Needles Resort and Mid-Pines Golf Club in Southern Pines, NC on December 1st and 2nd, 2015.
This end-of-year tournament was played over two days at Pine Needles and Mid Pines and although the weather could have been drier and warmer, players posted competitive scores for both days. In order to be able to compete in this Championship, golfers had to have won either first gross or first net in a regular senior four-ball one-day tournament during the 2015 calendar year. Please check on the link below for complete gross and net scoring.
Tournament format was 36 holes of four-ball stroke play, both gross and net. 90 percent of a player's course handicap was used to determine net scores. The field was divided into divisions based on age and total team course handicap: Super Senior 65+ Division, Flights A, B, C, D, E and F; Super Senior 70+ Division, Flights A, B and C.
The Overall Gross winners in the 65+ Division were Jim Pridgen and his partner, Larry Boswell, both from Jamestown, NC. The Overall Net winners were Marty Carpenter from Southern Pines, NC and his partner, Robert Dauenhauer from Pinehurst, NC.
The Overall Gross winners in the 70+ Division were Frank Boone from Apex, NC and Ralph James from Raleigh, NC. The Overall Net winners were Ben Payne and his partner, Travis Jones both from Greensboro, NC.
For complete results of the net and gross divisions, please see: www.carolinasgolf.org/images/carolinasgolf/site/tourn/2015/result/senonetocmidpinesresult.pdf