Lawrence Hicks Elected CGA President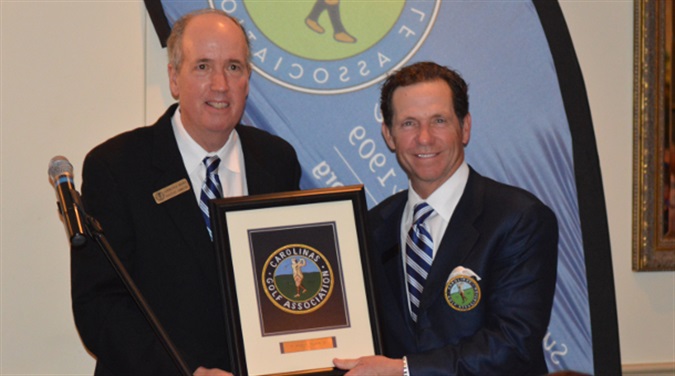 CHARLESTON, S.C. (February 21, 2016) -- On February 19, 2016, the Carolinas Golf Association's annual meeting was held at the Country Club of Charleston. Lawrence Hicks of Greensboro, N.C., was elected to serve a two-year term as 55th president of the Association. The 63-year-old Hicks, a retired entrepreneur, has served on the CGA's Executive Committee since 2006. He was elected secretary in 2012 and vice president in 2014.
Lawrence Hicks of Greensboro, N.C.
becomes the CGA's 55th President [+] Enlarge
"It's a great honor and privilege to have been elected President of the Carolinas Golf Association," said Hicks after the meeting. "My goal is to promote, protect, and grow the game of golf in North and South Carolina."
Hicks was raised in Greensboro, attended Virginia Episcopal School in Lynchburg, Va., a college preparatory boarding school, then graduated from the University of North Carolina at Chapel Hill.
A community supporter, Hicks was a member of the board of trustees at the Virginia Episcopal School and is active in his church - Holy Trinity Episcopal in Greensboro. An Eagle Scout himself, Hicks served as chairman on the Eagle Scout board of review at the Greensboro council. He has two daughters and is married to his wife, Betsy.
A member of Greensboro Country Club and Grandfather Golf & Country Club, Hicks played in CGA events since he was a teenager; continuing all through amateur, mid-amateur, and into senior golf. "The CGA has played a huge role in my life, just as golf has," said Hicks. "This is a wonderful opportunity for me to give back."
Officers elected to the CGA Executive Committee joining Hicks include: Vice President Gene Spencer, of Blythewood, S.C.; Secretary Greg Norris, of Wilmington, N.C.; Treasurer Dan O'Connell, of Spartanburg, S.C.; and General Counsel Charles E. Lynch, Jr., of High Point, N.C. Jackson Hughes, of Greenville, S.C. now serves as the Immediate Past-President.
Re-elected Executive Committee members: Vicki DiSantis, of Pinehurst, N.C. and Kelly Miller, of Southern Pines, N.C. The other nine Executive Committee members continuing their service are: Mike Smith, of Greenville, S.C.; Teddy Stockwell, of Charleston, S.C., Tom Thorpe of Clemmons, N.C., Richard Dosek, of Advance, N.C.; Randy Allen, of Myrtle Beach, S.C.; Frank Golden, of Charlotte, N.C.; Rick Riddle, of Charlotte, N.C.; Whitten Meares, of Charleston, S.C.; and Rion Moore, of Georgetown, S.C. Joining the Executive Committee as a new member is Joe Hackler of Myrtle Beach, S.C.
Charles Lynch of High Point, N.C. received the CGA's first Distinguished Service Award, named in his honor.
[+] Enlarge
The CGA's annual meeting was held in conjunction with Carolinas Golf Night which recognizes the CGA's year-end award winners and 2015 champions. During the evening, the CGA introduced a Distinguished Service Award named in honor of Charles E. Lynch, Jr., who became the award's first recipient. Lynch was recognized for his volunteer work to the association; including over 40 years serving as legal counsel, donating his time and expertise to golf in the Carolinas. He helped create and chair the Carolinas Golf Foundation since 1977 and in 1982 assisted with the development of the CGA Agronomy Program. When Carolinas Golf House was built in 2014, Lynch handled all the legalities associated its construction.
The top amateur golfers in the Carolinas were recognized: Scott Harvey of Greensboro, N.C. claimed his fifth consecutive Men's Player of the Year. Lori Beth Adams of Burlington, N.C. won Women's honors, Pat Brogden of Garner, N.C. received the Women's Senior award, Gary Robinson of Fayetteville, N.C. accepted the Senior Men's title, Ashley Czarnecki of Greenville, S.C. and Christian Salzer of Sumter, S.C. claimed Junior Girls and Junior Boys honors, respectively. Nick Willis of Spartanburg, S.C. earned the David Parrott Award for his sportsmanship, ability and academic excellence.
About the Carolinas Golf Association (CGA)
The CGA is a 501(c)(3) not-for-profit educational organization that was founded in 1909 to promote and to protect the game of golf in the Carolinas by providing competitions, education, support and benefits to golf clubs and golfers. The CGA is the second largest golf association in the country with over 700 member clubs represented by nearly 150,000 individuals.
The CGA annually conducts 43 championships and five team match competitions for men, women, juniors, and seniors. It also runs over 140 One-Day (net and gross) events and qualifying for USGA national championships. The CGA serves golf in the Carolinas with numerous programs such as: the USGA Handicap System; tournament management software and support; course measuring and course/slope ratings; agronomy consultation; answers about the Rules of Golf, Rules of Amateur Status, and Handicapping; Carolinas Golf Magazine; Interclub series; Tarheel Youth Golf Association; Carolinas Golf Hall of Fame; expense assistance for USGA Junior and Girls' Junior qualifiers from the Carolinas; and the Carolinas Golf Foundation (CGF). The CGF has distributed more than $1,500,000 since 1977 to benefit Carolinas' golf initiatives including junior and women's programs.
For more information about the CGA, visit www.carolinasgolf.org.
##30##