U.S. Amateur Qualifying Results Carolina Trace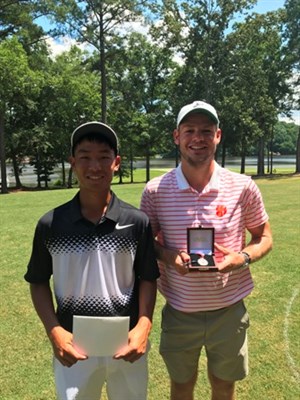 Eric Bae(L) of Pinehurst, NC and Doc Redman(R) of Raleigh, NC
SANFORD, NC – Final results from U.S. Amateur Championship Sectional Qualifying hosted by Carolina Trace Country Club in Sanford, NC on Friday, July 7, 2017(7097 yards, par 36-36—72, Rating: 75.3/142).
Doc Redman from Raleigh, NC earned medalist honors with rounds of 68-71. Redman, a rising sophomore at Clemson, birdied his final hole to avoid a playoff and punch his ticket to Riviera. Eric Bae of Pinehurst, NC and Joshua Martin of Pinehurst, NC needed extra holes to determine the final spot after finishing at four-under par 140 for two days. Bae, a rising sophomore at Wake Forest, bested his former high school teammate on the first playoff hole with a birdie on number 10 to secure the second qualifying position. Martin will be the first alternate.
Harrison Rhoades of Raleigh, NC earned the second alternate spot with rounds of 73-70.
Two qualifying spots and two alternate positions were available at this qualifying site. The two qualifiers will advance to the 2017 United States Amateur Championship at The Riviera Country Club in Pacific Palisades, California from August 14-20, 2017.
Final Qualifying Results
| | | |
| --- | --- | --- |
| Place | Competitor | Score |
| 1 | Doc Redman, Raleigh, N.C. | 68-71--139 (-5) |
| T2 | Eric Bae, Pinehurst, N.C. | 68-72--140 (-4) |
| | Failed to Qualify | |
| T2 | Joshua Martin, Pinehurst, N.C. 1st Alt | 69-71--140 (-4) |
| 4 | Harrison Rhoades, Raleigh, N.C. 2nd Alt | 73-70--143 (-1) |
| 5 | Jake Fendt, Suwanee, Ga. | 72-73--145 (+1) |
| T6 | Lee Mitchell, Conover, N.C. | 76-70--146 (+2) |
| T6 | Brett McLamb, Coats, N.C. | 75-71--146 (+2) |
| 8 | Nicolas Cassidy, Johns Creek, Ga. | 72-76--148 (+4) |
| 9 | Isaac Simmons, Huddleston, Va. | 77-72--149 (+5) |
| T10 | Nolan Mills IV, Charlotte, N.C. | 72-78--150 (+6) |
| T10 | Fulton Smith, Pinehurst, N.C. | 74-76--150 (+6) |
| T10 | Jerry Richardson Jr, Cary, N.C. | 77-73--150 (+6) |
| T10 | Walker Taylor, Wrightsville Beach, N.C. | 74-76--150 (+6) |
| 14 | Conner Sock, High Point, N.C. | 76-75--151 (+7) |
| 15 | Andrew Kennedy, Richmond, Va. | 77-75--152 (+8) |
| T16 | Luke Hackworth, Charlotte, N.C. | 78-75--153 (+9) |
| T16 | Harrison Taee, England | 76-77--153 (+9) |
| T16 | Ian Simon, Owings Mills, Md. | 74-79--153 (+9) |
| T19 | Davis Bateman, Charlotte, N.C. | 77-77--154 (+10) |
| T19 | Walter Brinker, Sanford, N.C. | 79-75--154 (+10) |
| T19 | Dalton Mauldin, Sanford, N.C. | 76-78--154 (+10) |
| T19 | Kenan Poole II, Raleigh, N.C. | 75-79--154 (+10) |
| T23 | Weston Bell, Piedmont, S.C. | 77-78--155 (+11) |
| T23 | Jonathan Walters, Tucson, Ariz. | 77-78--155 (+11) |
| T23 | Nathan Young, Raleigh , N.C. | 75-80--155 (+11) |
| T26 | Keegan Hoff, Charlotte, N.C. | 73-83--156 (+12) |
| T26 | Nicholas Page, Dunn, N.C. | 77-79--156 (+12) |
| T26 | Regan Erhardt, Greensboro, N.C. | 77-79--156 (+12) |
| T26 | Jackson Tyler, Wilmington, N.C. | 78-78--156 (+12) |
| 30 | William Little, Kannapolis, N.C. | 77-80--157 (+13) |
| T31 | Charlie Maness, Troy, N.C. | 83-75--158 (+14) |
| T31 | Nathan Bull, Candler, N.C. | 79-79--158 (+14) |
| T31 | Michael Nulty, Greensboro, N.C. | 78-80--158 (+14) |
| 34 | Owen Guard, Raleigh, N.C. | 79-81--160 (+16) |
| 35 | Jared Robinson, Pinehurst, N.C. | 73-88--161 (+17) |
| 36 | Dru Richter IV, Midlothian, Va. | 79-83--162 (+18) |
| 37 | Reilly Erhardt, Greensboro, N.C. | 78-85--163 (+19) |
| T38 | Erik Ehlert, Wrightsville Beach, N.C. | 80-84--164 (+20) |
| T38 | Matt Nunez, Pinehurst, N.C. | 81-83--164 (+20) |
| T38 | Christopher Kraft, Pinehurst, N.C. | 80-84--164 (+20) |
| T41 | Wesley Cline, Thomasville, N.C. | 89-77--166 (+22) |
| T41 | Tyler Futrell, Jamesville, N.C. | 79-87--166 (+22) |
| 43 | Jordan Smith, Summerfield, N.C. | 88-79--167 (+23) |
| 44 | Corey Stamper, Greensboro, N.C. | 90-86--176 (+32) |
| | Hunter Freeman, Raleigh, N.C. | WD |
| | John Pitt, Raleigh, N.C. | WD |
| | Will Hanna, Raleigh, N.C. | WD |
| | Cody Transou, Gaffney, S.C. | WD |
| | Louis Lambert, Charlotte, N.C. | WD |
| | Hunter Oxendine, Fayetteville, N.C. | WD |
| | Jd McNeill, Raleigh, N.C. | WD |
| | Noah Connor, Reidsville, N.C. | WD |
| | Stephen Abrams, Wilson, N.C. | WD |
| | Robert Quick, Winston Salem, N.C. | WD |
| | Felix Ronderos, Mobile, Ala. | WD |
| | Zach Joines, Wilkesboro, N.C. | WD |