U.S. Amateur Qualifying Results Monroe CC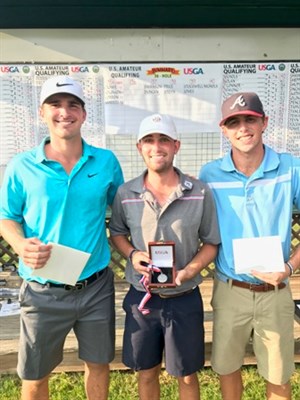 Will Gordon(L), Jacob Solomon(C), Trace Crowe(R)
MONROE, NC – Final results from U.S. Amateur Championship sectional qualifying hosted by Monroe Country Club in Monroe, NC on Monday, July 10, 2017 (6692 yards, par 36-36—72, Rating: 72.9/132).
Jacob Solomon of Dublin, CA fired rounds of 65-63 to earn medalist honors. Trace Crowe of Bluffton, SC and Will Gordon of Davidson, NC will join Solomon at The Riviera Country Club after finishing second and third respectively.
Michael Sanders of Davidson, NC will be the first alternate. After a one hole playoff Zack Swanson of Waxhaw, NC will be the second alternate.
Three qualifying spots and two alternate positions were available at this qualifying site. The two qualifiers will advance to the 2017 United States Amateur Championship at The Riviera Country Club in Pacific Palisades, California from August 14-20, 2017.
Final Results
| | | |
| --- | --- | --- |
| Place | Competitor | Score |
| 1 | Jacob Solomon, Dublin, Calif. | 65-63--128 (-16) |
| 2 | Trace Crowe, Bluffton, S.C. | 62-70--132 (-12) |
| 3 | William Gordon, Davidson, N.C. | 66-67--133 (-11) |
| | Failed to Qualify | |
| 4 | Michael Sanders, Davidson, N.C. 1st Alt | 69-65--134 (-10) |
| T5 | Zack Swanson, Waxhaw, N.C. 2nd Alt | 67-70--137 (-7) |
| T5 | Nix Duncan, Augusta, Ga. | 70-67--137 (-7) |
| T7 | Archer Price, Gastonia, N.C. | 70-68--138 (-6) |
| T7 | Marco Steyn, South Afri | 69-69--138 (-6) |
| T9 | Chris Jones, Charlotte, N.C. | 69-70--139 (-5) |
| T9 | Joshua Stockwell, West End, N.C. | 70-69--139 (-5) |
| 11 | Josh Nichols, Kernersville, N.C. | 72-68--140 (-4) |
| T12 | Ben Schlottman, Advance, N.C. | 67-74--141 (-3) |
| T12 | Nick Stafford, Belmont, N.C. | 68-73--141 (-3) |
| T14 | Will Stewart, Charlotte, N.C. | 74-68--142 (-2) |
| T14 | Austin Morrison, Charlotte, N.C. | 72-70--142 (-2) |
| T14 | Aj Beechler, Pinehurst, N.C. | 72-70--142 (-2) |
| T14 | Bailey Patrick, Charlotte, N.C. | 71-71--142 (-2) |
| T14 | Garett Reband, York, S.C. | 68-74--142 (-2) |
| T19 | Alex Burris, Greensboro, N.C. | 70-73--143 (-1) |
| T19 | Logan Shuping, Salisbury, N.C. | 71-72--143 (-1) |
| T21 | Aaron Thomas, Belmont, N.C. | 72-72--144 (Even) |
| T21 | Zachary Harris, Gastonia, N.C. | 73-71--144 (Even) |
| T21 | Aaron Walker, Charlotte, N.C. | 70-74--144 (Even) |
| T21 | Mitch Robinette, Greensboro, N.C. | 72-72--144 (Even) |
| T21 | Weston Sanders, Greenwood , S.C. | 72-72--144 (Even) |
| T21 | Will Oldham, Charlotte, N.C. | 72-72--144 (Even) |
| T21 | Connor Armistead, Charlotte, N.C. | 73-71--144 (Even) |
| T28 | Walker Cress, Concord, N.C. | 70-75--145 (+1) |
| T28 | Avery Papalia, Kernersville, N.C. | 74-71--145 (+1) |
| T28 | Wil Sheppard, Mt. Pleasant, S.C. | 73-72--145 (+1) |
| T28 | Jarett Stowe, Matthews, N.C. | 74-71--145 (+1) |
| T28 | Kritchayapol Sinchai, Bankok, Thailand | 76-69--145 (+1) |
| T33 | Michael Childress, Salisbury, N.C. | 71-75--146 (+2) |
| T33 | Charlie Tate, Greensboro, N.C. | 77-69--146 (+2) |
| T33 | Benjamin Buben, Charlotte, N.C. | 76-70--146 (+2) |
| T33 | Jacob Rutter, Winston-Salem, N.C. | 77-69--146 (+2) |
| T33 | Clayton Holland, Greensboro, N.C. | 71-75--146 (+2) |
| T38 | Jonathan Rector, Hendersonville, N.C. | 73-74--147 (+3) |
| T38 | Jonathan Brightwell, Mint Hill, N.C. | 76-71--147 (+3) |
| T40 | Grant Smith, Charlotte, N.C. | 75-73--148 (+4) |
| T40 | Thomas Eubanks, Charlotte , N.C. | 76-72--148 (+4) |
| T42 | Jan Havmoeller, Charlotte, N.C. | 78-71--149 (+5) |
| T42 | Brady Hinkle, Lancaster, S.C. | 77-72--149 (+5) |
| T44 | Shaw James, Cayce, S.C. | 71-79--150 (+6) |
| T44 | Charlie Ipock, Darlington, S.C. | 75-75--150 (+6) |
| T44 | Trystan Perkins, Tyler, Texas | 75-75--150 (+6) |
| T44 | Ronald Otile, Uganda | 76-74--150 (+6) |
| T48 | Max Wimbrow, Concord, N.C. | 78-73--151 (+7) |
| T48 | Ryan Fitzgerald, Waxhaw, N.C. | 79-72--151 (+7) |
| T48 | Logan McNeely, Conover, N.C. | 75-76--151 (+7) |
| T48 | Titus Okwong, Salisbury, N.C. | 76-75--151 (+7) |
| T48 | Dustin Shaw, Concord, N.C. | 74-77--151 (+7) |
| T53 | Jonathan Henry, Mooresville, N.C. | 73-79--152 (+8) |
| T53 | Tim Bunten, Concord, N.C. | 75-77--152 (+8) |
| T53 | Jerell Fields, Charlotte, N.C. | 78-74--152 (+8) |
| T56 | Jeremy Ray, Pfafftown, N.C. | 74-79--153 (+9) |
| T56 | Hendrik Hanegraaff Jr., Waxhaw, N.C. | 74-79--153 (+9) |
| T58 | Sean O'Connor, Indian Trail, N.C. | 77-77--154 (+10) |
| T58 | Troy Adams, Charlotte, N.C. | 76-78--154 (+10) |
| T58 | Baguma Daniel, Uganda | 76-78--154 (+10) |
| 61 | Bruce Bevins II, Matthews, N.C. | 78-77--155 (+11) |
| 62 | Saptak Talwar, Bluffton, S.C. | 74-82--156 (+12) |
| 63 | Charlie Barr, Salisbury, N.C. | 79-79--158 (+14) |
| 64 | Brody Davis, Harrisburg, N.C. | 82-77--159 (+15) |
| T65 | Tom Spencer, Huntersville, N.C. | 80-80--160 (+16) |
| T65 | Tyler Dunham, Charlotte, N.C. | 88-72--160 (+16) |
| 67 | Jimmy Taylor, Charlotte, N.C. | 83-90--173 (+29) |
| | Jimbo Stanley, Raleigh, N.C. | 84-WD--WD (WD) |
| | Tom Nolan, Greensboro, N.C. | 78-WD--WD (WD) |
| | Dustin Blank, Elon, N.C. | 81-WD--WD (WD) |
| | Mark Johnston, Lewisville, N.C. | 82-WD--WD (WD) |
| | Cory Segall, Charlotte, N.C. | 75-WD--WD (WD) |
| | Joseph Davis, Cornelius, N.C. | 75-WD--WD (WD) |
| | Daniel Jackson, Matthews, N.C. | WD (WD) |
| | Ben Ferris, Charlotte, N.C. | WD (WD) |