Surratt takes medalist award in NC Boys' 13 & Under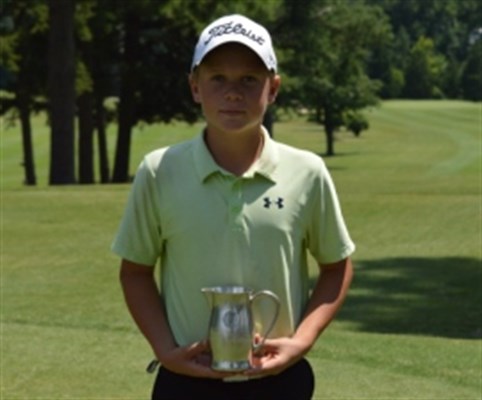 First day results from the 21st N.C. Junior Boys' 13 and Under Championship conducted at Asheboro city Golf Course in Asheboro, N.C. on Monday, July 10, 2017. (5,738 yards, par 35-35—70, Course/Slope Rating: 68.0/127).
Caleb Surratt of Matthews, N.C. took the medalist award in the stroke play qualifying of the 21st N.C. Junior Boys' 13 and Under Championship with a round of one under par 69. Surratt's round included three birdies and an eagle two on the par four eighteenth hole. Finishing with rounds of 72 tied for second place were Abhay Gupta of Concord, N.C. and Jake Herring of Wilson, N.C.
After the morning stoke play portion of the tournament, the field began match play with nine hole matches. Surratt, Herring and Gupta each advanced to the quarterfinals. Surratt defeated Landon Hawley of Charlotte, N.C. 4 and 3. Herring defeated Calvin Hawkins of Lexington, N.C. 2 up and Gupta defeated Jackson Bode of Pinehurst, N.C. 3 and 1.
The tournament continues Tuesday morning with two rounds of 9-hole matches and the 18-hole championship scheduled for 12:30 PM.
Quarter-final Matches Starting on Tee: 1

Time

Seed

Player A

Seed

Player B

8:00 am

1

(69) Caleb Surratt, Matthews, N.C. (2022)

vs.

8

(77) Spencer Turtz, Charlotte, N.C. (2022)

8:06 AM

4

(76) Daniel Boone Jr, Fuquay Varina, N.C. (2023)

vs.

12

(81) Davis Adams, Raleigh, N.C. (2022)

8:12 AM

2

(72) Jake Herring, Wilson, N.C. (2021)

vs.

10

(79) Tyler Strickland, Holly Springs, N.C. (2022)

8:18 AM

3

(72) Abhay Gupta, Concord , N.C. (2022)

vs.

6

(76) Benjamin Bailey, Huntersville, N.C. (2021)
Match Play Results-Championship Flight
Round of 16 (9 hole matches)
(69) Caleb Surratt, Matthews, N.C. (2022) def. (82) Landon Hawley, Charlotte, N.C. (2023), 4 and 3
(77) Spencer Turtz, Charlotte, N.C. (2022) def. (79) Maddox Whittington, Lenoir, N.C. (2022), 10 holes
(76) Daniel Boone Jr, Fuquay Varina, N.C. (2023) def. (81) Aidan Browning, Charlotte, N.C. (2022), 1 up
(81) Davis Adams, Raleigh, N.C. (2022) def. (76) Hampton Roberts, Cary, N.C. (2023), 3 and 1
(72) Jake Herring, Wilson, N.C. (2021) def. (81) Calvin Hawkins, Lexington, N.C. (2022), 2 up
(79) Tyler Strickland, Holly Springs, N.C. (2022) def. (77) Henry Pate, Elizabethtown, N.C. (2022), 3 and 2
(72) Abhay Gupta, Concord , N.C. (2022) def. (81) Jackson Bode, Pinehurst, N.C. (2022), 3 and 1
(76) Benjamin Bailey, Huntersville, N.C. (2021) def. (80) Drew Van Dyke, Charlotte, N.C. (2022), 11 holes
Stroke Play Qualifying - 5,738 yards par 70 (68.0/127)

Place

Name

Score

1

Caleb Surratt (2022), Matthews, NC

34-35--69

T2

Abhay Gupta (2022), Concord , NC

37-35--72

Jake Herring (2021), Wilson, NC

36-36--72

T4

Benjamin Bailey (2022), Huntersville, NC

39-37--76

Daniel Boone Jr (2023), Fuquay Varina, NC

37-39--76

Hampton Roberts (2023), Cary, NC

38-38--76

T7

Henry Pate (2022), Elizabethtown, NC

39-38--77

Spencer Turtz (2022), Charlotte, NC

40-37--77

T9

Maddox Whittington (2022), Lenoir, NC

41-38--79

Tyler Strickland (2022), Holly Springs, NC

40-39--79

11

Drew Van Dyke (2022), Charlotte, NC

37-43--80

T12

Aidan Browning (2022), Charlotte, NC

40-41--81

Calvin Hawkins (2022), Lexington, NC

40-41--81

Davis Adams (2022), Raleigh, NC

41-40--81

Jackson Bode (2022), Pinehurst, NC

40-41--81

T16

Chris Ha (2023), Fayetteville, NC

39-43--82

Landon Hawley (2023), Charlotte, NC

41-41--82

T18

James Hudson (2022), Huntersville, NC

42-42--84

Parks Helms (2024), Fayetteville, NC

41-43--84

Tate Smith (2021), Gastonia, NC

44-40--84

T21

Alex Bock (2024), Morganton , NC

44-41--85

Benjamin Hays (2022), Cary, NC

43-42--85

Charlie Fetter (2022), Charlotte, NC

40-45--85

T24

Max Cranford (2022), Hickory , NC

42-44--86

Owen Kose (2022), Holly Springs, NC

46-40--86

T26

Alex Gould (), Greensboro, NC

44-43--87

James Owings (2022), State Road, NC

47-40--87

Matthew McDougall (June 2022), Waxhaw, NC

43-44--87

Ryan McCarthy (2022), Cary, NC

44-43--87

T30

Ben Childress (2022), Salisbury, NC

45-43--88

Samuel Fogleman (2022), Raleigh, NC

46-42--88

T32

Ethan Wooten (2022), High Point, NC

44-45--89

Leo Chen (2022), Clayton, NC

44-45--89

T34

Cole Wright (2022), Wake Forest, NC

42-48--90

Zachary Davis (2022), Clayton, NC

45-45--90

T36

Holland Giles (2023), Pinehurst, NC

48-44--92

McGwire Owen (2022), Mt. Ulla, NC

48-44--92

38

Matthew McCarthy (2024), Cary, NC

47-46--93

39

Andrew Haarlow (2021), Greensboro, NC

53-41--94

40

Jake Clayton (2022), Burlington, NC

47-48--95

41

Brodie Perry (2021), Trinity, NC

48-49--97

T42

Bizzell Pate (2024), Elizabethtown, NC

47-51--98

Landon Merrell (2024), Salisbury, NC

50-48--98

44

Connor Warren (2024), Spruce Pine, NC

53-50--103

45

Evan Duncan (2022), Bessemer, NC

56-56--112