US Amateur Qualifying Results Benvenue CC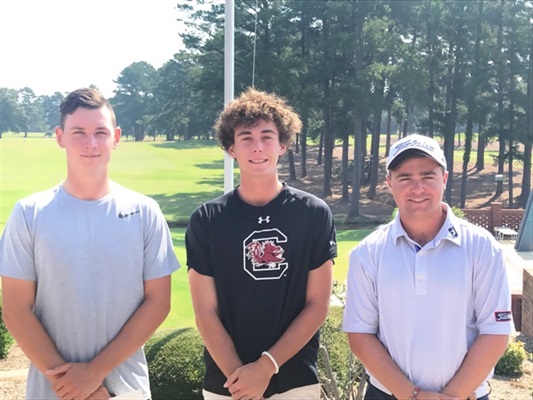 Qualifiers: Perry, Stevens, McClatchie
ROCKY MOUNT, NC (July 24, 2017) – Sectional qualifying results of the 2017 U.S. Amateur Championship hosted by Benvenue Country Club in Rocky Mount, NC on Monday, July 24, 2017 (6,560 Yards, Par 36-36—72, (71.3/134).
Scott Stevens from Chattanooga, TN shots rounds of 67-69 and Dylan Perry from Australia shot rounds of 71-65 to earn co-medalist honors at 8-under par 136. Kyle McClatchie from South Africa earned the final qualifying spot with round of 70-67 for a 7-under 137.
Matthew Jordan from England will be the first alternate. After a one hole playoff, Chris Cassetta from High Point, NC will be the second alternate.
Three qualifying spots and two alternate positions were available at this qualifying site. The two qualifiers will advance to the 2017 United States Amateur Championship at The Riviera Country Club in Pacific Palisades, California from August 14-20, 2017.
Qualifying Results
Place

Competitor

Score

T1

Scott Stevens, Chattanooga, Tenn.

67-69--136 (-8)

T1

Dylan Perry, Aberdeen, Australia

71-65--136 (-8)

3

Kyle McClatchie, Johannesburg, South Afri

70-67--137 (-7)

Failed to Qualify

4

Matthew Jordan, Hoylake, England

65-74--139 (-5) 1st Alt.

5

Chris Cassetta, High Point, N.C.

74-67--141 (-3) 2nd Alt.

T6

Quinn Riley, Raleigh, N.C.

71-70--141 (-3)

T6

Albert Venter, SOUTH AFRI

73-68--141 (-3)

T6

Matt Saulez, Nottingham Road, South Afri

76-65--141 (-3)

T9

Jackson Spires, Fayetteville, N.C.

68-74--142 (-2)

T9

Jake Golliday, Pinehurst, N.C.

73-69--142 (-2)

T11

Bryce Hendrix, Raleigh, N.C.

67-76--143 (-1)

T11

Blake McShea, Zebulon, N.C.

71-72--143 (-1)

T11

Ryan Chisnall, Nelson, New Zealan

71-72--143 (-1)

T14

Benjamin Griffin, Chapel Hill, N.C.

71-73--144 (Even)

T14

Jared Chinn, Fayetteville, N.C.

75-69--144 (Even)

T16

Zachary Martin, Pinehurst, N.C.

71-74--145 (+1)

T16

Ben O'Geary, Henderson, N.C.

74-71--145 (+1)

T16

Candler Rice, Asheville, N.C.

76-69--145 (+1)

T16

Travis Mancill, Hilton Head, S.C.

72-73--145 (+1)

T16

Kevin O'Connell, Cary, N.C.

71-74--145 (+1)

T16

John E Major, Winston-Salem, N.C.

71-74--145 (+1)

T16

Wesley Ballance, Rocky Mount, N.C.

75-70--145 (+1)

T16

Justin Hood, St Matthews, S.C.

70-75--145 (+1)

T16

Lee Detmer, Washington, D.C.

75-70--145 (+1)

25

Mason Elmore, Charlotte, N.C.

71-75--146 (+2)

T26

Akshay Bhatia, Wake Forest, N.C.

70-78--148 (+4)

T26

Runchanapong Youprayong, Thailand

72-76--148 (+4)

28

Joey Funderburg, Wilmington, N.C.

73-76--149 (+5)

T29

Addison Cashwell, Concord, N.C.

76-74--150 (+6)

T29

Tripp Summerlin, Summerfield, N.C.

80-70--150 (+6)

T29

Luis Ruiz, Conway, S.C.

76-74--150 (+6)

T29

Chandler Wilkins, Danville, Va.

78-72--150 (+6)

T29

Sirasit Prateepmongkol, Bangkok, Thailand

77-73--150 (+6)

34

Scott Campbell, Wake Forest, N.C.

73-78--151 (+7)

T35

Zach Bostic, Gaffney, S.C.

79-73--152 (+8)

T35

Josh Payseur, Great Falls, S.C.

77-75--152 (+8)

T35

William Paxton IV, Wilson, N.C.

77-75--152 (+8)

T38

Thomas Owen, Fayetteville, N.C.

76-77--153 (+9)

T38

Billy Johns, Johns Creek, Ga.

77-76--153 (+9)

40

Joshua Chriswell, Trenton, S.C.

81-73--154 (+10)

41

Wes Simmons, Kinston, N.C.

79-76--155 (+11)

42

Gray Matthews, Raleigh, N.C.

81-79--160 (+16)

T43

Gray Townsend, Winston Salem, N.C.

68-WD--WD (WD)

T43

Davis Richards, China Grove, N.C.

75-WD--WD (WD)

T43

Blake Fiest, Huntersville, N.C.

72-WD--WD (WD)

T43

John Thatch, New Bern, N.C.

77-WD--WD (WD)

T43

Stephen Carroll, Concord, N.C.

76-WD--WD (WD)

T43

Jared Taunton, Winterville, N.C.

75-WD--WD (WD)

T43

Joe Brooks, Franklin , N.C.

72-WD--WD (WD)

T43

Brad Clark, Chapel Hill, N.C.

82-WD--WD (WD)

T43

Avery Price, Gastonia , N.C.

77-WD--WD (WD)

T43

Beau Cutts, Raleigh, N.C.

84-WD--WD (WD)

T43

Jackson Collier, Roanoke Rapids, N.C.

76-WD--WD (WD)

T43

Seve Anfindsen, Apex, N.C.

82-WD--WD (WD)

T43

Andrew Wilmoth, Raleigh, N.C.

76-WD--WD (WD)

T43

Austin Bonfiglio, Holly Springs, N.C.

75-WD--WD (WD)

T43

Basil Boyd, Martinsville, Va.

77-WD--WD (WD)

T43

Kevin Miller, Henrico, Va.

79-WD--WD (WD)

T43

Jonathan Farber, Raleigh, N.C.

83-WD--WD (WD)

T43

Quinn Gruber, Raleigh, N.C.

88-WD--WD (WD)

T43

Raleigh Powell, South Boston, Va.

85-WD--WD (WD)

T43

Jon Frank Weiss, Florence , South Caro

79-WD--WD (WD)

T43

Patrick Groetzinger, Kiawah Island, S.C.

82-WD--WD (WD)

T43

Gavin Noble, Ringgold, Ga.

80-WD--WD (WD)

T43

Brad Hondros, Atlanta, Ga.

78-WD--WD (WD)

T66

Noah Edmondson, Davidson, N.C.

WD (WD)

T66

Austin Harrill, Hickory, N.C.

WD (WD)

T66

James Sugg III, Pinehurst, N.C.

WD (WD)

T66

James Moore, Kernersville, N.C.

WD (WD)

T66

Thomas Messenheimer, Morganton, N.C.

WD (WD)

T66

Matthew Neely, Richmond, Va.

WD (WD)

T66

Joe Alvarez, Charlotte, N.C.

WD (WD)

T66

Robert Stewart, Raleigh, N.C.

WD (WD)