Qualifying Results US Senior Womens Am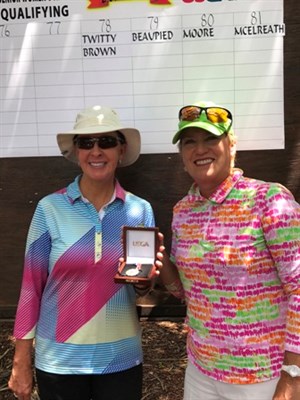 Charlotte Twitty of Chapin, SC(L), Lea Anne Brown of Mt. Pleasant, SC(R)
COLUMBIA, SC – Final results from U.S. Senior Women's Amateur Championship sectional qualifying hosted by The Members Club at Woodcreek in Columbia, SC on Wednesday, August 2, 2017 (5,742 yards, par 36-36—72, Rating: 74.1/126).
Charlotte Twitty of Chapin, SC and Lea Anne Brown of Mt. Pleasant, SC earned medalist honors after rounds of 78.
Susan Beaupied of Pittsboro, NC will be the first alternate. Patty Moore of Pinehurst, NC will be the second alternate.
Two qualifying spots and two alternate positions were available at this qualifying site. The two qualifiers will advance to the 2017 United States Senior Women's Amateur Championship at Waverley Country Club in Portland, Oregon from September 9-14, 2017.
Final Results
| | | |
| --- | --- | --- |
| Place | Competitor | Score |
| T1 | Lea Anne Brown, Mt. Pleasant, S.C. | 38-40--78 (+6) |
| T1 | Charlotte Twitty, Chapin, S.C. | 39-39--78 (+6) |
| | Failed to Qualify | |
| 3 | Susan Beaupied, Pittsboro, N.C. 1st Alt | 42-37--79 (+7) |
| 4 | Patty Moore, Charlotte, N.C. 2nd Alt | 40-40--80 (+8) |
| 5 | Mary Helen McElreath, Augusta, Ga. | 42-39--81 (+9) |
| T6 | Chrissie Spidell, Anderson, S.C. | 43-43--86 (+14) |
| T6 | Christine Hamrick, Columbia, S.C. | 44-42--86 (+14) |
| T8 | June Wang, Huntersville, N.C. | 45-43--88 (+16) |
| T8 | Patty Waszak, Pigeon Forge, Tenn. | 45-43--88 (+16) |