Smith repeats as Dogwood State Boys' Champion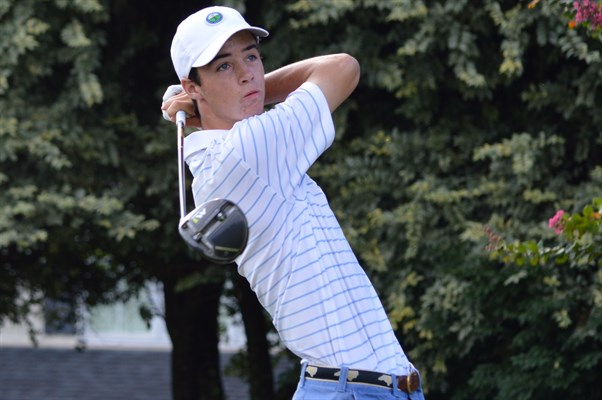 13th Dogwood State Junior Boys' Championship
Final Results
Final results of the 13th Dogwood State Junior Boys' Championship conducted on the East Course at Bermuda Run C.C. in Bermuda Run, N.C. on Thursday, August 3, 2017 (7,078 yards, Par 36-36--72, Course Rating 74.4/139).
Fulton Smith of Pinehurst, N.C. became the first junior boy to repeat as the champion of the Dogwood State Junior Boys' Championship. Smith, a rising high school junior, started the day five shots off the lead, but a final round of four under par 68 and and three day total of five under 211 was good enough to win by one stroke. " I got off to a great start hitting the ball really well on the front nine and got a couple of birdies to fall. My back nine was not as good, but my scrambling was awesome and I was able to pull it out" stated Smith. "I played really well and it feels awesome to repeat as the Dogwood champion" added the sixteen year old.
The round of the day went to rising ninth grader Jackson Van Paris of Pinehurst, N.C. who finished with a seven under 65 and 54-hole total of four under par 212. Also finishing at 212 with Van Paris in second place was 36-hole leader Brandon Einstein of Clemmons, N.C. Peter Fountain of Raleigh, N.C. finished in fourth place at three under par 213. Graham Chase of Charlotte, N.C. shot a final round of five under par 67 to finish in fifth place at 216.
Entry for the Dogwood State Junior Boys' is open to any male amateur golfer who has not reached his 19th birthday by August 3, 2017, who has not started college, is a legal resident of North Carolina is a member in good standing of a club which is a member of the Carolinas Golf Association (CGA) and has a current USGA Handicap Index® of 18.4 or lower at a CGA member club.
Scoring will be provided by the CGA throughout the championship, offering 9 and 18-hole updates. Live updates will also be available on the CGA's official Twitter, @CarolinasJunior. Continue to visit the CGA website throughout this championship and all year long for complete championship coverage including scores, interviews, photos, and recaps.
This annual junior golf tournament is conducted by the Carolinas Golf Association.
Dogwood State Junior Boys' (7,078 yards, par 72, 74.4/139)
| | | |
| --- | --- | --- |
| 1 | Fulton Smith (2019) Pinehurst, NC | 72-71-68--211 |
| T2 | Brandon Einstein (2018) Clemmons, NC | 71-67-74--212 |
| | Jackson Van Paris (2021) Pinehurst, NC | 72-75-65--212 |
| 4 | Peter Fountain (2020) Raleigh, NC | 68-71-74--213 |
| 5 | Graham Chase (2019) Charlotte, NC | 78-71-67--216 |
| 6 | Ethan Hall (2019) Morehead City, NC | 69-73-75--217 |
| 7 | Dawson Daniels (2018) Greensboro, NC | 71-75-72--218 |
| T8 | Carson Castelli (2018) Greensboro, NC | 76-74-69--219 |
| | Jack Brea (2017) Charlotte, NC | 73-74-72--219 |
| | Spencer Oxendine (2019) Fayetteville, NC | 77-71-71--219 |
| | Attie Giles (2018) Pinehurst, NC | 71-74-74--219 |
| T12 | Pierce Robinson (2019) Kings Mountain, NC | 73-75-73--221 |
| | Alex Goff (2018) Kings Mountain, NC | 74-76-71--221 |
| T14 | Bryson Boyette (2017) Wilson, NC | 73-76-73--222 |
| | Addison Manring (2017) Stoneville, NC | 71-72-79--222 |
| | Matias La Grutta (2020) Cary, NC | 74-72-76--222 |
| 17 | Mariano Leyva (2018) Lewisville, NC | 76-78-69--223 |
| T18 | Chris Kim (2019) Cary, NC | 75-72-77--224 |
| | Jacob Lowe (2017) Angier, NC | 73-77-74--224 |
| | Zach Roberts (2020) Holly Springs, NC | 72-75-77--224 |
| | Jack Towarnicky (2019) New Bern, NC | 76-76-72--224 |
| | Noah Connor (2019) Reidsville, NC | 72-75-77--224 |
| | Garrett Clark (2020) Burlington, NC | 78-75-71--224 |
| T24 | Lansdon Robbins (2018) Davidson, NC | 76-74-75--225 |
| | Jack Massei (2018) Cary, NC | 75-72-78--225 |
| T26 | Charlie Tate (2018) Greensboro, NC | 76-77-73--226 |
| | Narayan Mohan (2021) Charlotte, NC | 77-78-71--226 |
| T28 | Quinton Metz (2019) Wilkesboro, NC | 73-79-75--227 |
| | Andrew Graham (2021) Asheville, NC | 77-75-75--227 |
| 30 | Patten Williams (2017) Davidson, NC | 76-72-80--228 |
| T31 | Ben Woodruff (2018) Huntersville, NC | 75-79-75--229 |
| | Jackson Tyler (2017) Wilmington, NC | 79-79-71--229 |
| | Benjamin Crow (2018) Pinehurst, NC | 80-76-73--229 |
| T34 | Symon Balbin (2019) Pinehurst, NC | 77-73-80--230 |
| | Justin Poole (2017) Wendell, NC | 77-77-76--230 |
| | Thomas Eubanks (2019) Charlotte , NC | 74-78-78--230 |
| | Trey Pope (2018) Clinton, NC | 78-79-73--230 |
| T38 | Michael Childress (2018) Salisbury, NC | 76-78-77--231 |
| | William Crook (2018) Sherrills Ford, NC | 77-74-80--231 |
| | Carson Ownbey (2018) Candler, NC | 76-76-79--231 |
| | Zach Caudill (2017) Wilkesboro, NC | 72-80-79--231 |
| T42 | Sam Davidson (2020) Asheboro, NC | 77-80-75--232 |
| | Clark Kistler (2017) Charlotte, NC | 80-74-78--232 |
| | Carter Boulia (2019) Cary, NC | 75-83-74--232 |
| | Garrett Risner (2020) Holly Springs, NC | 79-77-76--232 |
| | Davis Gilmore (2018) Winston Salem, NC | 77-78-77--232 |
| T47 | Austin Duncan (2017) Bessemer City, NC | 82-74-77--233 |
| | Austin Alexander (2020) Rutherfordton, NC | 78-76-79--233 |
| T49 | Michael Coe (2017) Morrisville, NC | 82-74-78--234 |
| | Alex Rubino (2019) Charlotte, NC | 78-78-78--234 |
| | Colin Browning (2020) Charlotte, NC | 76-77-81--234 |
| T52 | Jack Hart (2020) Charlotte, NC | 79-78-78--235 |
| | Tyler Partee (2021) Thomasville , NC | 75-83-77--235 |
| | Luke Hackworth (2019) Charlotte, NC | 81-71-83--235 |
| | Jackson Brimfield (2021) Chapel Hill, NC | 78-76-81--235 |
| | Michael Blair (2020) Kernersville, NC | 80-73-82--235 |
| | Ian Apsey (2018) Clayton, NC | 71-80-84--235 |
| T58 | Will Hawley (2019) Raleigh, NC | 74-83-79--236 |
| | Jeffrey Parker (2019) Oak Ridge, NC | 77-76-83--236 |
| T60 | Will Hanna (2018) Raleigh, NC | 78-78-81--237 |
| | Charlie Barr (2021) Salisbury, NC | 76-79-82--237 |
| | Caden Baker (2021) Mebane, NC | 84-74-79--237 |
| | Drew Hackett (2019) Charlotte, NC | 79-79-79--237 |
| | Frank Gilliam (2020) Raleigh, NC | 79-79-79--237 |
| T65 | Alex Scott (2017) Raleigh, NC | 80-76-82--238 |
| | Carter Rains (2019) Greenville , NC | 84-74-80--238 |
| 67 | Karsten Shields (2020) Monroe, NC | 81-77-81--239 |
| 68 | Clayson Good (2020) Durham, NC | 77-81-82--240 |
| 69 | Nicolas Brown (2017) Wendell, NC | 80-76-85--241 |
| 70 | Rob Salisbury (2019) Winston-Salem, NC | 81-75-86--242 |
| 71 | Malin Muckenfuss (2020) Charlotte, NC | 79-78-90--247 |
| | MISSED CUT | |
| T72 | Will Tamplin (2017) Asheville, NC | 79-80--159 |
| | Zach Brown (2019) Bermuda Run, NC | 79-80--159 |
| | Seve Anfindsen (2017) Apex, NC | 75-84--159 |
| | Will Lewis (2018) Raleigh, NC | 82-77--159 |
| | Joey Pritchard (2020) Whispering Pines, NC | 86-73--159 |
| | Kellen Graham (2018) Asheville , NC | 77-82--159 |
| | Colin Wholey (2018) Charlotte, NC | 81-78--159 |
| | Bo Bolick (2020) High Point, NC | 77-82--159 |
| | Mitchell Tanis (2020) Pineville, NC | 82-77--159 |
| | Garrett Dawson (2019) Wilkesboro, NC | 82-77--159 |
| | Nicholas Smith (2019) Wingate, NC | 78-81--159 |
| T83 | Christian Bailey (2017) Matthews, NC | 78-82--160 |
| | Zach Pardoll (2019) Waxhaw, NC | 83-77--160 |
| | Ike Joy (2021) Denver, NC | 79-81--160 |
| | Owen Swavely (2019) Mooresville, NC | 77-83--160 |
| T87 | Landon Barnes (2020) Pilot Mountain, NC | 78-83--161 |
| | Connor Jones (2018) Raleigh, NC | 81-80--161 |
| | Jack Marcotte (2019) Apex, NC | 82-79--161 |
| | Matthew Fary (2018) Thomasville, NC | 79-82--161 |
| | Jack Phenecie (2018) Davidson, NC | 80-81--161 |
| | Randall Hudson (2020) New Bern, NC | 79-82--161 |
| T93 | Patrick Carlin (2018) Raleigh, NC | 80-82--162 |
| | Dalton Mauldin (2017) Sanford, NC | 81-81--162 |
| | Blake Brantley (2020) Winston-Salem, NC | 86-76--162 |
| | Nicklaus Sutton (2019) Matthews , NC | 81-81--162 |
| | Zach Gilbert (2019) Davidson, NC | 80-82--162 |
| T98 | Grant Smith (2019) Charlotte, NC | 79-84--163 |
| | James Carlin (2020) Raleigh, NC | 80-83--163 |
| | Kenan Poole II (2019) Raleigh, NC | 79-84--163 |
| | Bryson Sprinkle (2018) Rockwell, NC | 83-80--163 |
| | Jake Herring (2021) Wilson, NC | 83-80--163 |
| | Tanner Bibey (2017) Walnut Cove, NC | 78-85--163 |
| | Minor Hinson (2021) Charlotte, NC | 78-85--163 |
| T105 | Josh Lendach (2021) Raleigh, NC | 81-83--164 |
| | Parker Chavis (2017) China Grove, NC | 82-82--164 |
| | Justin Seybuck (2017) Matthews, NC | 84-80--164 |
| T108 | Chase Clayton (2019) Locust, NC | 81-84--165 |
| | Andrew Wood (2019) Greensboro, NC | 82-83--165 |
| | Joseph Cook (2017) Rocky Mount, NC | 80-85--165 |
| | Nicholas Stuedli (2018) Charlotte, NC | 83-82--165 |
| | Cole Sutherland (2018) Charlotte, NC | 83-82--165 |
| | Brandon Jones (2019) Sanford, NC | 85-80--165 |
| T114 | Carter Cheek (2018) Cary, NC | 82-84--166 |
| | Sam Nester (2019) Mount Airy, NC | 85-81--166 |
| | Griffin Burke (2017) Cary, NC | 86-80--166 |
| | Justin Kristof (2018) Morrisville, NC | 81-85--166 |
| | Caleb Kimbrough (2019) New Bern, NC | 82-84--166 |
| | Eston Lee (2020) Four Oaks, NC | 81-85--166 |
| | Brendan Kelly (2019) Raleigh, NC | 87-79--166 |
| | Todd Moyer (2021) Cornelius, NC | 84-82--166 |
| T122 | Christian Jarrell (2020) Davidson, NC | 83-84--167 |
| | Ian Johnson (2019) Cornelius, NC | 84-83--167 |
| T124 | Britt Stroud (2019) Raleigh, NC | 84-84--168 |
| | Harrison Wierse (2019) Wilmington, NC | 85-83--168 |
| | Davis Fisher (2019) Greenville, NC | 81-87--168 |
| 127 | Andrew Coward (2020) Landis , NC | 87-82--169 |
| T128 | Wells Armes (2019) Raleigh, NC | 88-83--171 |
| | Max Johnson (2019) Hampstead, NC | 87-84--171 |
| | Jordan Kustas (2019) Charlotte, NC | 89-82--171 |
| T131 | Parker Shimp (2021) Charlotte, NC | 91-81--172 |
| | Gibby Shea (2020) Charlotte, NC | 90-82--172 |
| 133 | Tyler Owens (2019) Cary, NC | 85-88--173 |
| T134 | Austin Trent (2017) Pleasant Garden, NC | 85-89--174 |
| | Ryan Bradley (2020) Cary, NC | 88-86--174 |
| 136 | Luke Crouse (2022) Reidsville, NC | 83-97--180 |
| 137 | Parker Truesdale (2020) Canton, NC | 99-85--184 |
| 138 | Carl Floars (2018) Goldsboro , NC | 108-93--201 |
| | Will Sleeper (2018) Charlotte, NC | 80-WD |