Mills III/Kirby Capture NC Senior Four-Ball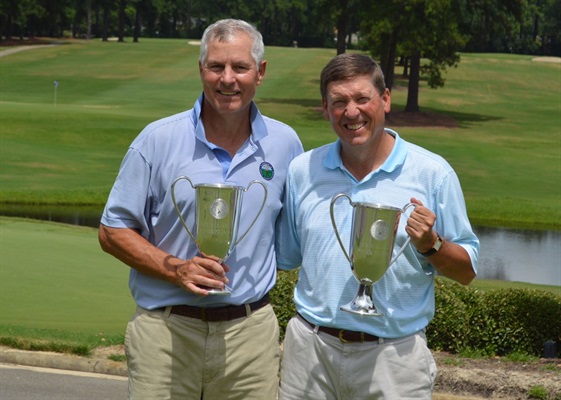 ROCKY MOUNT, N.C. (August 11, 2017) -- Final results from the 17th North Carolina Senior Four-Ball Championship at Benvenue Country Club in Rocky Mount, N.C. on Friday, August 11th (6,456 yards, par 36-36--72).
Related: Championship Web Site | Tee Times & Pairings | Scoring | History

Nolan Mills III and Robby Kirby of Charlotte went wire-to-wire to win the 17th North Carolina Senior Four-Ball Championship hosted by Benvenue Country Club in Rocky Mount, N.C. After opening with rounds of 65-66, the duo cruised to a two-shot victory with a final round 69, for a three-day total of 16-under-par, 200.
"Robby just played really good today, we made some pars and a few birdies coming in and that made the difference," said Mills about their final round. The pair blistered the par-72, 1922 Donald Ross layout with 20 birdies in 54 holes. "It's just a good old school layout, that you have to keep it below the hole to score well and it's a lot of fun when you do," added Mills talking about their week. After finishing second last year in the N.C. Senior Four-Ball and second in the Carolinas Senior Four-Ball earlier this year, the duo was excited to get the victory, "We brother-in-lawed it all week and we are a great team, we are best friends, and we have great chemistry. This is my first CGA victory and it feels great because we feel like we deserve to be out here," added Kirby. "At the end of the day it's great to be able to come out here and do this, play a great course, against some great players and it's not something that is guaranteed so we are very thankful the CGA allows us to do this."
The team of Russ Perry of Winston-Salem and Mark Stephens of Troutman fired a final round 65 to propel them into second place. The 2017 N.C. Super Senior Four-Ball champions finished two shots back of the winners.
Finishing in third place were the defending champions, Ed Byman of Raleigh and Preston Edmondson of Morrisville.

17th North Carolina Senior Four-Ball Championship
Benvenue Country Club | Rocky Mount, N.C.
Final Results
| | | |
| --- | --- | --- |
| Place | Team | Score |
| 1 | Nolan Mills III, Charlotte, N.C. - Robby Kirby, Charlotte, N.C. | 65-66-69--200 (-16) |
| 2 | Russ Perry, Winston Salem, N.C. - Mark Stephens, Troutman, N.C. | 70-67-65--202 (-14) |
| 3 | Ed Byman, Raleigh, N.C. - Preston Edmondson, Morrisville, N.C. | 67-69-67--203 (-13) |
| 4 | Keith Waters, Raleigh, N.C. - Ernie Newton, Winston Salem, N.C. | 67-69-68--204 (-12) |
| 5 | Cliff Seastrunk, Raleigh, N.C. - Lennie Barton, Raleigh, N.C. | 69-67-71--207 (-9) |
| T6 | Johnny Elam, Charlotte, N.C. - Stephen Sharpe, Greensboro, N.C. | 68-70-70--208 (-8) |
| T6 | David Eaker, Forest City, N.C. - Steve Wilson, Wilmington, N.C. | 71-70-67--208 (-8) |
| 8 | Ron Carpenter, Creedmoor, N.C. - Gary Brown, Charlotte, N.C. | 72-67-70--209 (-7) |
| 9 | Frank Golden, Charlotte, N.C. - Macon Moye, Pinehurst, N.C. | 74-69-67--210 (-6) |
| T10 | Neal Morrison, Charlotte, N.C. - Bill Plyler, Charlotte, N.C. | 69-72-71--212 (-4) |
| T10 | Don Detweiler, Raleigh, N.C. - Andy Burnette, Raleigh, N.C. | 73-69-70--212 (-4) |
| T10 | Dean Channell, Cary, N.C. - Tuck Burkinshaw, Cary, N.C. | 73-71-68--212 (-4) |
| T10 | Kim Mansfield, High Point, N.C. - David Millis, High Point, N.C. | 73-68-71--212 (-4) |
| T14 | Garland Yates, Asheboro, N.C. - Dave Davis, Asheboro , N.C. | 70-72-73--215 (-1) |
| T14 | Robert Desjardins, Matthews, N.C. - Bill Boles Jr., Wilson, N.C. | 71-71-73--215 (-1) |
| 16 | Alan Dirk, Sanford, N.C. - Stephen Glaser, Sanford, N.C. | 71-75-70--216 (Even) |
| T17 | Bob Yow, Clinton, N.C. - Lawrence Hicks, Greensboro, N.C. | 72-74-72--218 (+2) |
| T17 | Robert Bennett, Clayton, N.C. - Ben Collins, Raleigh, N.C. | 75-72-71--218 (+2) |
| 19 | John W Fritz, Mint Hill, N.C. - Doug Meggs, Mint Hill, N.C. | 70-72-77--219 (+3) |
| T20 | Kenneth Eichele, Pinehurst, N.C. - Chuck Latham, Vass, N.C. | 75-73-73--221 (+5) |
| T20 | Terry Vereen, Caswell Beach, N.C. - Allen Kinney, Oak Island, N.C. | 71-78-72--221 (+5) |
| 22 | Mike Bivins, High Point, N.C. - David Tuttle, High point, N.C. | 77-73-72--222 (+6) |
| T23 | Bill Martinson, Chapel Hill, N.C. - Rick LaFata, Raleigh, N.C. | 75-76-72--223 (+7) |
| T23 | Will Alston, Rocky Mount, N.C. - Tom Drew, Rocky Mount, N.C. | 73-77-73--223 (+7) |
| T25 | Jim Hosey, Goldsboro, N.C. - Stan Adams, Goldsboro, N.C. | 77-73-74--224 (+8) |
| T25 | Butch English, Cornelius, N.C. - Bill Phillips, Charlotte, N.C. | 75-76-73--224 (+8) |
| T27 | Robbie Armistead, Raleigh, N.C. - Arch Reed, Pinehurst, N.C. | 73-75-78--226 (+10) |
| T27 | Rob Campbell, Charlotte, N.C. - Michael Jones, Charlotte, N.C. | 75-75-76--226 (+10) |
| 29 | Robert Parrott, Raleigh, N.C. - Chuck Parker, Raleigh, N.C. | 78-74-76--228 (+12) |
| 30 | Mark Wagner, Statesville, N.C. - Dick Hogan, Burlington, N.C. | 76-76-WD |
| | Failed to Qualify for Final Round | |
| 31 | Ralph Ronalter, Pinehurst, N.C. - Buck Adams Jr, Pinehurst, N.C. | 78-75 (+9) |
| T32 | Ray Jackson, Rocky Mount, N.C. - Bob Norman, Rocky Mount, N.C. | 78-77 (+11) |
| T32 | John Helms, Mt. Holly, N.C. - Paul Mauney, Iron Station, N.C. | 76-79 (+11) |
| T32 | David Shackelford, Cary, N.C. - Jim Arlington, Apex, N.C. | 78-77 (+11) |
| 35 | Bill Lee, Charlotte, N.C. - Kenneth Weeks Jr, Charlotte, N.C. | 80-78 (+14) |
| T36 | Jack Purdy, Pinehurst, N.C. - Charley Johnson, Southern Pines, N.C. | 82-77 (+15) |
| T36 | Steve Lambert, Greensboro, N.C. - Cam Blalock, Wrightsville, N.C. | 78-81 (+15) |