Carolinas Wins 35th Junior Teams Matches 8.5-7.5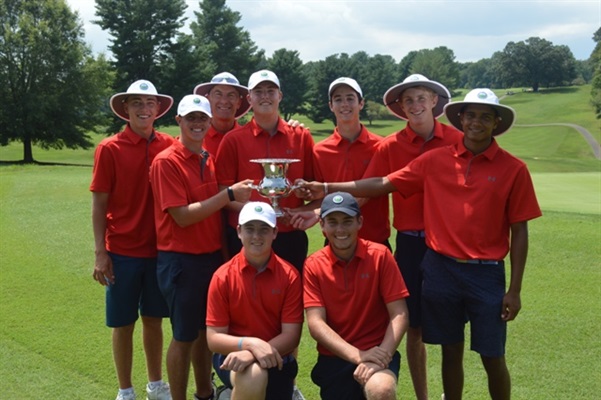 Carolinas wins 35th Virginias-Carolinas Junior Boys' Matches
By Chris Lang
LSU-bound Michael Sanders survived a late rally from Teddy Zinsner to clinch the deciding point for the Carolinas' squad in the 35th Virginias-Carolinas' Junior Boys' Matches Sunday at Boonsboro Country Club. For the second straight year, the Carolinas' team posted an 8½-7½ win, though this year, it had to sweat it out until the very end.
The teams entered Sunday singles tied at 4-4 after Saturday's four-ball and foursome matches. Each team had their share of comfortable victories in singles. For the Virginias' Connor Johnson Jr. (CC of Virginia) and Connor Burgess (Boonsboro CC) posted 5-and-4 wins, and Mason Williams (Bridgeport, W. Va.) recorded a 5-and-3 victory.
For the Carolinas', Danny Azallion (Hilton Head, S.C.) rolled to an early lead against Drew Brockwell (GC at the Highlands) before closing Brockwell out on the 16th green for a 3-and-2 win. Jack Massei (Cary, N.C.) fended off Jack Montague (Hermitage CC) 2 and 1, a win made more impressive by how well Montague played. He finished with a bogey-free, 4-under 68, but Massei rolled in a number of long birdie putts to secure the win.
Three matches made it to Boonsboro's par-4 18th hole, and that's ultimately where the event was decided. "It's definitely nerve wracking watching it, because it's not in your hands anymore," said Johnson, the lone player with a perfect 3-0 record on the weekend. "I was definitely more nervous watching the final holes of our group than I was playing today."
On 18, Fulton Smith (Pinehurst, N.C.) rolled a delicate downhill birdie putt to within inches of the hole for a tap-in par, and when Jimmie Massie's birdie attempt came up short, Smith clinched a 1-up victory.
Michael Brennan (River Creek Club) led 1 up heading to 16 against Nicholas Mayfield (Rock Hill, S.C.), and he missed a short birdie putt on that hole that would have put him dormie going to 17. Mayfield won that hole to square the match. On 18, Mayfield's drive went way left, leaving him with only one option for his second shot, a punch-out back to the fairway.
Brennan approach from the fairway settled in the rough just short of a greenside bunker. Mayfield's third shot stuck three feet from the hole. Both players got up and down for par and earned a half point.
Only the Sanders-Zinsner match remained. And after both players made bogey on 17, Sanders took a 1-up lead to 18, meaning the best the home team could do was forge a tie.
On his approach, Sanders hit a gap wedge from 130 yards to within comfortable two-putt distance. Zinsner's approach settled at the back of the green above the hole. Needing to make birdie to earn the half point, Zinsner's putt slid well past the hole, and Sanders two putted to clinch the 2-up win and the overall victory for the Carolinas.
"This the first time I've ever played in this event," Sanders said. "It was great. To play with guys from North Carolina that I've known for a while, and the South Carolina guys that I got to know this week, we all got pretty close. Really good team chemistry. It was great to have guys out there supporting each other."
Johnson expressed a similar sentiment after the frustrating defeat. He was on the squad for last year's one-point loss as well. "We play all year to get in this tournament, and it's by far, the most fun tournament we play all year," Johnson said. "To be able to play with these guys at the end of the year, it's really fun."
Burgess, Brockwell and Massie went 2-1 for the Virginias over the weekend. Burgess (Virginia Tech), Massie (Virginia) and Zinsner (Yale) played in their final VSGA junior event and will start their college careers in the coming weeks.
Chris Lang is the Editor of Virginia Golfer Magazine and Manager, Digital Media for the VSGA.
35th Virginias-Carolinas Junior Boys' Matches
at Boonsboro Country Club, Lynchburg
Saturday's Four-Ball Matches
Drew Brockwell (Chesterfield)/Connor Johnson Jr. (Richmond) def. Danny Azallion (Hilton Head, S.C.)/Jack Massei (Cary, N.C), 3 and 2
Teddy Zinsner (Alexandria)/Jimmie Massie (Lynchburg) def. Nicholas Mayfield (Rock Hill, S.C.)/Fulton Smith (Pinehurst, N.C.), 1 up
Garrett Coooper (Cowpens, S.C.)/Quinn Riley (Raleigh, N.C.) def. Michael Brennan (Leesburg)/Mason Williams (Bridgeport, W. Va.), 3 and 2
Brady Hinkle (Lancaster, S.C.)/Michael Sanders (Davidson, N.C.) def. Connor Burgess (Lynchburg)/Jack Montague (Manakin-Sabot), 1 up
Matches tied 2-2 after morning four-ball
Saturday's Foursome Matches
Brockwell/Johnson def. Cooper/Azallion, 2 up
Riley/Smith def. Zinsner/Brennan, 5 and 3
Mayfield/Hinkle def. Montague/Williams, 3 and 2
Massie/Burgess def. Massei/Sanders, 3 and 1
Matches tied 4-4 after afternoon foursomes
Sunday's Singles Matches
Massei def. Montague, 2 and 1
Azallion def. Brockwell, 3 and 2
Johnson def. Cooper, 5 and 4
Mayfield vs. Brennan, halved
Smith def. Massie, 1 up
Williams def. Riley, 5 and 3
Burgess def. Hinkle, 5 and 4
Sanders def. Zinsner, 2 up
Carolinas wins 8½-7½