US Mid-Amateur Qualifying Results from Colonial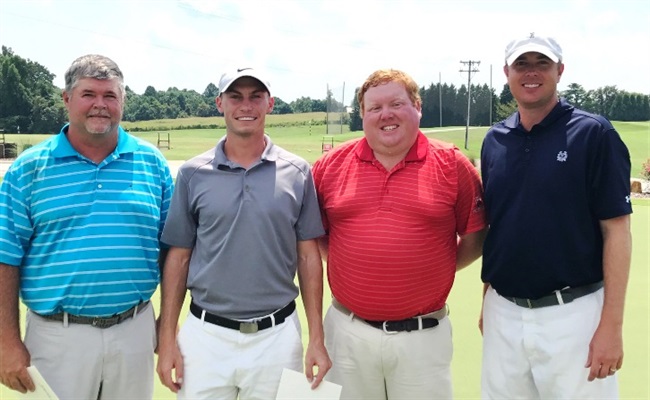 THOMASVILLE, NC – Sectional qualifying results of the 2017 US Mid-Amateur Championship of the United States Golf Association hosted by Colonial Country Club in Thomasville, NC on Monday, August, 2017 (6,800 yards, Par 36-35—71, (72.3/126).
Four qualifying spots and two alternate positions were available at this qualifying site.
Charlotte, NC natives Garrett Kachellek and Chad Wilfong shared medalist honors with a round of three-under par 68. Sherrill Britt from West End, NC and Josh Nichols from Kernersville, NC earned the third and fourth spots with scores of two-under par 69.
The four qualifiers advanced to the US Mid-Amateur Championship will be held October 7-12 at Capital City Club in Atlanta, GA.
Qualifying Results
Place

Competitor

Score

T1

Garrett Kachellek, Charlotte, N.C.

36-32--68 (-3)

T1

Chad Wilfong, Charlotte, N.C.

35-33--68 (-3)

T3

Sherrill Britt, West End, N.C.

35-34--69 (-2)

T3

Josh Nichols, Kernersville, N.C.

37-32--69 (-2)

Failed to Qualify

5

Jay Roberts, Davidson, N.C.

39-31--70 (-1) 1st Alt.

6

Stephen Woodard, Charlotte, N.C.

34-37--71 (Even) 2nd Alt.

T7

Stuart McGoogan, Charlotte, N.C.

37-34--71 (Even)

T7

Tim Dillon, Charlotte, N.C.

34-37--71 (Even)

T10

Pat Thompson, Asheville, N.C.

36-36--72 (+1)

T10

Justin Pennell, Lenoir, N.C.

37-35--72 (+1)

T10

Michael Nulty, Greensboro, N.C.

38-34--72 (+1)

T10

Jamie Carey, Charlotte, N.C.

36-36--72 (+1)

T10

Todd Grear, Charlotte, N.C.

36-36--72 (+1)

T10

Hayes Brown, Charlotte, N.C.

37-35--72 (+1)

T10

Bryan Fary, Thomasville, N.C.

38-34--72 (+1)

T10

William Andrews, Advance, N.C.

37-35--72 (+1)

T18

Chris Cassetta, High Point, N.C.

37-36--73 (+2)

T18

Brett Boner, Charlotte, N.C.

35-38--73 (+2)

T18

Ryan Gioffre, Greensboro, N.C.

37-36--73 (+2)

T18

Hendrik Hanegraaff Jr., Waxhaw, N.C.

36-37--73 (+2)

T22

David Fowler, Winston-Salem, N.C.

39-35--74 (+3)

T22

John Pitt, Raleigh, N.C.

36-38--74 (+3)

T22

Bailey Patrick, Charlotte, N.C.

36-38--74 (+3)

T22

Wesley Harden, Greenville, S.C.

35-39--74 (+3)

T22

Jack Mcclelland, Pinehurst, N.C.

39-35--74 (+3)

T22

Philip Geiger, Davidson, N.C.

39-35--74 (+3)

T22

John Fasy, Raleigh, N.C.

41-33--74 (+3)

T22

Darrell Craft, Salem, Va.

37-37--74 (+3)

T30

Jonathan Jackson, Chapel Hill, N.C.

43-32--75 (+4)

T30

Bobby Dean, Charlotte, N.C.

39-36--75 (+4)

T30

Charles Spry, Winston salem, N.C.

37-38--75 (+4)

T30

Kevin Stallings, Greenville, N.C.

34-41--75 (+4)

T30

Mr. Jason Dean Debuhr, Charlotte, N.C.

38-37--75 (+4)

T30

Joseph Davis, Cornelius, N.C.

39-36--75 (+4)

T36

Tommy Miller, Boone, N.C.

38-38--76 (+5)

T36

Bill Hyder, Charlotte, N.C.

36-40--76 (+5)

T36

Jerell Fields, Charlotte, N.C.

41-35--76 (+5)

T39

John Kennedy, Winston Salem, N.C.

34-43--77 (+6)

T39

Mark Absher, Winston Salem, N.C.

38-39--77 (+6)

T39

Skip Corneliussen, Summerfield, N.C.

37-40--77 (+6)

T39

Bart Garrett, Charlotte, N.C.

39-38--77 (+6)

T39

Robert Burrow, Charlotte, N.C.

38-39--77 (+6)

T39

James Doyle IV, Charlotte, N.C.

38-39--77 (+6)

T39

Joe Alvarez, Charlotte, N.C.

37-40--77 (+6)

T39

Brady Gregor, High Point, N.C.

39-38--77 (+6)

T39

Robert Stewart, Raleigh, N.C.

38-39--77 (+6)

T39

Bj Szafran, Greensboro , N.C.

37-40--77 (+6)

T39

Jay Biber, Charlotte, N.C.

41-36--77 (+6)

T50

Tim Dean, Ocean Isle Beach, N.C.

41-37--78 (+7)

T50

Mark Slawter, Winston-Salem, N.C.

39-39--78 (+7)

T50

Paul Slomkowski, Colfax, N.C.

42-36--78 (+7)

T50

Matthew Haneline, Charlotte, N.C.

38-40--78 (+7)

T50

Robert Quick, Winston Salem, N.C.

39-39--78 (+7)

T50

Bobby Murray, Cary, N.C.

37-41--78 (+7)

56

Jared J Bickling, Mooresville, N.C.

41-38--79 (+8)

T57

Brad Clark, Chapel Hill, N.C.

41-39--80 (+9)

T57

Bruce Bevins II, Matthews, N.C.

39-41--80 (+9)

T57

Michael McMullen, Chapel Hill, N.C.

41-39--80 (+9)

T57

Ben Campbell, Wytheville, Va.

41-39--80 (+9)

T61

Kenny Flynn, Winston Salem, N.C.

42-39--81 (+10)

T61

Walt Todd Jr, Laurens, S.C.

38-43--81 (+10)

63

Dean Norman Jr., Greensboro, N.C.

39-43--82 (+11)

64

Collins Fulcher, Thomasville, N.C.

43-42--85 (+14)

T65

Justin Wiesehan, Indian Land, S.C.

43-44--87 (+16)

T65

David Walker, Lookout Mt. , Tenn.

47-40--87 (+16)

T67

Jeremy Ray, Pfafftown, N.C.

WD-WD--WD (WD)

T67

Brian Westveer, Charlotte, N.C.

WD-WD--WD (WD)

T67

Christopher Harp, Pinehurst, N.C.

WD-WD--WD (WD)

T67

Scott Patnode, Belmont, N.C.

WD-WD--WD (WD)

T67

Samuel Ring, Carthage, N.C.

WD-WD--WD (WD)

T67

David Brown, Conover, N.C.

WD-WD--WD (WD)

T67

Joe Brooks, Franklin, N.C.

WD-WD--WD (WD)

T67

Mayson Petty, Charlotte, N.C.

WD-WD--WD (WD)

T67

Samuel Carrington, Greenville, S.C.

WD-WD--WD (WD)

T67

Barry Dyche, Charlotte, N.C.

WD-WD--WD (WD)

T67

Cory Segall, Charlotte, N.C.

WD-WD--WD (WD)

T67

Troy Adams, Charlotte, N.C.

WD-WD--WD (WD)