66 Propels Hawkins to Anderson Girls' Title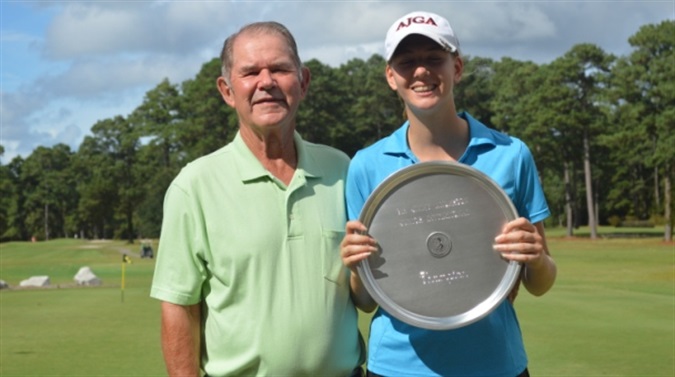 Final results of the 9th Jimmy Anderson Girls' Invitational at Jacksonville CC in Jacksonville, N.C. on Sunday, October 7, 2017 (5,693 yards, Par 35-37--72, Course Rating 73.5/123).
Making the turn Emily Hawkins of Lexington, N.C. had a comfortable four shot lead heading into the final nine holes of the 9th Jimmy Anderson Girls' Invitational. Hawkins, a senior who has verbally committed to play college golf at Campbell University, shot a front nine of four under par 31 to move her to five under par. First round leader Jensen Castle of West Columbia, S.C. played the her first nine holes in one over par 36 and sat at one under. Castle, a high school junior, found some magic on the back side and birdied holes 11 through 13 and a bogey by Hawkins on the twelfth hole put both girls at four under par for the tournament. Hawkins rebounded with birdies on fourteen and fifteen and Castle also birdied fifteen giving Hawkins a one shot lead with three holes to play. Both girls pared sixteen and seventeen and Hawkins matched Castle's closing birdie on eighteen to secure the one shot victory. Hawkins final round of six under par 66 was the lowest round of the tournament, the lowest round ever shot by a junior girls in the history of the event and her seven under par set a new tournament scoring record for 36-holes.
Kat Floyd of Chapel Hill, N.C. and Emelia Pack of Browns Summit, N.C. finished tied for third place at two over par 146. Finishing tied for fifth place at three over par 147 were Sophie Holland of Cornelius, N.C. and Alexis Sudjianto of Charlotte, N.C.
Jacksonville Country Club Board of Directors and several junior golf alumni of the club started the Jimmy Anderson Junior Invitational in 2009 to honor Mr. Jimmy Anderson for his service as golf professional at Jacksonville Country Club and his dedication and support of junior golf. Jimmy Anderson was the head golf professional at Jacksonville Country Club for over 25 years. Each Saturday morning, he conducted a junior golf clinic to help spread the game of golf to the next generation. During his tenure at Jacksonville CC, he taught many juniors including Mallory Miller, the 1987 N.C. Junior Champion and numerous future collegiate and golf professionals. Not only did he teach the game of golf, but was always there with a helpful word of encouragement to any young golfer.
This annual junior girls tournament is conducted jointly by the Peggy Kirk Bell Girls' Tour and the Carolinas Golf Association.
| | | |
| --- | --- | --- |
| Place | Name | Score |
| 1 | Emily Hawkins (2018) Lexington, NC | 71-66--137 |
| 2 | Jensen Castle (2019) West Columbia, SC | 70-68--138 |
| T3 | Kat Floyd (2020) Chapel Hill, NC | 73-73--146 |
| | Emelia Pack (2019) Browns Summit, NC | 74-72--146 |
| T5 | Sophie Holland (2020) Cornelius, NC | 73-74--147 |
| | Alexis Sudjianto (2019) Charlotte, NC | 73-74--147 |
| T7 | Haeley Wotnosky (2018) Wake Forest, NC | 72-76--148 |
| | Kendall Turner (2019) Chesapeake, VA | 72-76--148 |
| 9 | Ryann Sinclair (2019) Mooresville, NC | 73-76--149 |
| 10 | Paris Fieldings (2023) Suffolk, VA | 78-72--150 |
| T11 | Hailey Joy (2018) Reidsville , NC | 78-73--151 |
| | Grace Jones (2020) Hayesville, NC | 73-78--151 |
| | Madilyn Newman (2021) Knoxville, TN | 77-74--151 |
| 14 | Hannah Rose Bruxvoort (2018) Chapel Hill, NC | 80-72--152 |
| T15 | Jayla Rogers (2019) Wilmington, NC | 77-76--153 |
| | Riley Hamilton (2020) Reidsville, NC | 78-75--153 |
| | Katherine Schuster (2021) Kill Devil Hills, NC | 79-74--153 |
| T18 | Anna McDonald (2019) Hickory, NC | 77-77--154 |
| | Kayla Smith (2019) Burlington, NC | 78-76--154 |
| | Maria Atwood (2022) Holly Springs, NC | 78-76--154 |
| | Nicole Adam (2020) Pinehurst, NC | 79-75--154 |
| | Alexia Siehl (2022) Fort Mill, SC | 76-78--154 |
| T23 | Kayla Ward (2018) Raleigh, NC | 77-78--155 |
| | Parker Melting (2018) Mint Hill, NC | 79-76--155 |
| | Deborah Spair (2020) Raleigh, NC | 80-75--155 |
| T26 | Sarah Funderburg (2018) Wilmington, NC | 77-79--156 |
| | Madison Isaacson (2018) Greensboro, NC | 77-79--156 |
| 28 | Michelle Harn (2019) Charlotte, NC | 77-80--157 |
| 29 | Lotte Fox (2020) Raleigh, NC | 81-77--158 |
| T30 | Hailey Pendleton (2020) Waxhaw, NC | 83-77--160 |
| | Ana Tsiros (2019) Asheville, NC | 83-77--160 |
| | Kelley Topiwala (2020) Charlotte, NC | 81-79--160 |
| | Kayla Dowell (2021) Mebane, NC | 81-79--160 |
| T34 | Megan Kanaby (2019) Chapel Hill, NC | 79-82--161 |
| | Julie Fiedler (2021) New Bern, NC | 82-79--161 |
| | Trinity Muthomi (2022) Kernersville, NC | 80-81--161 |
| T37 | Carson Jenkins (2019) Raleigh, NC | 85-77--162 |
| | Trinity Ahing (2020) New Bern, NC | 79-83--162 |
| T39 | Siana Wong (2020) Summerfield, NC | 86-77--163 |
| | Victoria Cook (2020) Reidsville, NC | 83-80--163 |
| 41 | Aleigha Hodges (2018) Stokesdale, NC | 82-83--165 |
| T42 | Grace Holcomb (2021) Wilmington, NC | 85-81--166 |
| | Caroline Bryant (2018) New Bern, NC | 82-84--166 |
| | Grace Olmstead (2018) Four Oaks, NC | 80-86--166 |
| T45 | Caroline Isaacson (2020) Greensboro, NC | 87-80--167 |
| | Olivia Erwin (2018) Charleston, SC | 85-82--167 |
| 47 | Katelyn Kenthack (2020) Pinehurst, NC | 87-83--170 |
| T48 | Halynn Lee (2021) Cary, NC | 88-85--173 |
| | Chloe Pittman (2020) Davidson, NC | 90-83--173 |
| 50 | Laney Wessels (2021) Sophia, NC | 87-87--174 |
| 51 | Elizabeth Ritchie (2019) Havelock, NC | 91-89--180 |
| 52 | Grace Greene (2019) Apex, NC | 91-90--181 |
| 53 | Myranda Vogan (2021) New Bern, NC | 91-91--182 |
| 54 | Jessica Townsend (2022) Wilmington, NC | 90-93--183 |
| 55 | Maci Beaver (2021) Roanoke Rapids, NC | 95-91--186 |
| 56 | Kyleigh Harnsberger (2021) Advance, NC | 100-90--190 |
| 57 | Darby Reeder (2020) Smithfield, NC | 103-89--192 |
| 58 | Angela Linehan (2019) Hampstead, NC | 99-103--202 |
| | Mackenzie Battle (2018) Aberdeen, NC | 74-WDI |
| | Anna Hillman (2018) Summerfield, NC | 85-WDI |