Hirai and Bae take Young Amateur Titles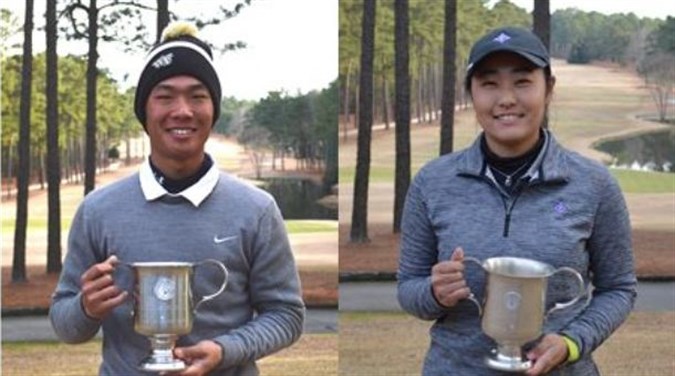 9th Carolinas Young Amateur
Pinewild CC (Magnolia) Pinehurst, NC
December 28-29, 2017
Final Results
Reona Hirai of Summerville, S.C. and Eric Bae of Pinehurst, N.C. captured their division titles in the 9th Carolinas Young Amateur Championship in impressive style. Hirai, a junior at Furman University, shot a second round of five under par 67 and finished nine shots ahead of the nearest competitors with a two day total of seven under par 137. Even more impressive is the fact that Hirai played 36 holes in tough cold conditions bogey free. 2014 Carolinas Young Amateur Champion Kelli Murphy of Elgin, S.C. and Jodee Tindal of Rock Hill, S.C. finished tied for second at two over par 146.
Bae, a sophomore at Wake Forest, won his fourth CGA championship winning the men's division with a two day total of two under par 142. Jonathan Brightwell, a freshman at UNC-Greensboro and from Mint Hill, N.C. shot the low round of the day and tournament with a four under par 68 and finished in second place with a total of one over par 145. Tim Bunten of Concord, N.C. shot a total of two over par 146 and finished alone in third place.
The Carolinas Amateur was conducted on the Magnolia course at Pinewild Country Club in Pinehurst, N.C. and is open to any male or female amateur golfer ages 18 to 25 as of December 29, 2017, who has finished high school, is a legal resident of North Carolina or South Carolina, and has a current USGA Handicap Index® at a CGA member club.
Men (6,925 yards, par 72, 73.8/130)

Place

Name

Score

1

Eric Bae, Pinehurst, NC

71-71--142

2

Jonathan Brightwell, Mint Hill, NC

77-68--145

3

Tim Bunten, Concord, NC

75-71--146

4

Tanner Gross, Archdale, NC

71-77--148

5

Justin Hood, St Matthews, SC

76-73--149

T6

Grant Powell, Colfax, NC

75-75--150

T6

Joshua Stockwell, West End, NC

77-73--150

8

Nicholas Lyerly, Salisbury, NC

76-75--151

T9

Blake Taylor, Atkinson, NC

76-76--152

T9

Nick Russell, Hilton Head Island, SC

76-76--152

T11

Jackson Spires, Fayetteville, NC

76-77--153

T11

Justin Poole, Wendell, NC

73-80--153

T11

Nolan Mills IV, Charlotte, NC

74-79--153

T11

Trey Burton, Hickory, NC

82-71--153

T11

Walker Cress, Concord, NC

75-78--153

T11

Zakariya Butt, Summerville, SC

77-76--153

T17

Benjamin Buben, Charlotte, NC

77-77--154

T17

Joey Funderburg, Wilmington, NC

77-77--154

T17

Michael Wicker, Rougemont, NC

79-75--154

T17

Patrick Stephenson, Four Oaks, NC

76-78--154

T17

Zach McLain, Gilbert, SC

76-78--154

T22

Christian Salzer, Sumter, SC

80-75--155

T22

Clayton Holland, Greensboro, NC

79-76--155

T22

Jack Parrott, Columbia, SC

81-74--155

T22

Jordan Smith, Summerfield, NC

75-80--155

T22

Logan Shuping, Salisbury, NC

77-78--155

T22

Patrick Schweitz, Clayton, NC

77-78--155

T28

Brett McLamb, Coats, NC

79-78--157

T28

Hunter Oxendine, Fayetteville, NC

80-77--157

T28

McClure Thompson, Little River, SC

78-79--157

T31

Austin Bonfiglio, Holly Springs, NC

81-78--159

T31

Henry Augenstein, Columbia, SC

79-80--159

T31

Scott Pechacek, Cary, NC

76-83--159

T34

Aaron Purviance, Winston-Salem, NC

80-80--160

T34

Connor Bruns, Duncan, SC

79-81--160

T34

Jackson Tyler, Wilmington, NC

83-77--160

T34

Ryan Marter, Columbia, SC

79-81--160

T34

Zack Swanson, Charlotte, NC

79-81--160

T39

Levi Grogan, Canton, NC

82-79--161

T39

Luke Grogan, Canton, NC

79-82--161

T39

Vijay Mishra, North Myrtle Beach, SC

78-83--161

T39

Will Stewart, Charlotte, NC

82-79--161

43

Mack Sheppard, Harrisburg, NC

82-80--162

44

Preston Ball, Raleigh, NC

79-84--163

T45

David White, Kinston, NC

81-83--164

T45

Matthew Spak, Cary, NC

83-81--164

47

Daniel Castleberry, Landrum, SC

81-84--165

T48

Austin Zoller, Summerville, SC

85-81--166

T48

Jake Scruggs, Shelby, NC

82-84--166

T50

James Gammon, Eden, NC

86-81--167

T50

Tanner Bibey, Walnut Cove, NC

82-85--167

T52

Joey Pettis, Raleigh, NC

84-84--168

T52

Justin Emmons, Asheboro, NC

84-84--168

T54

Austin Northern, Blowing Rock, NC

85-84--169

T54

Scott Campbell, Kernersville, NC

84-85--169

T56

John Keffer, Sumter, SC

83-87--170

T56

Michael Rials, Florence, SC

85-85--170

58

David Thornton Jr., Huntersville, NC

85-89--174

T59

Justin Prozzi, Hartsville, SC

87-90--177

T59

Micah Alexander, Durham, NC

95-82--177

61

Jack Chatt, Matthews, NC

95-88--183

Women (5,796 yards, par 72, 74.1/132)

Place

Score

1

Reona Hirai, Summerville, SC

70-67--137

T2

Jodee Tindal, Rock Hill, SC

75-71--146

T2

Kelli Murphy, Elgin, SC

74-72--146

T4

Jacqueline Twitty, Chapin, SC

77-72--149

T4

Sarah Spicer, Bahama, NC

77-72--149

T6

Jaelyn Tindal, Rock Hill, SC

73-80--153

T6

Jessica Spicer, Bahama, NC

74-79--153

8

Kendall Dobbins, Summerfield, NC

80-81--161

9

Meghan Symonds, Cary, NC

85-77--162

10

Ansley Vaughan, Edisto Beach, SC

83-81--164

11

Parker Watson, Smithfield, NC

81-84--165

12

Mogie Adamchik, Raleigh, NC

85-81--166

13

Natalie Petersen, Holly Springs, NC

85-83--168

14

Amanda Hill, Hillsborough, NC

95-87--182

15

Danielle Mirovich, Mount Pleasant, NC

98-86--184

16

Kennedy Ramsey, Huntersville, NC

95-94--189