Young Carolinas Golfers Can Now Play for $5 Per Round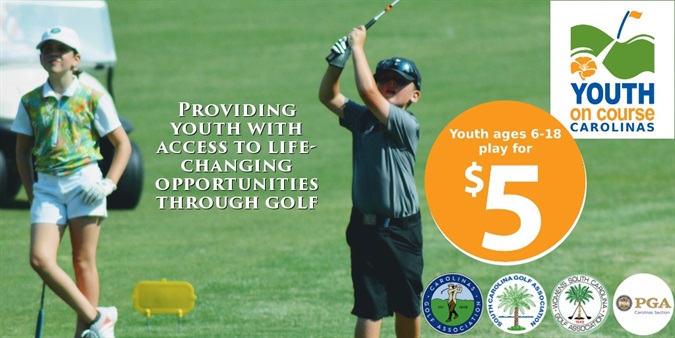 This major initiative provides access to affordable golf for junior players

SOUTHERN PINES, N.C. (March 15, 2018) -- The Carolinas Golf Association (CGA) is excited to announce the launch of Youth on Course across North Carolina and South Carolina. The core purpose of Youth on Course is to provide youth ages 6-18 with access to life-changing opportunities through golf. Beginning March 15, young golfers in the Carolinas ages 6-18 can register to become Youth on Course members. The initial program is to provide youth with golf rounds for $5 or less at over 50 participating golf courses across the two states, as well as hundreds across the country. Plans include setting up youth for success beyond the golf course through college scholarships.
Related: List of participating courses | How to Join |
"Knowing that the cost of golf is a deterrent for kids, we were particularly interested in finding something that could help provide affordable access to golf," says CGA President Gene Spencer. "We want to have a deeper impact on the junior golf population, and seeing the success that Youth on Course is having across the United States, it's obvious that the program is a game-changer for the industry."
Born in Northern California, Youth on Course subsidizes greens fees to remove cost as a barrier to entry for youth. Operating in every U.S. region, Youth on Course has more than 30,000 active members with access to 18 holes of golf for $5 or less at 600-plus courses across 22 states. Since 2006, nearly 650,000 rounds have been completed by Youth on Course members.
"The demand for affordable access to golf has never been higher," says Youth on Course Executive Director Adam Heieck. "We're happy to play a key role in making that a reality in local communities."
With over 730 member golf courses, the CGA, in conjunction with the Carolinas PGA, South Carolina Golf Association, and Women's South Carolina Golf Association, will raise funds toward round subsidies as facilities across the states adopt the program. By becoming a Youth on Course member, young golfers also secure membership into the Carolinas Golf Association, South Carolina Golf Association, and Women's South Carolina Golf Association (if otherwise eligible).
Support for Youth on Course drives the organization's growth across America. The program has been recognized by The Golf Channel and Golf Digest as an essential bridge between youth instruction and consistent play throughout adulthood. NBA MVP and Charlotte, N.C. native Steph Curry is a vocal ambassador of the program.
Joining is easy! Youth on Course membership is $20 and is good for a calendar year. In order to join, youth must be at least 6 years old, but not yet in college. After signing up, youth complete a brief curriculum, which gets them a membership card. From there, youth can hit the links and play for $5 or less at participating courses! As an added benefit of becoming a member, youth also secure membership with the Carolinas Golf Association, which gives them the ability to play tournaments and establish a golf handicap.
About the Carolinas Golf Association (CGA)
The CGA is a 501(c)(3) not-for-profit educational organization that was founded in 1909 to promote and to protect the game of golf in the Carolinas by providing competitions, education, support and benefits to golf clubs and golfers. The CGA is the second largest golf association in the country with over 700 member clubs represented by nearly 150,000 individuals.
The CGA annually conducts 48 championships and five team match competitions for men, women, juniors, and seniors. It also runs over 150 One-Day (net and gross) events as well as qualifying for USGA national championships. The CGA serves golf in the Carolinas with numerous programs such as: the USGA Handicap System; tournament management software and support; course measuring and course/slope ratings; agronomy consultation; answers about the Rules of Golf, Rules of Amateur Status, and Handicapping; Carolinas Golf Magazine; Interclub series; Tarheel Youth Golf Association; Carolinas Golf Hall of Fame; expense assistance for USGA Junior and Girls' Junior qualifiers from the Carolinas; and the Carolinas Golf Foundation (CGF). The CGF has distributed nearly $2,000,000 since 1977 to benefit Carolinas' golf initiatives including junior and women's programs.
For more information about the CGA, visit our website.
About Youth on Course
The core purpose of Youth on Course is to provide youth ages 6-18 with access to life-changing opportunities through golf. Members play hundreds of courses for $5 or less. Headquartered in Pebble Beach, Youth on Course is a 501(c)3 organization that began as the charitable arm of the Northern California Golf Association. Since 2006, nearly 650,000 rounds have been played by Youth on Course members and more than $1.25 million has been raised for college scholarships. Currently, Youth on Course serves Arizona, California, Colorado, Georgia, Idaho, Illinois, Iowa, Kansas, Kentucky, Maryland, Michigan, Minnesota, Missouri, Nevada, New Mexico, North Carolina, Ohio, Oregon, Pennsylvania, South Carolina, Utah, Washington, and Wisconsin with the goal of delivering affordable golf in all 50 states by 2021.
--30--