NC Amateur Team Seeks Tar Heel Cup Redemption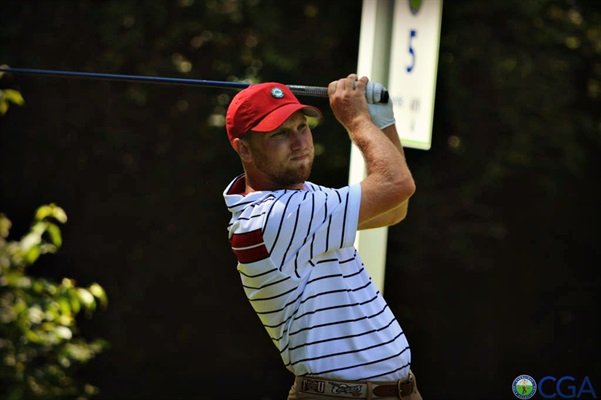 2017 NC Amateur champion - Justin Tereshko

SOUTHERN PINES, N.C. (March 28, 2018) -- A team of eight North Carolina amateurs seeks redemption against eight North Carolina PGA Professionals in the 24th Tar Heel Cup Matches at River Landing in Wallace, N.C. on April 2-3. The event is jointly conducted by the Carolinas Golf Association (CGA) and the Carolinas PGA Section (CPGA).
Related: Championship Homepage | Four-Ball Matches | Live Scoring | History
For the first time since 2009, the Professionals team captured the cup from the Amateurs in 2017 with a total score of 9.5 to 2.5. The Amateurs held a 4-0-3 record over the previous seven years. The Professionals have long dominated these matches with a 14-6-3 record. Host club professional Larry George, Chris Haarlow of Precision Golf School, Corey Schneider of The Pointe, and Matt Vick of Pinehurst No. 7 return from last year's victorious Professionals team. Charlotte's David Gies II is the lone player back from the 2017 Amateurs squad.
The Tar Heel Cup is a Ryder Cup-style competition consisting of one day of Four-Ball matches and one day of Singles matches with one point awarded to the winner of each match. The Professionals need 6 points to retain the Cup. The Amateur need 6 ½ points to win.
River Landing's River Course hosts The Tar Heel Cup Matches for the fourth consecutive year. The 58th North Carolina Amateur will be contested ay the course from June 14-17. Justin Tereshko of Greensboro will be looking to defend his title.
2018 Competitors:
N.C. AMATEURS
Chris Cassetta, High Point CC
Timothy Driver, Club at 12 Oaks
David Gies II, Quail Hollow Club
Daniel Neveu, Southern Pines GC
Kevin O'Connell, Prestonwood CC
Jeremy Ray, Reynolds Park Men's GA
Justin Tereshko, Sedgefield CC
Chad Wilfong, Colonial CC

N.C. PGA PROFESSIONALS
Scooter Buhrman, Champion Hills
John Faidley, Forsyth CC
Charles Frost, Old Town Club
Larry George, River Landing
Chris Haarlow, Precision Golf School
Cory Schneider, The Pointe GC
Josh Webb, Old Chatham
Matt Vick, Pinehurst No. 7

SCHEDULE OF EVENTS:
Monday, April 2
12:00pm-12:30pm: Four-Ball Matches off #1 tee.

Tuesday, April 3
8:00am-8:56am: Singles Matches off #1 tee.
Awards ceremony at scoreboard following play.

FORMAT:
Tar Heel Cup consists of two days of competition. Day 1 format is Four-Ball Match Play. Day 2 format is Singles Match Play. Each match is worth 1 point each. A halved match earns each side ½ point. The Amateurs are the defending champions and need 6 points to retain the Cup. The CPGA Professionals need 6 ½ points to win. Until 2009, scoring was based on the Nassau system with three points at stake in each match -- one point for winning the front nine, one point for winning the back nine and one point for winning the overall 18.
ELIGIBILITY: Based on association rankings
FIELD: Eight professionals, eight amateurs
PRIZE: The Tar Heel Cup Matches Trophy and bragging rights
PAST CHAMPIONS
1995 - Amateurs
1996 - Professionals
1997 - Professionals
1998 - Professionals
1999 - Professionals
2000 - Amateurs
2001 - Professionals
2002 - Professionals
2003 - Professionals
2004 - Professionals
2005 - Professionals
2006 - Professionals
2007 - Professionals
2008 - Professionals
2009 - Professionals
2010 - Tie
2011 - Tie
2012 - Amateurs
2013 - Amateurs
2014 - Amateurs
2015 - Tie
2016 - Amateurs
2017 - Professionals
River Landing Information
PGA Director of Golf: Larry George
Superintendent: Steve Sprouse
Golf Shop Phone: 910-285-6693
Club Address: 120 Club House Dr., Wallace, NC 28466
Club Website: www.RiverLanding.com
Yardage: 6942 yards, par 36-36--72; Course Rating: 74.0/141
About the Carolinas PGA Section (CPGA)

Since its inception in 1923, the Carolinas PGA Section has been committed to nurturing and improving the quality of the game for the thousands of golfers using its member facilities. Now the largest of the PGA's forty-one sections, the Carolinas PGA Section of the Professional Golfers' Association boasts nearly 2,000 professional members and represents more than 700 golf facilities within North and South Carolina as well as portions of southern Virginia.

PGA professionals are responsible for conducting a variety of golf-related functions which include human resource management, golf shop merchandising, golf instruction, tournament operations, junior golf programs, growth of the game initiatives, golf club repair, administering the rules, public relations and much more. Website: www.Carolinas.PGA.com
About the Carolinas Golf Association (CGA)
The CGA is a 501(c)(3) not-for-profit educational organization that was founded in 1909 to promote and to protect the game of golf in the Carolinas by providing competitions, education, support and benefits to golf clubs and golfers. The CGA is the second largest golf association in the country with over 700 member clubs represented by nearly 150,000 individuals.

The CGA annually conducts 48 championships and five team match competitions for men, women, juniors, and seniors. It also runs over 150 One-Day (net and gross) events as well as qualifying for USGA national championships. The CGA serves golf in the Carolinas with numerous programs such as: the USGA Handicap System; tournament management software and support; course measuring and course/slope ratings; agronomy consultation; answers about the Rules of Golf, Rules of Amateur Status, and Handicapping; Carolinas Golf Magazine; Interclub series; Tarheel Youth Golf Association; Carolinas Golf Hall of Fame; expense assistance for USGA Junior and Girls' Junior qualifiers from the Carolinas; and the Carolinas Golf Foundation (CGF). The CGF has distributed over $2,000,000 since 1977 to benefit Carolinas' golf initiatives including junior and women's programs.

For more information about the CGA, visit www.carolinasgolf.org.

##30##