Perry & Stephens Go Back to Back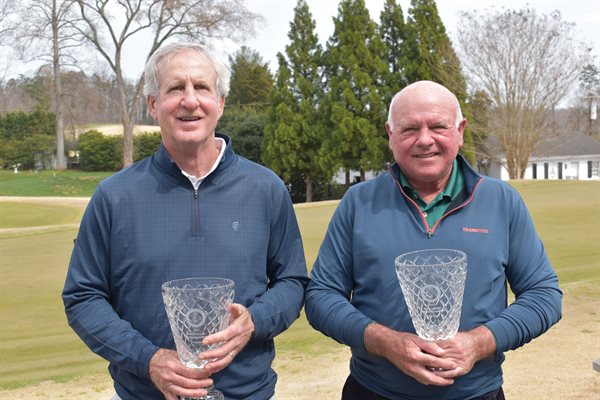 WINSTON-SALEM, NC (March 28, 2018) – Final results of the 2nd Annual North Carolina Super Senior Four-Ball Championship hosted by Maple Chase Golf & Country Club in Winston-Salem, NC on Wednesday, March 28, 2018 (Championship Division: 5,835 yards, Par 35-36--71, 70+ Division: 5,230 yards, par 35-36--71).
Related: Championship Web Site | Starting Times | Scoring | Championship History |
First-round leaders and defending champions of the North Carolina Super Senior Four-Ball Championship ran away from the field to win the 2nd North Carolina Super Senior Four-Ball Championship. Russ Perry of Winston-Salem, NC & Mark Stephens of Troutman, NC won their fourth CGA four-ball championship together in dominating fashion. Holding only a one-stroke lead over the teams Don Detweiler of Raleigh, NC & Paul Simson of Raleigh, NC and Robert Desjardins of Mathews, NC & Bill Boles of Wilson, NC after the first round, Perry birdied his first four holes on his own ball to separate themselves from the pack. Not to be outdone, Stephens birdied three holes en route to a 29 on their opening nine. The team made ten birdies and eight pars on the day, ironically, the only stressful par of the day came on the par-4 twelfth hole when Stephens approach shot hit the flagstick and ricocheted off the green. "It seems easy when everything goes right…but when does that happen….very seldom", Stephens said. For Perry & Stephens, it has come easy for them as a team lately; they have won three CGA four-ball championships in as many years and four overall. Their impressive run in CGA championships is coming to a close as Stephens is moving to Virginia next month. Perry joked, "I'm going to have to retire now".
In the 70+ Division, Jim Blaylock of Winston-Salem, NC & Gam Bates, Jr. of Winston-Salem, NC birdied the seventeenth hole to win the 70+ division by one shot over Dave Moser of Charlotte, NC & Steve Speigler of Charlotte, NC. The Maple Chase members notched four birdies against two bogeys to hold on and win.
Entry is open to any male amateur golfer who has reached his 65th birthday by the first round, and is a legal resident of North Carolina, is a member in good standing of a club which is a member of the Carolinas Golf Association and has an active USGA Handicap Index® at a CGA member club.
2nd North Carolina Super Senior Four-Ball Championship
Maple Chase Golf & Country Club, Winston-Salem, NC
Final Results
Championship Division
Pos.

Team

Score

R1

R2

Total

1

Mark Stephens / Russ Perry

-15

66

61

127

2

Robert Desjardins / Bill Boles, Jr.

-10

67

65

132

3

Ron Carpenter / Gary Brown

-7

68

67

135

T4

Brad Burris / Logan Jackson

-6

71

65

136

T4

Paul Simson / Don Detweiler

-6

67

69

136

6

Todd Turner / Dickie Brewer

-5

70

67

137

7

Lawrence Hicks / Alan Dirk

-4

70

68

138

8

Rick Kline / Evan Long

-3

74

65

139

9

Russ McLauchlan / Terry Rathman

-2

73

67

140

T10

Billy Poteat / Phil Chamberlain, Sr.

-1

72

69

141

T10

Charlie Parks / Arlis Pike

-1

69

72

141

T10

Vardaman Banks / Jerry Hartsell

-1

68

73

141

T13

Gene Grubb / Rick Wesley

E

73

69

142

T13

Robert Klug / Vance Whicker

E

72

70

142

T13

Bob Yow / Roger Taylor

E

71

71

142

T13

Butch Clark / Michael Roland

E

71

71

142

T13

Kim Mansfield / David Millis

E

71

71

142

18

Kenneth Eichele / Chuck Latham

2

72

72

144

T19

Brad Dorsett / George Snyder

3

75

70

145

T19

Hugh Quinn / Mike Judkins

3

72

73

145

T19

Butch English / Wayne Pyrtle

3

69

76

145

T22

Charles Hodges / Norman Davis, Jr

4

75

71

146

T22

Gary Strickfaden / Spike Smith

4

74

72

146

24

Paul Stroup / David Brewer

5

76

71

147

T25

Grady Thompson / John Welch

6

75

73

148

T25

Frank Golden / Neill Pollock

6

75

73

148

27

Philip Mullen / Gene Howell

7

76

73

149

28

Ray Novicki / Russell Eaves

11

77

76

153

29

Garland Yates / Sam Patterson

12

75

79

154

T30

George Kennon / Jay Gardner

13

81

74

155

T30

William Thaxton / Phillip Greene

13

77

78

155

T30

Scott Edwards / Darrell Deloatche

13

80

75

155

33

Barry Briggs / Erik Rasmussen

16

77

81

158
70+ Division
| | | | | | |
| --- | --- | --- | --- | --- | --- |
| Pos. | Team | Score | R1 | R2 | Total |
| 1 | Gam Bates, Jr. / Jim Blaylock | -7 | 66 | 69 | 135 |
| 2 | Dave Moser / Steve Spiegler | -6 | 70 | 66 | 136 |
| 3 | Jim Pridgen / Larry Boswell | -5 | 71 | 66 | 137 |
| T4 | Bob Beasley / Wiley Barrett | -4 | 69 | 69 | 138 |
| T4 | Dennis McNames / Frank Morris | -4 | 69 | 69 | 138 |
| 6 | Bill Martinson / Rick LaFata | -3 | 68 | 71 | 139 |
| 7 | John Walters / Larry Whitmore | -2 | 68 | 72 | 140 |
| 8 | Arnold Edwards / David Tuttle | 3 | 76 | 69 | 145 |
| 9 | David Barnard / Jerry Davis | 4 | 71 | 75 | 146 |
| 10 | Larry Southern / Mike Bell | 5 | 70 | 77 | 147 |
| T11 | Gerald Mullin / Murray Spruce | 6 | 75 | 73 | 148 |
| T11 | Frank Webster / James Brown | 6 | 73 | 75 | 148 |
| 13 | Aj Blankenship / Allan Grider | 15 | 79 | 78 | 157 |
| 14 | Charles Hughes / Frank Robuck | 21 | 80 | 83 | 163 |