Pitt Captures 38th Carolinas Mid-Amateur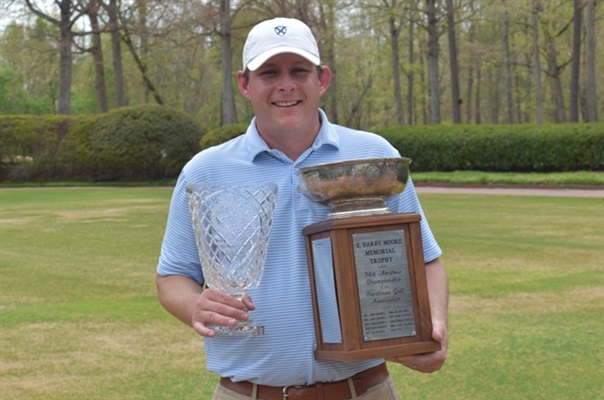 DURHAM, N.C. (April 15, 2018) -- Final Results of the Carolinas Golf Association's 38th Carolinas Mid-Amateur Championship at Treyburn Country Club in Durham, N.C. on Sunday, April 15th, 2018 (6,715 yards, Par 36-36-72, Course/Slope Rating: 71.8/132).
Related: Championship Web Site | History | Starting Times | Hole-by-hole scoring
John Pitt of Raleigh, N.C. took home his second Carolinas Golf Association Championship winning the 38th Carolinas Mid-Amateur Championship by one shot at Treyburn Country Club in Durham, N.C.
Pitt, the 2001 Carolinas Amateur Champion, started the day tied for second but with a final round back nine of three-under was able to come from behind to win. "I really was just playing golf not thinking about winning during the front nine because we were all hitting it well" said Pitt. Down four at the turn Pitt's patience finally paid off on 15. After an errant tee shot for the second round leader Justin Tereshko, Pitt was able to capitalize, "I rolled one in on 14 from about 25 feet and hit it to tap in on 15 for birdie that's when things changed." Pitt, a Real Estate Advisor, found himself in the lead for the first time "nerves definitely kicked in and the juices were flowing but I was able to stay calm. I definitely left myself with more than I wanted on 18 but we got it in there." 17 years after his first CGA Championship, Pitt was able to capture his second, "It feels like my first cause its been so long but like most people I hadn't been playing much this year so it feels great to win."
Sherrill Britt of West End, N.C and Justin Tereshko of Greensboro, N.C. finished tied for second one shot short of Pitt. Britt fired a tournament low, final round, 66, that included four birdies and an eagle. Tereshko, the defending North Carolina Amateur Champion, shot rounds of 69-71-72 for a total of 212.
The Carolinas Golf Association would like to thank the members of McConnell Golf's Treyburn Country Club for hosting the 38th Carolinas Mid-Amateur Championship. We would like to extend a special thanks to Golf Course Superintendent, Mark Snell, and Director of Golf, Tag Wylie, Club Manager, Natasha Myers and their staffs for a successful championship.
Carolinas Mid-Amateur Championship format is 54 holes of stroke play. Entry is open to any male golfer who has reached his 25th birthday is a legal resident of North or South Carolina, is a member in good standing of a club which is a member of the CGA and has a current USGA Handicap Index® at a member club that does not exceed 10.4.
Scoring will be provided by the CGA throughout the championship. Live updates will also be available on the CGA's official Twitter, @cgagolf1909. Continue to visit the CGA website throughout this championship and all year long for complete championship coverage including scores, interviews, photos, and recaps.
38th Carolinas Mid-Amateur Championship
Treyburn Country Club | Durham, N.C.
Final Results | Sunday, April 15, 2018
Pos.

Player

Affiliation

To Par

R1

R2

R3

Total

1

John Pitt

Raleigh, NC

-5

72

70

69

211

T2

Sherrill Britt

West End, NC

-4

72

74

66

212

T2

Justin Tereshko

Greensboro, NC

-4

69

71

72

212

T4

David Gies

Charlotte, NC

-1

70

75

70

215

T4

Kevin O'Connell

Cary, NC

-1

72

71

72

215

T4

Brad Mangum

Granite Falls, NC

-1

69

73

73

215

T7

Joe Kastelic

Hickory, NC

E

68

77

71

216

T7

Trey Broome

Hickory, NC

E

71

75

70

216

T9

James Lightsey

Fort Mill, SC

1

72

72

73

217

T9

Jd McNeill

Raleigh, NC

1

69

76

72

217

T9

John Eades

Charlotte, NC

1

73

72

72

217

T12

Jason Smith

Raleigh, NC

2

73

72

73

218

T12

Timothy Driver

Holly Springs, NC

2

76

69

73

218

T12

Bailey Patrick

Charlotte, NC

2

72

71

75

218

T12

Joe Jaspers

Huntersville, NC

2

70

74

74

218

16

Tim Myers

Durham, NC

3

73

75

71

219

T17

Steve Harwell

Mooresville, NC

5

74

75

72

221

T17

Eric Brady

Pinehurst, NC

5

70

77

74

221

T17

Thomas Todd

Laurens, SC

5

77

76

68

221

T20

Keith Kepley

Charlotte, NC

6

76

73

73

222

T20

Andy Crain

Chapel Hill, NC

6

73

75

74

222

T20

Jeff Tyrrell

Lyman, SC

6

74

71

77

222

T20

Samuel Ring

Carthage, NC

6

76

71

75

222

T24

Paul Slomkowski

Colfax, NC

7

69

78

76

223

T24

Rob Hukill

Raleigh, NC

7

73

74

76

223

T24

Robert Lutomski

Simpsonville, SC

7

73

77

73

223

T24

Brandon Reece

Rolesville, NC

7

75

76

72

223

T24

Chris Cassetta

High Point, NC

7

75

76

72

223

T24

Shaw James

Cayce, SC

7

79

72

72

223

T30

Jason deBuhr

Mint Hill, NC

8

74

76

74

224

T30

Patrick McConville

Winston-Salem, NC

8

77

73

74

224

T32

James Pearson

Charlotte, NC

9

77

74

74

225

T32

Pat Thompson

Asheville, NC

9

78

74

73

225

T32

Paul Tucker

Waxhaw, NC

9

77

75

73

225

T35

Brandon Mader

Greenville, NC

10

75

74

77

226

T35

Ken Bass

Pinehurst, NC

10

75

75

76

226

T35

Jarrett Grimes

Columbia, SC

10

81

70

75

226

T38

Dean Channell

Cary, NC

11

73

74

80

227

T38

Brad Mundy

Hickory, NC

11

75

76

76

227

T38

Keith Waters

Raleigh, NC

11

76

76

75

227

T38

Steven Pippin

Shannon, NC

11

76

74

77

227

T38

Raymond Wooten

Clemson, SC

11

78

76

73

227

T43

John O'Brien

Columbia, SC

12

76

72

80

228

T43

Joe Brooks

Franklin, NC

12

80

74

74

228

T43

John-Paul Hansen

West End, NC

12

76

75

77

228

T43

James Bohn

Cary, NC

12

75

76

77

228

T43

Jonathan Hockaday

Sanford, NC

12

74

79

75

228

T43

Steven Brame

Henderson, NC

12

78

73

77

228

T49

Garrett Kachellek

Charlotte, NC

13

75

77

77

229

T49

Clay Watkins

Mebane , NC

13

75

77

77

229

T51

Dave Boyce

Charlotte, NC

14

75

76

79

230

T51

John Nieters

Clemmons, NC

14

75

79

76

230

T51

William Carter

Laurinburg, NC

14

80

74

76

230

T54

Robert Dargan

Columbia, SC

15

76

73

82

231

T54

Yancey Johnson

Simpsonville, SC

15

81

72

78

231

T54

Simon Boteler

Mebane, NC

15

77

75

79

231

T57

Billy Andrews

Advance, NC

16

77

77

78

232

T57

Daniel Neveu

Pinehurst, NC

16

77

75

80

232

T57

Shawn Will

Raleigh, NC

16

76

78

78

232

T57

Brandon Miller

Winston-Salem, NC

16

78

75

79

232

61

John Olsen

Mooresville, NC

17

74

80

79

233

T62

Ryan Reynolds

Camden , SC

19

72

77

86

235

T62

Jack Merrell

Wake Forest, NC

19

78

74

83

235

WD

Jake Colley

Raleigh, NC

-

76

75

WD

WD

WD

John Kennedy

Winston Salem, NC

-

73

81

WD

WD

NC

Matt O'Quinn

Beaufort, SC

-

74

73

NC

NC

The following players did not make the cut

CUT

Clayton Holland

Greensboro, NC

11

74

81

155

CUT

Scott Park

Charlotte, NC

11

77

78

155

CUT

Trent Gregory

Wake Forest, NC

11

77

78

155

CUT

Banks Wood

Charlotte, NC

12

80

76

156

CUT

Geno Berchiatti

Greenville, SC

12

80

76

156

CUT

Mickey Plyler

Clemson, SC

12

79

77

156

CUT

Marshall Newman

Raleigh, NC

12

81

75

156

CUT

Matt Drinkhahn

Charlotte, NC

12

82

74

156

CUT

Tony Herring

Raleigh, NC

13

76

81

157

CUT

Chad Quinn

Durham, NC

13

77

80

157

CUT

Jerell Fields

Charlotte, NC

13

77

80

157

CUT

Walker Taylor

Wrightsville Beach, NC

13

80

77

157

CUT

Cody Drake

Charlotte, NC

14

78

80

158

CUT

Joshua Gallagher

Durham, NC

14

83

75

158

CUT

Preston Edmondson

Morrisville, NC

14

80

78

158

CUT

Randy Palmer

Raleigh, NC

14

76

82

158

CUT

Scott Burnett

Matthews, NC

14

76

82

158

CUT

Steve Espin

Charlotte, NC

14

78

80

158

CUT

Will Morgan

West End, NC

14

77

81

158

CUT

Allie Bates

Columbia, SC

14

78

80

158

CUT

James Maples

Sumter, SC

15

83

76

159

CUT

Joe Alvarez

Charlotte, NC

15

78

81

159

CUT

Scott Campbell

Wake Forest, NC

15

82

77

159

CUT

Jay Roberts

Davidson, NC

15

80

79

159

CUT

Jeremy Ray

Pfafftown, NC

15

77

82

159

CUT

Jeremy Boggs

Fort Mill, SC

16

81

79

160

CUT

Terrain Gill

Charlotte, NC

16

79

81

160

CUT

James Watkins

Apex, NC

17

80

81

161

CUT

Brian Hepler

Wilmington, NC

19

83

80

163

CUT

George Kornegay

Charlotte, NC

19

81

82

163

CUT

Bruce Bevins

Matthews, NC

20

77

87

164

CUT

Wil Wynn

Four Oaks , NC

20

85

79

164

CUT

Robert Mackintosh

Burlington, NC

20

80

84

164

CUT

Tim Manyatis

Raleigh, NC

21

79

86

165

CUT

Chris Logan

Winston Salem, NC

22

82

84

166

CUT

Stephen Patterson

Charlotte, NC

22

80

86

166

CUT

Trent Vaden

Charlotte, NC

22

83

83

166

CUT

Dwayne Simpson

Charlotte, NC

23

85

82

167

CUT

Morris Marshburn

Vass, NC

23

83

84

167

CUT

Michael Gardner

Goldsboro, NC

23

81

86

167

CUT

Michael Wagner

Huntersville, NC

23

82

85

167

CUT

Matt Pettis

Raleigh, NC

24

86

82

168

CUT

Bill Reduzzi

Raleigh, NC

25

87

82

169

CUT

David Reid

Matthews, NC

26

86

84

170

CUT

Eddie Connelly

Jacksonville, NC

27

85

86

171

WD

Paul Simson

Raleigh, NC

-

72

WD

WD

WD

John Blackwell

Wilmington , NC

-

78

WD

WD

WD

Phil Miller

Concord, NC

-

79

WD

WD

WD

Chris Buffaloe

Raleigh, NC

-

80

WD

WD

WD

Jonathan Jackson

Chapel Hill, NC

-

81

WD

WD

NS

John Hodges

Kernersville, NC

-

90

NS

NS