Thompson & Waters Lead Pack at Senior Four-Ball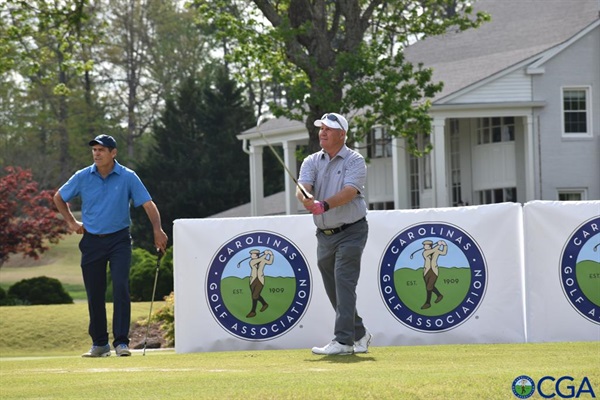 MORGANTON, NC (April 26, 2018) – Second round results of the 50th Carolinas Senior Four-Ball Championship at Mimosa Hills Golf & Country Club in Morganton, NC on Thursday, April 26, 2018 (6,480 yards, Par 36-36--72).
Related: Championship Web Site | Starting Times | Scoring | History | Photos
A change at the top occurred during the second round of the Carolinas Senior Four-Ball Championship at Mimosa Hills Golf & Country Club. Pat Thompson of Asheville, NC and Keith Waters of Raleigh, NC take a one-shot lead into the final round over first round leaders Mike Gravley of Greer, SC and Stan Sill of Spartanburg, SC. Thompson & Waters posted a second round 10-under par 62 which featured ten birdies and eight pars. Their two-day total of 128 puts them one shot ahead of Gravley & Sill who posted a round of 4-under par 68 for a two-day toal of 129. Sitting in third, two shots behind are Mimosa Hills members Jim Johnson of Newton, NC and Brian Reep of Morganton, NC. Playing in a steady afternoon rain, Ed Donlin from Concord, NC and Rick Kline from Davidson, NC shot eight under par 64 and are in 4th place at 13-under par 131.
"The key was my partner (Waters), he hasn't missed a faiway in two days," said Thompson. "We felt like we had a par at least every hole." The team birdied their last two holes of the day to jump ahead with the one-shot lead. Thompson & Waters plan to keep the same formula that got them the lead heading into the final round. "Keith has led off for two days and its worked so we'll keep doing it," Thompson said.
The winning team of the Carolinas Senior Four-Ball Championship earns automatic spots on the Carolinas Captain's Putter roster.
The cut line fell at four-under par 140 with 33 teams making cut for the final round.
Entry is open to any male amateur golfer who has reached his 55th birthday by the first round and is a resident of North Carolina or South Carolina. The championship is conducted at 54 holes of four-ball stroke play. After 36 holes, the field is cut to the low 30 scores and ties for the final round.
Scoring will be provided by the CGA throughout the championship, offering hole by hole updates. Live updates will also be available on the CGA's official Twitter account, @cgagolf1909. Continue to visit the CGA website throughout this championship and all year long for complete championship coverage including scores, interviews, photos, and recaps.
50th Carolinas Senior Four-Ball Championship
Mimosa Hills Golf & Country Club, Morganton, NC
Second Round Results
Related: Hole-by-Hole Scoring | Championship Website
Pos.

Team

To Par

R1

R2

Total Score

1

Thompson / Waters

-16

66

62

128

2

Gravley / Sill

-15

61

68

129

3

Johnson / Reep

-14

66

64

130

4

Donlin / Kline

-13

67

64

131

T5

Michael / Rutter

-12

67

65

132

T5

Granger / Reece

-12

65

67

132

T5

Kirby / Mills

-12

66

66

132

T5

Sadowski / Sullins

-12

68

64

132

9

Golden / Moye

-11

67

66

133

10

Dorenfeld / Tanis

-9

67

68

135

T11

Berchiatti / Hargett

-8

67

69

136

T11

Pearson / Wearn

-8

68

68

136

T11

Caprio / Hendrickson

-8

67

69

136

T11

Hendley / Todd, Sr

-8

67

69

136

T11

Elam / King

-8

66

70

136

T11

Mansfield / Newton, Jr

-8

69

67

136

17

Arrington / Hopkins

-7

70

67

137

T18

Boles, Jr / Desjardins

-6

70

68

138

T18

Gallagher / Long

-6

70

68

138

T18

Nimmer, III / Taylor

-6

71

67

138

T18

Perry / Salerno

-6

68

70

138

T18

Eaker / Wilson

-6

69

69

138

T23

Nance / Norris

-5

73

66

139

T23

Clark / Hodges

-5

68

71

139

T23

Campanella / Davis

-5

71

68

139

T23

Morrison / Plyler

-5

71

68

139

T27

Burkinshaw / Channell

-4

68

72

140

T27

Byman / Edmondson

-4

68

72

140

T27

Boinest / Hiller

-4

68

72

140

T27

Pope / Todd, Jr

-4

72

68

140

T27

Aughtry / Hunter

-4

72

68

140

T27

Odiorne / Teaster

-4

69

71

140

T27

Brischke / Griffin Jr

-4

69

71

140

FAILED TO QUALIFY

CUT

Glenn / Stepp

-3

72

69

-

CUT

Beeson / Pike

-3

70

71

-

CUT

Boaz / Goodson

-3

65

76

-

CUT

Davis / Tate

-3

72

69

-

CUT

Harbinson / Whitener

-3

71

70

-

CUT

Luzar / Reed

-3

70

71

-

CUT

Allen / Hackler

-2

73

69

-

CUT

Baker / Bowers

-2

70

72

-

CUT

Harris / Nance

-2

70

72

-

CUT

Schott / Shaefer

-2

68

74

-

CUT

Adams, Jr / Ronalter

-2

72

70

-

CUT

Rausch / Walsh

-2

72

70

-

CUT

Burnette / Detweiler

-1

69

74

-

CUT

Andersen / Flink

-1

73

70

-

CUT

Barton / Seastrunk

-1

71

72

-

CUT

Bolick / Hull

-1

74

69

-

CUT

Bivins / Millis

E

70

74

-

CUT

Chapman / Shelton

E

71

73

-

CUT

Miller / Stephens

E

69

75

-

CUT

Moore / Stratton

E

72

72

-

CUT

Rudolph / Strawn

E

73

71

-

CUT

Brewer / Parks

E

74

70

-

CUT

Powell / Walters

E

73

71

-

CUT

Fritz / Meggs

+1

73

72

-

CUT

Andrews / Hiney

+1

72

73

-

CUT

Clough / Houghton

+1

71

74

-

CUT

Davis / Wrenn, III

+1

74

71

-

CUT

Sikes / Tuttle

+1

74

71

-

CUT

Pike / Webber

+2

72

74

-

CUT

Johnson / McDaniel

+2

71

75

-

CUT

Brown / Carpenter

+3

72

75

-

CUT

Burch / Crain

+3

77

70

-

CUT

Chamberlain, Sr / Pernell

+4

72

76

-

CUT

Rogers / Simpson

+5

75

74

-

CUT

Breeden, III / Grene, Jr

+6

73

77

-

CUT

Brown / Carmichael

+7

73

78

-

CUT

McLauchlan / Rathman

+8

73

79

-

CUT

English / Poteat

+9

77

76

-

CUT

Clark / Grantham

+12

78

78

-

CUT

Purkey / Schatz

+12

77

79

-

CUT

Huskey / Stroud

+14

75

83

-

CUT

Anderson / Younce

+15

82

77

-

CUT

Farley / Galbavy

+19

81

82

-

WD

Greene / Spiegler

+2

74

WD

WD

Fagerli / Long

-

74

WD