3rd Carolinian Amateur Preview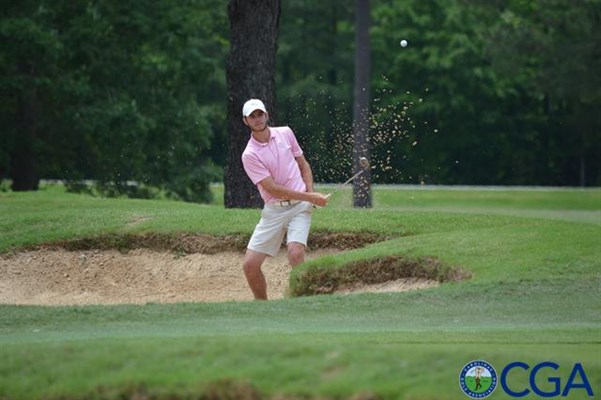 Sam Wimbrow, the champion of the 2016 Carolinian Amateur, hits a shot out of the bunker during the third round of the event in 2016. He will return to the field at this year's event.
SOUTHERN PINES, N.C. (May 15, 2018) -- The Carolinas Golf Association will conduct the 3rd Carolinian Amateur on the Orange-Black routing of the Keith Hills Country Club in Buies Creek, N.C. from May 18-20, 2018. Keith Hills CC has been the sole host of this event since its inception, and this year's field will include 151 golfers. Keith Hills CC was previously host to the Keith Hills Invitational before the CGA began conducting the event in 2016 as the Carolinian Amateur.
Related: Championship Web Site | Full Field of Players | Starting Times | Scoring | History

Players to watch:
Last year's runner-up, Brett McLamb, will return to the field this year hoping to capture his first amateur title. In last year's competition, The Coats, N.C.-native shot a six-under 210. McLamb is familiar with the course as Keith Hills Country Club is the home course to Campbell University of which he is a member.

Inaugural champion, Sam Wimbrow of Concord, N.C., will return to the field this year after a year hiatus. He shot an even-par 210 in 2016 to claim victory. In 2016, the course was set up as a par-70.

Caleb Proveaux, from Lexington, S.C., is seeking his second CGA title. He is currently a rising junior on the University of South Carolina's golf team, and he won the Jimmy Creed Boys Invitational in 2016.

Daniel Neveu, ranked No. 27 among male amateurs in the Carolinas, will return to the Carolinian for the third straight year, seeking his first championship. He finished in the second position twice in 2017 at the North Carolina Mid-Amateur Championship and the Triad Amateur Golf Classic.

Ranked No. 26 among male amateurs in the Carolinas, Grant Powell enters his first Carolinian Amateur. He first became a champion in 2016 when he took the title at the North Carolina Junior Boys' tournament.

Timothy Driver, from Holly Springs, N.C., returns to his second Carolinian Amateur. Winning the 2013 Carolinas Club Championship, he hopes to become a champion once again at this year's event.

Ranked one spot outside of the top-50, Matt Carter, from Easley, S.C., will join this year's field. Though his first appearance at a Carolinian, he finished fourth at the 2017 SCGA Amateur Championship.

Opened in 1954, the course at the Keith Hills CC features 6,712 yards of a tranquil and picturesque landscape overlooking the banks of the Cape Fear River. This Ellis Mapes-designed course features a par-72 layout surrounded by luscious trees and beautiful views of the river. The course has a unique set up with three 9-hole courses, and this year's Carolinian Amateur will be played with an Orange-Black routing to create an 18-hole course for the event.

Past champions in the field (1):
Sam Wimbrow, Concord, NC, 2016
The Carolinian Amateur format is 54 holes of stroke play. After 36 holes, the field is cut to the low 60 scores and ties.
Entry is open to any male amateur golfer ages 16 or older by the first round, is a member in good standing of a club which is a member of the Carolinas Golf Association (CGA) and has a current USGA Handicap Index at a member club that does not exceed 10.4. There is no residency requirement for this tournament.
Scoring will be provided by the CGA throughout the championship, offering 9 and 18-hole updates. Live updates will also be available on the CGA's official Twitter account, @cgagolf1909. Continue to visit the CGA website throughout this championship and all year long for complete championship coverage including scores, interviews, photos, and recaps.
Schedule of rounds:
Friday, May 18
First Round Starting Times: 8:00 am - 9:30 am; 12:30 pm - 2:00 pm
Saturday, May 19
Second Round Starting Times: 8:00 am - 9:30 am; 12:30 pm - 2:00 pm
Sunday, May 20
Third Round Starting Times: 8:00 - 9:30 am; 12:30 - 2:30 pm
Awards ceremony immediately following play.