Lyerly looks to reclaim 2016 form at N.C. Am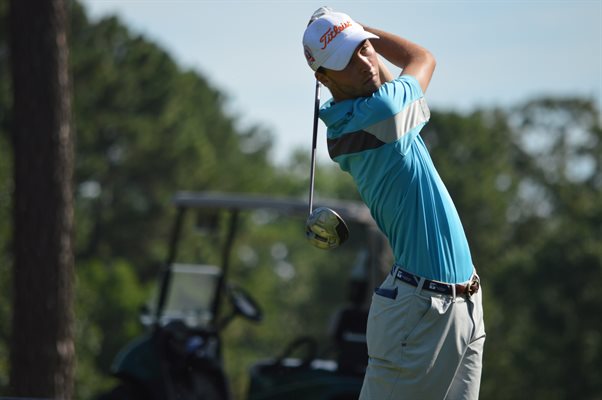 Nick Lyerly of Salisbury, N.C. will look to reclaim the glory of his 2016 N.C. Amateur win at the Governors Club.
SOUTHERN PINES, N.C. (June 6, 2018) -- The Carolinas Golf Association will conduct the 58th North Carolina Amateur Championship at the River Landing River Course in Wallace, N.C. from June 14-17, 2018.
Related: Championship Web Site | Full Field of Players | Starting Times | Scoring | History

Players to watch:
2016 North Carolina Amateur Champion Nick Lyerly of Salisbury, N.C. will be returning to the field this year. The UNC Greensboro rising sophomore was the youngest to ever win the event at just 17-years-old and is currently ranked 93rd in the Carolina's Men's Rankings.

Daniel Neveu of Pinehurst, N.C. comes into the tournament as the 25th ranked golfer in the Carolina's Men's Rankings. Neveu already has a top-20 finish on the year at the Carolinian in May.

Lansdon Robbins of Davidson, N.C. finished tied for second at last year's championship and is ranked 30th in the Carolina's Men's Rankings. Robbins also finished tied for 17th at the U.S. Amateur Four Ball in May.

Grant Powell of Colfax, N.C. is ranked 36th in the Carolina's Men's Rankings and will be looking to build on a top-20 finish in last year's championship.

Timothy Driver of Holly Springs, N.C. is coming off of a strong start to 2018 with a 12th place finish at the Carolinas Mid-Amateur and a 21st place finish at the Carolinian. Driver is currently ranked 37th in the Carolina's Men's Rankings.

Jake McGlone of Charlotte, N.C. will be returning to the field after a second place finish in last year's championship and will hope to get over the hump at this year's tournament. McGlone is ranked 48th in the Carolina's Man's Rankings.

Quinn Riley of Raleigh, N.C. is the top ranked junior player in this year's field. The rising Duke freshman sits at number three in the TYGA Junior Boys' Rankings. Riley has nine top-10 finishes since 2017 including two wins at the North Carolina Junior Boys' Championship last June and at the North Carolina Trusted Choice Big "I" Boys Classic last July.

Spencer Oxendine of Fayetteville, N.C. is going to be looking to continue his scorching start to 2018. The fifth ranked junior has finished in the top-13 of all but one event he has competed in during 2018. The 2019 NC State commit secured his first CGA win at the Creed Junior Boys' Invitational in May.

River Landing features two premier 18-hole courses designed by renowned architect Clyde Johnston. Sculpted to embrace the stunning beauty of the natural environment, the River Course runs along the coast of the Northeast Cape Fear River. This 18-hole championship course incorporates Champion Bermuda on the greens and Tifway 419 Bermuda for the tees and fairways. This will be the 13th time River Landing hosts a CGA event and its first time hosting the North Carolina Amateur Championship.

Past champions in the field (One):
Nick Lyerly, Salisbury, N.C., 2016


The North Carolina Amateur Championship is a 72-hole, stroke play event. After 36 holes, the field is cut to the low 60 scores and ties for the final two rounds. An on-course playoff is used to break a tie for the championship.
Entry is open to any male amateur golfer who has reached his 13th birthday by June 14, 2018, is a legal resident of North Carolina, is a member in good standing of a club which is a member of the Carolinas Golf Association (CGA) and has an active GHIN® USGA Handicap Index® at a CGA member club that does not exceed 10.4. Entries are subject to rejection at any time, including during the event, by the CGA or the host club. The reason for rejection may include unbecoming conduct or cell phone use during a stipulated round. All players must conform to the "USGA Rules of Amateur Status" as specified in "The Rules of Golf". A college student is considered a resident of their parent(s)/guardian(s) "Legal Residency Criteria" as stated in the CGA Tournament Manual unless said student (a) has no dependency on his/her parents; and (b) lives full time in North Carolina. For complete residency and eligibility requirements, refer to the CGA Tournament Manual.
Scoring will be provided by the CGA throughout the championship, offering 9 and 18-hole updates. Live updates will also be available on the CGA's official Twitter account, @cgagolf1909. Continue to visit the CGA website throughout this championship and all year long for complete championship coverage including scores, interviews, photos, and recaps.
Schedule of rounds:
Thursday June, 14
First Round Starting Times: Begin at 7:30 a.m. and 12:45 p.m.
Friday June, 15
Second Round Starting Times: Begin at 7:30 a.m. and 12:45 p.m.
Saturday June, 16
Third Round Starting Times: Begin at 8:00 a.m.
Sunday June, 17
Fourth Round Starting Times: Begin at 8:00 a.m.

About the Carolinas Golf Association (CGA)
The CGA is a 501(c)(3) not-for-profit educational organization that was founded in 1909 to promote and to protect the game of golf in the Carolinas by providing competitions, education, support and benefits to golf clubs and golfers. The CGA is the second largest golf association in the country with over 700 member clubs represented by nearly 150,000 individuals.
The CGA annually conducts 48 championships and five team match competitions for men, women, juniors, and seniors. It also runs over 150 One-Day (net and gross) events as well as qualifying for USGA national championships. The CGA serves golf in the Carolinas with numerous programs such as: the USGA Handicap System; tournament management software and support; course measuring and course/slope ratings; agronomy consultation; answers about the Rules of Golf, Rules of Amateur Status, and Handicapping; Carolinas Golf Magazine; Interclub series; Tarheel Youth Golf Association; Carolinas Golf Hall of Fame; expense assistance for USGA Junior and Girls' Junior qualifiers from the Carolinas; and the Carolinas Golf Foundation (CGF). The CGF has distributed nearly $2,000,000 since 1977 to benefit Carolinas' golf initiatives including junior and women's programs.
For more information about the CGA, visit our website.