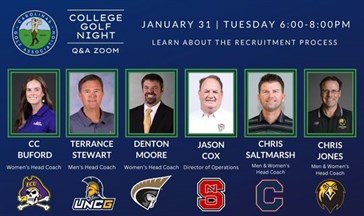 The Carolinas Golf Association announces 2023 College Golf Night on Tuesday, January 31, 2023, from 6 p.m. to 8 p.m. via Zoom.
This educational seminar is designed for parents and their junior golfers to learn about the recruiting process and to discuss the transition from a junior golfer to a collegiate golfer. Admission is free and is open to anyone interested in playing college golf. Please register below.
Topics that will be discussed are:
NCAA Eligibility Center

Ping College G...
Read Post »