Your Score is the Only Number That Matters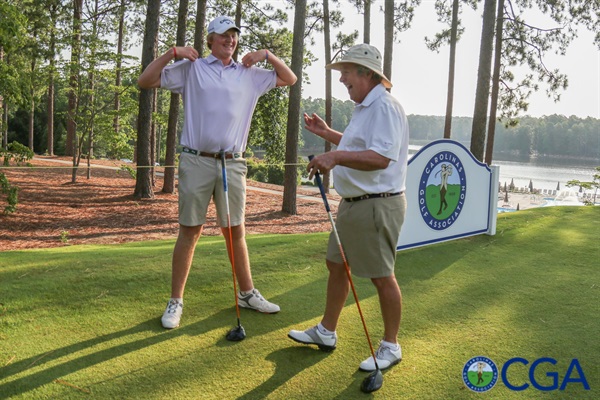 Thomas Morrison (left) and Paul Simson (right) share a laugh before they tee off in round four of the 104th Carolinas Amateur Championship.
By Jackson Sveen
One is a 67-year-old Carolinas Golf Hall of Famer with 34 career CGA titles. The other is a 13-year-old Duke golf commit (Class of 2023) anxiously waiting for the championships to come.
In round four of the 104th Carolinas Amateur Championship, Paul Simson of Raleigh, NC and Thomas Morrison of Pinehurst, NC were more than just fellow competitors, they were also perfect examples of what makes this game so great.
Thomas Morrison was the youngest player to play in the 104th Carolinas Amateur. As you could guess, Paul Simson was the oldest player.
This year's championship course, The Dogwood Course at Country Club of North Carolina, played tough. The course measured out at over 7,300 yards with a course rating of 74.9. The average score from the 148-man field that played on Thursday and Friday was 74.95.
Both Simson and Morrison made the 60-man cut and then found themselves at +6 (222) after three rounds of play. That was enough to put them in the middle of the pack at one of the most competitive amateur tournaments held not only in the Carolinas but in the south.
"It's probably credit to both of us that we are able to be out here, make the cut and be competitive," Simson said. "I was certainly impressed with (Morrison's) game for 13. A lot of the kids out here are going for everything but he's got some golf course common sense. He was trying to think his way through the golf course which is pretty mature for a 13-year-old."

A stamp of approval from Simson goes a long way. He is one of the greatest amateur golfers to play the game and the most decorated CGA Member in the history of the organization. He's a three-time recipient of the Richard S. Tufts Players of the Year Award for Men, a nine-time winner of the award for Senior Men and a winner for Super Senior Men. He's also won the Carolinas Amateur twice. The first championship came in 1991 and the second in 2005.
Simson played in his first Carolinas Amateur Championship in 1983. In this year's field, 82% of the players weren't born at that point. While a lot of the players in this field are trying to figure out what college classes they need to register for this fall, Simson is an insurance executive with a long successful career under his belt.
Yet, at the age of 67 Simson is still giving these mostly college-aged golfers a real run for their money.
Morrison, on the other hand, has one more year of middle school and four more years of high school before he even registers for his first college course. Having only moved to the Carolinas a year ago, he doesn't yet own a CGA title but the prospects are good and the potential is plentiful.
As a rising eighth grader, Morrison is already a standout for The O'Neal School's high school golf team. In May, he led the team to a state championship while claiming the individual state championship for himself. He also has several junior golf accolades including winning the boys' 12-year-old division at the U.S. Kids Golf World Championship last year.
"Paul is a really cool guy. Never got too mad. Just pretty cool to watch," Morrison said. "There was definitely some things I will take away from watching him. My big takeaway is to keep working at it because I know I'm going to be out here a while."
Morrison got his first set of clubs at the age of 3 and hasn't stopped playing since. His family spends its time between Potomac, MD and Pinehurst to help nurture his golf game.
"Tommy is a big kid but he has an even bigger heart" said Tommy's mom, Alison. "I believe everything happens for a reason and there's a bigger reason that Tommy and Paul were playing together today. Tommy was meant to watch and learn from Paul."
While Simson and Morrison's finish on Sunday didn't decide the Carolinas Amateur, their presence will make a lasting impact on each other.
Their place in life may seem very different but on one Sunday in July, they were literally in the same place, in the same position, at the same time.
For 18 holes, Simson's past championships didn't really matter. For 18 holes, Morrison's comparatively lack of experience didn't really matter either.
The only thing that mattered at that time was how those two golfers from such different places were going to work their way through the difficult Dogwood Course at CCNC.
Simson's parting words to Morrison: "13, I can't believe it. 13."
For those wondering, both players finished well and Morrison was part of the team to claim the Caper's Cup trophy for his home course; the host course.
Simson finished T50 and CGA win number 35 will have to wait. Morrison finished T36 and number one will have to wait too.