US Amateur Qualifying Results Oak Valley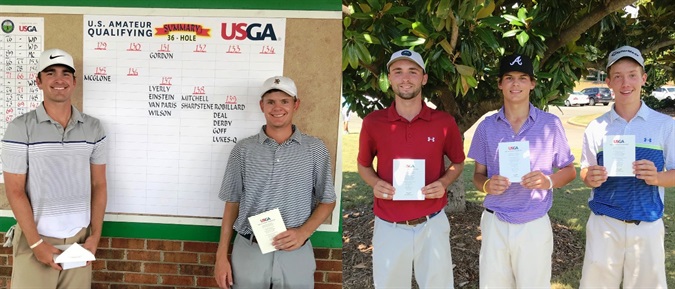 ADVANCE, NC– Second round results from U.S. Amateur Championship Sectional Qualifying hosted by Oak Valley Golf Club in Advance, NC on Wednesday, July 18, 2018 (7000 yards, par 36-36—72).
Five qualifying spots and two alternate positions were available at this qualifying site.
Five North Carolinians earned spots in the US Amateur Championship at Pebble Beach. Will Gordon from Davidson, NC took home medalist honors and the first qualifying spot after shooting 63-38—131 for a 13-under par score. Charlotte, NC native Jake McGlone earned the second qualifying spot with round of 65-70—135, nine-under par score. In a four-person playoff at seven-under par 137, Brandon Einstein from Clemmons, NC secured the third qualifying spot with a birdie on the first playoff hole. The final two qualifying spots went to Nick Lyerly from Salisbury, NC and Jackson Van Paris from Pinehurst, NC who both parred the second playoff hole.
The five qualifiers will advance to the US Amateur Championship at Pebble Beach Golf Links from August 13-18, 2018.
Hole-by-hole scoring can be viewed here: https://www.golfgenius.com/pages/1468489
This qualifier was conducted by the Carolinas Golf Association on behalf of the United States Golf Association.
2018 US Amateur Sectional Qualifying
Oak Valley Golf Club, Advance, NC
Qualifying Results
Pos.

Player

Hometown

To Par

R1

R2

Total Score

Details

1

William Gordon

Davidson, NC

-13

63

68

131

2

Jake McGlone

Charlotte, NC

-9

65

70

135

T3

Brandon Einstein

Clemmons, NC

-7

71

66

137

T3

Jackson Van Paris

Pinehurst, NC

-7

71

66

137

T3

Nicholas Lyerly

Salisbury, NC

-7

73

64

137

The following players did not make the cut

CUT

Jamie Wilson

Mount Pleasant, SC

-7

67

70

137

1st Alt.

CUT

Matthew Sharpstene

Asheville, NC

-6

71

67

138

2nd Alt.

CUT

Alex Goff

Kings Mountain, NC

-5

68

71

139

CUT

Lee Mitchell

Conover, NC

-6

71

67

138

CUT

Nick Robillard

Birmingham, AL

-5

71

68

139

CUT

Parker Derby

Columbus, GA

-5

68

71

139

CUT

Quade Lukes

Chapel Hill, NC

-5

66

73

139

CUT

Thomas Deal

BRA

-5

68

71

139

CUT

Carson Ownbey

Candler, NC

-3

69

72

141

CUT

Chad Wilfong

Charlotte, NC

-3

69

72

141

CUT

Joe Jaspers

Huntersville, NC

-2

70

72

142

CUT

Michael Nulty

Greensboro, NC

-2

72

70

142

CUT

Nicholas Mayfield

Rock Hill, SC

-2

71

71

142

CUT

Vince Wheeler

Roanoke, VA

-2

73

69

142

CUT

Kell Graham

Scottsdale, AZ

-1

73

70

143

CUT

Luke Hackworth

Charlotte, NC

-1

71

72

143

CUT

Zach Roberts

Holly Springs, NC

-1

73

70

143

CUT

Noah Connor

Reidsville, NC

E

73

71

144

CUT

Zach Gilbert

Davidson, NC

E

70

74

144

CUT

Austin Duncan

Bessemer City, NC

E

72

72

144

CUT

Davis Womble

High-Point, NC

E

69

75

144

CUT

Harley Abrams

Evanston, FL

E

74

70

144

CUT

Matthew Rogers

Huntersville, NC

E

73

71

144

CUT

Sam Jeffcoat

Birmingham, AL

1

72

73

145

CUT

Symon Balbin

Pinehurst, NC

1

70

75

145

CUT

Trey Burton

Hickory, NC

1

73

72

145

CUT

Aaron Walker

Charlotte, NC

1

74

71

145

CUT

Levi Grogan

Canton, NC

2

72

74

146

CUT

Mark Johnston

Lewisville, NC

2

72

74

146

CUT

Christopher Akers

Asheville, NC

2

73

73

146

CUT

Alex Heffner

Harrisburg, NC

3

70

77

147

CUT

Viraj Garewal

Raleigh, NC

3

73

74

147

CUT

A.J. Beechler

Pinehurst, NC

3

73

74

147

CUT

Austin Inman

Wilmington, NC

3

74

73

147

CUT

Christopher Wooten

Winston-Salem, NC

3

76

71

147

CUT

Michael Childress

Salisbury, NC

3

74

73

147

CUT

Carter Cook

Cornelius, NC

3

74

73

147

CUT

Stephen Carroll

Concord, NC

4

72

76

148

CUT

Scott Campbell

Greensboro, NC

4

72

76

148

CUT

Cabrick Waters

Gaffney, SC

4

73

75

148

CUT

Dylan Lukes

Chapel Hill, NC

4

76

72

148

CUT

Jeremy Ray

Pfafftown, NC

4

75

73

148

CUT

Peter Hinnant

Winston-Salem, NC

5

71

78

149

CUT

Tanner Bibey

Walnut Cove, NC

5

70

79

149

CUT

Avery Papalia

Winston-Salem, NC

5

75

74

149

CUT

John Del Priore

Charlotte, NC

5

74

75

149

CUT

John Major III

Winston-Salem, NC

6

73

77

150

CUT

Benjamin Crow

Pinehurst, NC

6

76

74

150

CUT

Sam Wimbrow

Concord, NC

6

75

75

150

CUT

Blake Brantley

Winston-Salem, NC

7

76

75

151

CUT

Cameron Akers

Asheville, NC

7

74

77

151

CUT

Dylan Dobbs

McKinney, TX

8

74

78

152

CUT

Clay Holland

Greensboro, NC

8

75

77

152

CUT

Jordan Reeves

Boynton Beach, FL

8

76

76

152

CUT

Okong Edrine

Kampala, UGA

8

76

76

152

CUT

Owen Guard

Raleigh, NC

9

76

77

153

CUT

Paxton Tidwell

Decatur, AL

9

76

77

153

CUT

Okwong Titus

Kampala, UGA

10

76

78

154

CUT

Justin Lang

Winston-Salem, NC

11

76

79

155

CUT

Pearse Lucas

Charlotte, NC

12

76

80

156

CUT

Zach Brown

Winston-Salem, NC

15

76

83

159

CUT

Spencer Oxendine

Fayetteville, NC

2

74

74

CUT

Addison Manring

Stoneville, NC

-

73

WD

WD

CUT

Patrick (Chu-Ming) Wu

TPE

-

75

WD

WD

CUT

Charles Spry

Winston-Salem, NC

-

76

WD

WD

CUT

Davis Gilmore

Winston Salem, NC

5

77

77

CUT

Brody Davis

Harrisburg, NC

5

77

77

CUT

Christopher Dorsett

Mount Airy, NC

5

77

77

CUT

Ethan Lukes

Chapel Hill, NC

5

77

77

CUT

Jack Coates

Advance, NC

5

77

77

CUT

Charlie Barr

Salisbury, NC

6

78

78

CUT

Fitz Woodrow

Lexington, SC

6

78

78

CUT

Luke Perrino

Mooresville, NC

6

78

78

CUT

Regan Erhardt

Greensboro, NC

6

78

78

CUT

Tyler Patterson

Tega Cay, SC

6

78

78

CUT

Chris Cassetta

High Point, NC

6

78

78

CUT

Otile Ronald

Kampala, UGA

6

78

78

CUT

Raj Ghosh

Duluth, GA

6

78

78

CUT

Christian Bailey

Mathews, NC

7

79

79

CUT

Robert Fox

Winston-Salem, NC

7

79

79

CUT

Solomon Park

Martinsville, VA

7

79

79

CUT

Kevin Omundson

Huntersville, NC

8

80

80

CUT

Cole Smith

Kent, OH

9

81

81

CUT

Baguma Daniel

Kampala, UGA

9

81

81

CUT

Joe Alvarez

Charlotte, NC

10

82

82

CUT

Brady Gregor

High Point, NC

10

82

82

CUT

Samuel Nester

Mount Airy, NC

11

83

83

CUT

Nathaniel Gray Lamont

Guelph, CAN

12

84

84

CUT

Matt Kelly

Winston Salem, NC

12

84

84

CUT

Ty Hall

Johns Island, SC

13

85

85

CUT

Basaline Joel

Kampala, UGA

13

85

85

CUT

Jimmy Taylor

Charlotte, NC

17

89

89

CUT

Hunter Duncan

Christiansburg, VA

-

WD

WD

CUT

Jacob Scruggs

Shelby, NC

-

WD

WD

CUT

Jonathan Rector

Hendersonville, NC

-

WD

WD

CUT

Owen Carter

Richmond, VA

-

WD

WD

CUT

Tom Nolan

Austin, TX

-

WD

WD

CUT

William Dull

Charlotte, NC

-

WD

WD

CUT

Paul Kester

Wilmington, NC

-

WD

WD

CUT

Ryan Flynn

Charlotte, NC

-

WD

WD

CUT

Tyler Abrahamsen

Setauket, NY

-

WD

WD