US Amateur Qualifying Results Benvenue CC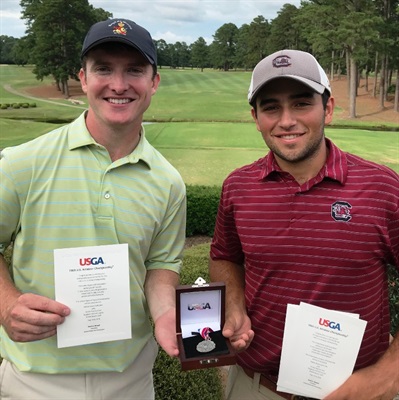 Qualifying Medalits: Stephen Behr (L) and Ryan Stachler (R)
ROCKY MOUNT, NC– Final results from U.S. Amateur Championship Sectional Qualifying hosted by Benvenue Country Club Club in Rocky Mount, NC on Monday, July 23, 2018 (6500 yards, par 36-36—72).
Two qualifying spots and two alternate positions were available at this qualifying site.
Stephen Behr from Atlanta, GA and Ryan Stachler from Milton, GA both shot rounds of eight-under par 136 to share medalist honors and the two qualifying spots. Fresh off his Carolinas Amateur Championship, Josh Martin from Pinehurst, NC was first alternate. 2017 NC Amateur Match Play Champion Eric Bae from Pinehurst, NC was second alternate.
The two qualifiers will advance to the US Amateur Championship at Pebble Beach Golf Links from August 13-18, 2018.
Hole-by-hole scoring can be viewed here: https://www.golfgenius.com/pages/1554663
This qualifier was conducted by the Carolinas Golf Association on behalf of the United States Golf Association.
2018 US Amateur Sectional Qualifying
Benvenue Country Club, Rocky Mount, NC
Qualifying Results
Pos.

Player

Hometown

To Par

R1

R2

Totat Score

Details

T1

Stephen Behr

Atlanta, GA

-8

65

71

136

T1

Ryan Stachler

Milton, GA

-8

71

65

136

The following players did not make the cut

CUT

Joshua Martin

Pinehurst, NC

-7

72

65

137

1st Alternate

CUT

Eric Bae

Pinehurst, NC

-6

71

67

138

2nd Alternate

CUT

Scott Stevens

Chattanooga, TN

-5

67

72

139

CUT

Will Miles

Hilton Head Island, SC

-4

71

69

140

CUT

Justin Hood

St Matthews, SC

-3

69

72

141

CUT

Ivan Ramirez

Lubbock, TX

-3

71

70

141

CUT

Davis Richards

Raleigh, NC

-2

73

69

142

CUT

Walker Cress

Concord, NC

-2

73

69

142

CUT

Daniel Welborn

Charlotte, NC

-1

72

71

143

CUT

Avery Price

Gastonia, NC

-1

70

73

143

CUT

Preyer Fountain

Raleigh, NC

-1

72

71

143

CUT

Luke Grogan

Canton, NC

E

72

72

144

CUT

Peter Fountain

Raleigh, NC

E

70

74

144

CUT

Caleb Proveaux

Lexington, SC

E

65

79

144

CUT

Tripp Summerlin

Summerfield, NC

E

74

70

144

CUT

Walker Taylor

Wrightsville Beach, NC

E

69

75

144

CUT

Blake McShea

Zebulon, NC

1

73

72

145

CUT

Alex Burris

Greensboro, NC

2

76

70

146

CUT

Austin Bonfiglio

Holly Springs, NC

2

72

74

146

CUT

Jake Budde

Spicewood, TX

2

72

74

146

CUT

Buck Williams

New Orleans, LA

2

71

75

146

CUT

Andrew Bieber

Webster, NY

3

75

72

147

CUT

John McFadyen

Fayetteville, NC

3

75

72

147

CUT

Benjamin Gillon

Rocky Mount, NC

4

73

75

148

CUT

Brett McLamb

Coats, NC

4

75

73

148

CUT

Tripp French

Camden, SC

4

72

76

148

CUT

Joey Funderburg

Wilmington, NC

4

70

78

148

CUT

Kenan Poole

Raleigh, NC

4

74

74

148

CUT

Seve Anfindsen

Apex, NC

4

72

76

148

CUT

Quinn Riley

Raleigh, NC

5

72

77

149

CUT

Nicolas Brown

Wendell, NC

6

75

75

150

CUT

Jared Chinn

Fayetteville, NC

8

75

77

152

CUT

Vijay Mishra

North Myrtle Beach, SC

8

70

82

152

CUT

Nathan Norfleet

Chapel Hill, NC

9

77

76

153

CUT

John Massei

Cary, NC

9

76

77

153

CUT

Rob Perry

Cary, NC

9

79

74

153

CUT

Attie Giles

Pinehurst, NC

10

80

74

154

CUT

Jonathan Paulson

Cary, NC

11

82

73

155

CUT

Jay Roberts III

Davidson, NC

12

77

79

156

CUT

Michael Coe

Morrisville, NC

12

78

78

156

CUT

Christopher Saunders

Durban,

13

79

78

157

CUT

Kevin Busteed

Charlotte, NC

13

80

77

157

CUT

Micah Westermeyer

Chapin, SC

13

80

77

157

CUT

Stephen Brown

Raleigh, NC

13

81

76

157

CUT

Cole Jefferys

Macclesfield, NC

13

77

80

157

CUT

Corey Wilson

Raleigh, NC

13

75

82

157

CUT

Billy Britton

Sedley, VA

14

80

78

158

CUT

Mason Elmore

Charlotte, NC

14

80

78

158

CUT

Ryan Wilson

Greensboro, NC

14

83

75

158

CUT

Joseph Cook

Rocky Mount, NC

15

82

77

159

CUT

Laurent Span

Raleigh, NC

16

83

77

160

CUT

Peter Jackson

Raleigh, NC

16

78

82

160

CUT

Jacob Van Leeuwen

Kettering, OH

16

80

80

160

CUT

Jeremy Boyle

Chapin, SC

18

80

82

162

CUT

Reid Schmideler

Ashland, VA

23

85

82

167

CUT

Trey Capps

Garner, NC

26

80

90

170

CUT

Joseph Gulli, Jr.

Charlotte, NC

37

88

93

181

CUT

McLain Leberte

Richmond, VA

-

73

WD

WD

CUT

John Pitt

Raleigh, NC

-

75

WD

WD

CUT

Will Hanna

Raleigh, NC

-

77

WD

WD

CUT

Andrew Wilmoth

Raleigh, NC

-

79

WD

WD

CUT

Corrie Kuehn

Asheville, NC

-

80

WD

WD

CUT

John Williams

Raleigh, NC

-

80

WD

WD

CUT

Walter Brinker

Sanford, NC

-

82

WD

WD

CUT

Wes Simmons

Kinston, NC

-

82

WD

WD

CUT

Theodore Bartholomew

Cary, NC

-

88

WD

WD

CUT

Jared Taunton

Winterville, NC

-

89

WD

WD

CUT

Ishaan Vasudeva

Columbia, SC

-

91

WD

WD

CUT

Britt Stroud

Raleigh, NC

-

WD

WD

WD

CUT

Dwight Cauthen

Columbia, SC

-

WD

WD

WD

CUT

Jerry Richardson Jr

Cary, NC

-

WD

WD

WD

CUT

Allen Smith

Durham, NC

-

WD

WD

WD

CUT

Andrew Decker

Greenville, NC

-

WD

WD

WD

CUT

James Mishoe IV

Cary, NC

-

WD

WD

WD

CUT

John White

Charlotte, NC

-

WD

WD

WD

CUT

Sasha Sparacino

Dubai,

-

WD

WD

WD
Related: Hole-by-Hole Scoring | Tournament Website