US Amateur Qualifying Results Scotch Hall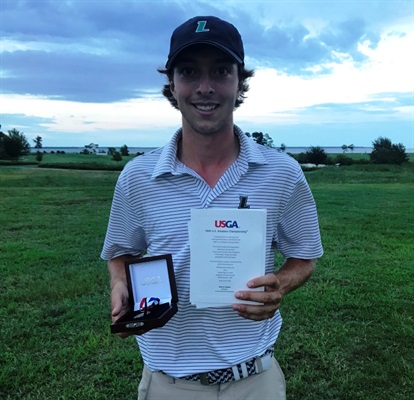 MERRY HILL, NC– Final results from U.S. Amateur Championship Sectional Qualifying hosted by Scotch Hall Preserve in Merry Hill, NC on Wednesday, July 25, 2018 (7200 yards, par 36-36—72).
One qualifying spot and two alternate positions were available at this qualifying site.
Preston Ball from Raleigh, NC won a three man play off to earn medalist honors. Tyler Bakich from Valrico, FL was first alternate and Nolan Mills from Charlotte, NC was second alternate.
Ball will advance to the US Amateur Championship at Pebble Beach Golf Links from August 13-18, 2018.
Hole-by-hole scoring can be viewed here: https://www.golfgenius.com/pages/1543303
This qualifier was conducted by the Carolinas Golf Association on behalf of the United States Golf Association.
2018 US Amateur Sectional Qualifying
Scotch Hall Preserve, Merry Hill, NC
Qualifying Results
Pos.

Player

Affiliation

Total

R1

R2

Total Gross

Details

1

Preston Ball

Raleigh, NC

-7

71

66

137

The following players did not make the cut

CUT

Tyler Bakich

Valrico, FL

-7

71

66

137

1st Alternate

CUT

Nolan Mills

Charlotte, NC

-7

66

71

137

2nd Alternate

CUT

Kyle Cottam

Knoxville, TN

-6

71

67

138

CUT

Blake Taylor

Wilmington, NC

-4

71

69

140

CUT

Bryce Hendrix

Greensboro, NC

-2

72

70

142

CUT

Peyton Shore

Saluda, SC

-2

71

71

142

CUT

Fulton Smith

Pinehurst, NC

-1

72

71

143

CUT

Patrick Schweitz

Clayton, NC

-1

71

72

143

CUT

Thomas Walsh

High Point, NC

E

72

72

144

CUT

Zack Ford

Cochranton, PA

E

73

71

144

CUT

Tim Bunten

Charlotte, NC

+1

72

73

145

CUT

Gray Matthews

Raleigh, NC

+2

73

73

146

CUT

Aman Gupta

Concord, NC

+3

78

69

147

CUT

Osborn Theam

Long Beach, CA

+4

73

75

148

CUT

Eric Edwards

Salisbury, NC

+5

73

76

149

CUT

Brad Hondros

Dunwoody, GA

+6

73

77

150

CUT

McClure Thompson

Little River, SC

+6

76

74

150

CUT

Matt Mullarkey

Mt. Pleasant, SC

+7

73

78

151

CUT

Michael Rials

Florence, SC

+7

74

77

151

CUT

Harrison Rhoades

Raleigh, NC

+8

78

74

152

CUT

Stephen Abrams

Wilson, NC

+11

77

78

155

CUT

Michael Wicker

Rougemont, NC

+13

76

81

157

CUT

Christian Fleetwood

Conway, NC

+15

80

79

159

CUT

Harrison Fisher

Angier, NC

+25

92

77

169

CUT

Calum McAndrew

Scotland

-

76

WD

WD

CUT

Davis Kiger

Harrisburg, NC

-

78

WD

WD

CUT

Franklin Bursick

Myrtle Beach, SC

-

78

WD

WD

CUT

Andrew Bridgers

Greenville, NC

-

83

WD

WD

CUT

Basil Boyd

Martinsville, VA

-

84

WD

WD

CUT

Jimbo Stanley

Raleigh, NC

-

WD

WD

WD

CUT

Zachary Joines

Wilkesboro, NC

-

WD

WD

WD