Redding wins Carolinas W Match Play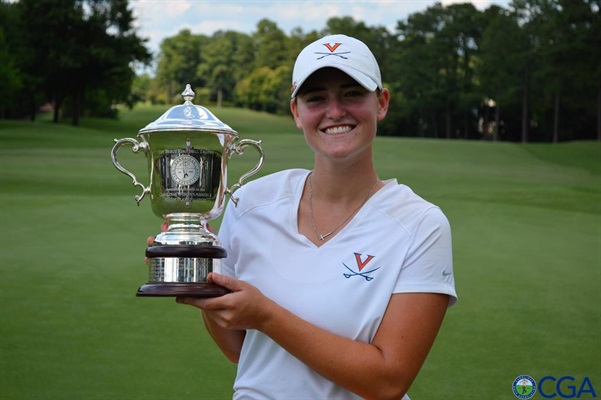 Anna Redding of Concord, N.C. earned her second CGA title of the summer at the 21st Carolinas Women's Match Play at North Ridge Country Club on Thursday, July 26, 2018.
By: Brittany Stewart/CGA Communications Intern
RALEIGH, N.C. (July 26, 2018) -- Semifinal and final round results of the 21st Carolinas Women's Match Play at North Ridge Country Club in Raleigh, N.C. on Thursday, July 26, 2018 (6,060 yards, Par 36-36--72, Course Rating 76.0/134).
Related: Championship Web Site | Starting Times | Scoring | Championship History | Photos

After a marathon final round match, Anna Redding of Concord, N.C. emerged victorious after 22 holes and earned the title at the 21st Carolinas Women's Match Play. The win marked her second CGA title of the summer after she won the 92nd Carolinas Women's Amateur in June.
Redding, who is a rising junior at Virginia, survived consecutive tight matches on Thursday en route to the title. In her morning semifinal match, she faced Jodee Tindal of Rock Hill, S.C. Tindal made a run in the middle of the match, but Redding eventually won the match, 1 up.
Jessica Spicer of Bahama, N.C. won her semifinal match against Kathleen Sumner of Charleston, S.C., 2 and 1 to set up a Virginia versus Virginia Tech afternoon final. Last week, Spicer and Redding competed together on the Carolinas team at the Virginias-Carolinas team matches, but were back to competing against each other in the final match.
Under beautiful sunny skies, the final match was a battle from the first tee. Both Redding and Spicer played steady rounds, and neither were able to gain advantage against the other. Tied at all-square headed into the final hole, Spicer sank a long putt to stay alive and force the match to extra holes.
"The key was staying consistent," Redding said. "It was key to keep getting looks at birdies, even though most of them did not go in, but it was a great match."
Unable to gain advantage on each other, Redding and Spicer, who were paired together on the first day of qualifying stroke play, battled through 22 holes until Redding emerged victorious on the eighteenth green.
"This is so exciting," Redding said. "Being the medalist in stroke play was awesome. Shooting 66 was my personal best, so after that, I was feeling really excited, and I love match play."
In the Carolinas division of competition, Beth Coldwell of Myrtle Beach, S.C. defeated Suzanne Moro of Myrtle Beach, S.C., 3 and 2.
The championship format is 18 holes of stroke play qualifying to determine seeding and flights for match play in the Championship Division and seeding for match play in the Carolinas Division. Players have the option to compete in either the Championship Division (approximately 6,000 yards) or Carolinas Division (approximately 5,200 yards.)
Entry is open to any female amateur golfer who has reached her 13th birthday by July 26, 2018, maintains a residence in North Carolina or South Carolina, is a member in good standing of a club which is a member of the Carolinas Golf Association (CGA) and has an active GHIN USGA Handicap Index at a CGA member club.
The Carolinas Golf Association would like to thank North Ridge Country Club for hosting this year's event. Our tournament would not have been possible without the hard work and dedication of its club members and staff. A special thank you to Director of Golf, Scott Kirkland.

21st Carolinas Women's Match Play
North Ridge Country Club | Raleigh, N.C.
Semifinal and Final Round Results
Championship Flight-- Semifinals
Anna Redding of Concord, N.C. def. Jodee Tindal of Rock Hill, S.C., 1 up
Jessica Spicer of Bahama, N.C. def. Kathleen Sumner of Charleston, S.C., 2 and 1
Championship Flight-- Finals
Anna Redding of Concord, N.C. def. Jessica Spicer of Bahama, N.C., 22 holes
First Flight-- Finals
Hannah Rose Bruxvoort of Chapel Hill, N.C. def. Callista Rice of Mars Hill, N.C., 7 and 6
Second Flight-- Finals
Michaela Cox of Greensboro, N.C. def. Angela Stewart of Greenville, N.C., 2 and 1
Championship Consolation-- Semifinals
Madison Corley of Charlotte, N.C. def. Keri Kenkel of Charlotte, N.C., 3 and 2
Kayla Smith of Burlington, N.C. def. Bailee Twiford of Coinjock, N.C., 3 and 2
Championship Consolation-- Finals
Madison Corley of Charlotte, N.C. def. Kayla Smith of Burlington, N.C., 19 holes
Championship Division-- Finals
Beth Coldwell of Myrtle Beach, S.C. def. Suzanne Moro of Myrtle Beach, S.C., 3 and 2

Schedule of rounds:
Tuesday, July 24, 2018
First Round--18 holes of stroke play qualifying
Lunch provided for all players
Championship Flight, Round of 32 Matches (PM shotgun)
Wednesday, July 25, 2018
Championship Flight: Round of 16 and Quarterfinal matches
All other flights: First round matches and Semifinal matches
Thursday, July 26, 2018
Championship flight: Semifinal and Final matches
All other flights: Final matches