Einstein wins N.C. Match Play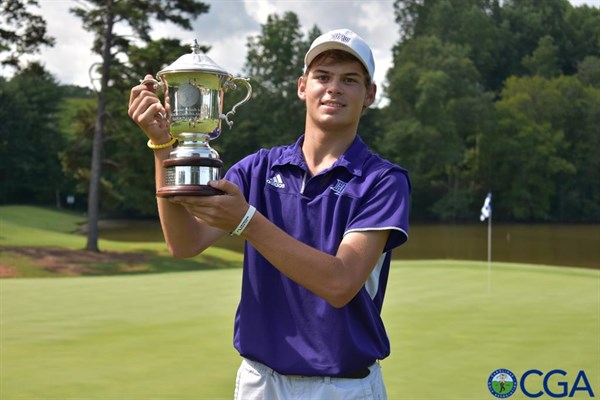 Brandon Einstein gets his second CGA win of the summer at the 9th N.C. Match Play Championship.
GASTONIA, N.C. (August 5, 2018) -- Championship match results of the 9th North Carolina Match Play Championship at Gaston Country Club in Gastonia, N.C. on Sunday, August 5 (6,995 yards, Par 35-35-70).
Related: Championship Web Site | Starting Times | Scoring | Championship History | Photos

No. 10 seed Brandon Einstein of Clemmons, N.C. is the 9th North Carolina Match Play champion. Einstein defeated No. 1 seed Carson Ownbey of Candler, N.C. 2 and 1 in the final match.
Einstein did not lead the match until the 16th hole, but kept it close throughout the round, never falling back more than 1 down.
An errant tee shot on No.16 looked as though it might be costly for Einstein but a sensational approach shot from the left-side rough set up a 10-foot birdie putt that he would make to take the lead 1 up.
Ownbey won medalist honors and had been sharp all week, but it was his turn to make a rare mistake off the tee on No. 17. His drive put him behind a tree on the left side and left him with a difficult approach while Einstein comfortably made it on the green in two. Ownbey would get to the edge of the green, but went on to three-putt for bogey as Einstein made his par to secure the title.
Einstein said, "He would win a hole, I would win a hole, he would win a hole, I would win a hole, it was all about staying focused really."
Yesterday, Einstein said his struggles off the tee forced him to use three-wood on most holes, but today he was much more accurate all around the board.
"Just hitting those fairways and greens," said the incoming freshman at High Point University, "Making a bunch of pars always comes up big."
Einstein said he made sure to keep a level head and "stay in my own lane" throughout the match.
Einstein certainly made sure to acknowledge the challenge that Ownbey put up and recognize the friendship they have formed over the years.
"We were just being buddies out there. It kept us relaxed and calm and I didn't get too tensed up," added Einstein.
Einstein is headed to Pebble Beach Golf Links next week to partake in the U.S. Amateur Championship and he said that this win gives him a huge confidence boost going into the prestigious tournament.
As for what it means to him to win the North Carolina Match Play Championship, he was caught speechless.
"I can't really think of it. It's just awesome."

The North Carolina Match Play Championship was conducted as 36 holes of stroke play to determine 32 qualifiers for match play.
Entry is open to any male amateur golfer who has reached his 13th birthday by August 1, 2018, is a legal resident of North Carolina, is a member in good standing of a club which is a member of the Carolinas Golf Association (CGA) and has an active GHIN® USGA Handicap Index® at a CGA member club that does not exceed 10.4. Entries are subject to rejection at any time, including during the event, by the CGA or the host club. The reason for rejection may include unbecoming conduct or cell phone use during a stipulated round. All players must conform to the "USGA Rules of Amateur Status" as specified in "The Rules of Golf". College Student Eligibility: A college student is considered a resident of their parent(s)/guardian(s) "Legal Residency Criteria" as stated in the CGA Tournament Manual unless said student (a) has no dependency on his/her parents; and (b) lives full time in North Carolina. For complete residency and eligibility requirements, refer to the CGA Tournament Manual.
The CGA would like to thank Gaston Country Club for hosting the event. Thank you to all the members and staff for allowing the use of their facilities and for all of their hard work during the event. A special thank you is extended to head professional Thomas Troncoso and course superintendent Tim Carpenter.

9th North Carolina Match Play Championship
Gaston CC | Gastonia, N.C.
Championship Match Results
Championship Match
Brandon Einstein, Clemmons, N.C. def. Carson Ownbey, Candler, N.C., 2 and 1

Schedule of rounds:
Wednesday, August 1
Stroke Play Qualifying Round 1: Tee times begin at 8:00 a.m. and 12:45 p.m.
Thursday, August 2
Stroke Play Qualifying Round 2: Tee times begin at 8:00 a.m. and 12:45 p.m.
Friday, August 3
Stroke Play Qualifying Restart: 9:00 a.m.
Round of 32: Tee times begin at 11:00 a.m.
Round of 16: Tee times begin at 4:45 p.m.
Saturday, August 4
Quarterfinals: Tee times begin at 8:00 a.m.
Semifinals: Tee times begin at 12:45 p.m.
Sunday, August 5
Championship: 8:00 a.m.


About the Carolinas Golf Association (CGA)
The CGA is a 501(c)(3) not-for-profit educational organization that was founded in 1909 to promote and to protect the game of golf in the Carolinas by providing competitions, education, support and benefits to golf clubs and golfers. The CGA is the second largest golf association in the country with over 700 member clubs represented by nearly 150,000 individuals.
The CGA annually conducts 48 championships and five team match competitions for men, women, juniors, and seniors. It also runs over 150 One-Day (net and gross) events as well as qualifying for USGA national championships. The CGA serves golf in the Carolinas with numerous programs such as: the USGA Handicap System; tournament management software and support; course measuring and course/slope ratings; agronomy consultation; answers about the Rules of Golf, Rules of Amateur Status, and Handicapping; Carolinas Golf Magazine; Interclub series; Tarheel Youth Golf Association; Carolinas Golf Hall of Fame; expense assistance for USGA Junior and Girls' Junior qualifiers from the Carolinas; and the Carolinas Golf Foundation (CGF). The CGF has distributed nearly $2,000,000 since 1977 to benefit Carolinas' golf initiatives including junior and women's programs.