CGA Welcomes Two Staffers this Summer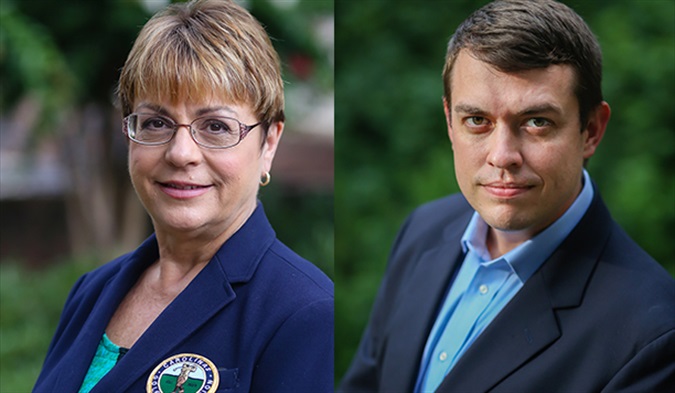 August 31, 2018 - SOUTHERN PINES, N.C. -- The Carolinas Golf Association (CGA) is proud to announce the hiring of Jackson Sveen as Director of Marketing and Communications and Barb Hanlin as Administrative Assistant.
Hanlin Hired as Administrative Assistant
Based out of our offices at the Carolinas Golf House in Southern Pines, N.C., Hanlin will be responsible for providing support to the CGA staff, members and clubs.
"Barb has a wonderful and calm demeanor about her and is a very good thinker,"said Jack Nance, CGA Executive Director. "She has fit in nicely with our group."
The daughter of a WWII submariner, Barb was born in Honolulu while her father was stationed in Hawaii. A military transfer moved her family to Northern Virginia, where she and her siblings grew up.
Barb's first golf experience was to take an eight-week golf training program with the instructors at Army Navy Country Club in Virginia. Then, in 2015, she and her husband, Mike, built their forever home in Southern Pines, N.C. at Mid South Club. After moving to the area, she began taking golf lessons from the club's professionals as a surprise for husband. Later that year she played in her first golf tournament, and their team won!
Barb has a Bachelor of Science in Medical Technology from George Mason University, Fairfax, VA. She later earned a Graduate Certificate in Forensic Science, also from George Mason. She has also completed coursework offered by the University of Mary Washington's School of Business in Fredericksburg, VA. In addition to Barb's work experience in both clinical and forensic laboratories, she has significant work experience in public procurement and office administration.
When asked about this opportunity, she stated "I am excited about being part of the CGA family, providing support to the staff and golfers in the Carolinas, and helping promote this wonderful game."
Barb has two daughters, Whitney and Jackie, a granddaughter, Riley, and a grandson, Kellan.
Sveen Hired as Director of Marketing and Communications
In his role, Sveen will be responsible for the development of marketing partnerships and execution of communication strategies to help promote amateur golf throughout North and South Carolina. He will also serve as the Executive Publisher of the Carolinas Golf Magazine and administer the Carolinas Golf Hall of Fame for the Carolinas Golf Foundation.

"Jackson was a great find for us," said Jack Nance, CGA Executive Director. "He fit our job description to a tee and understands the game from so many different angles."
A lifelong golf enthusiast, Sveen grew up playing golf in the Appalachian Mountains of western North Carolina. He received a B.A. degree in Mass Media Communication from the University of North Carolina at Charlotte.

Sveen most recently served as the Project and Communications Manager at Interact Authentic Communication; a communications consultancy in Charlotte, N.C. Before that he served as the e-Commerce Manager at Total Golf Commerce, LLC. in Fort Mill, S.C. He also has over a decade of experience working with various print and online news publications throughout the Carolinas.

"I'm proud to be part of the great work being done at the Carolinas Golf Association to grow the sport," said Sveen. "Golf has always been a true passion of mine and I'm excited to help promote the efforts of the CGA both in the Carolinas and beyond."
About the Carolinas Golf Association (CGA)
The CGA is a 501(c)(3) not-for-profit educational organization that was founded in 1909 to promote and to protect the game of golf in the Carolinas by providing competitions, education, support and benefits to golf clubs and golfers. The CGA is the second largest golf association in the country with over 700 member clubs represented by nearly 150,000 individuals.
The CGA annually conducts 48 championships and five team match competitions for men, women, juniors, and seniors. It also runs over 150 One-Day (net and gross) events as well as qualifying for USGA national championships. The CGA serves golf in the Carolinas with numerous programs such as: the USGA Handicap System; tournament management software and support; course measuring and course/slope ratings; agronomy consultation; answers about the Rules of Golf, Rules of Amateur Status, and Handicapping; Carolinas Golf Magazine; Interclub series; Tarheel Youth Golf Association; Carolinas Golf Hall of Fame; expense assistance for USGA Junior and Girls' Junior qualifiers from the Carolinas; and the Carolinas Golf Foundation (CGF). The CGF has distributed nearly $2,000,000 since 1977 to benefit Carolinas' golf initiatives including junior and women's programs.
For more information about the CGA, visit our website .