U.S. W Four-Ball Qualifying Results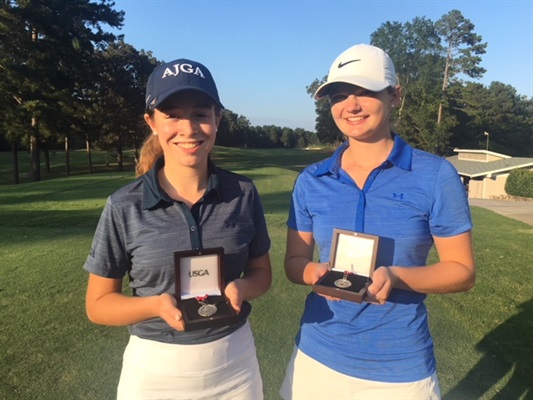 2019 U.S. Women's Four-Ball Qualifying Results
from the Chapel Hill Country Club in Chapel Hill, N.C.

CHAPEL HILL, N.C. (October 6, 2018) -- Final results from 2019 U.S. Women's Four-Ball Qualifying at the Chapel Hill Country Club in Chapel Hill, N.C. on Saturday, October 6, 2018 (6195 yards, par 36-36--72, Course/Slope rating: 75.7/142).
Rebecca Dinunzio of Norfolk, V.A. and Alyssa Montgomery of Knoxville, T.N. carded a 10-under-par 62 to claim medalist honors at the 2019 U.S. Women's Four-Ball Qualifier hosted by Chapel Hill Country Club in Chapel, Hill, N.C. The pair made 10 birdies and 8 pars en route to their 62 and were clear of the nearest competitors by six strokes. Dinunzio and Montgomery will be future teammates at Virginia Tech in Blacksburg, V.A.
Haeley Wotnosky of Wake Forest, N.C. and Amanda Sambach of Davidson, N.C. are the first alternates. Hailey Joy of Winston-Salem, N.C. and Alexis Kershaw of Reidsville, N.C. are the second alternates.
One qualifying spot and two alternate positions were available at this qualifying site.
The championship proper will be held at Timuquana Country Club in Jacksonville, F.L on April 27 - May 1, 2019.
This qualifier was conducted by the Carolinas Golf Association on behalf of the United States Golf Association.
Results
U.S. Women's Four-Ball Qualifying
Chapel Hill Country Club
Chapel Hill, N.C.
October 6, 2018

Team
City, State
To Par
Total
Medalists
Alyssa Montgomery / Rebecca Dinunzio
Norfolk, VA, Knoxville, TN
-10
62
Failed to Qualify
1st Alt
Amanda Sambach / Haeley Wotnosky
Davidson, NC, Wake Forest, NC
-4
68
2nd Alt
Alexis Kershaw / Hailey Joy
Reidsville, NC, Winston-Salem, NC
-3
69
Muskan Uppal / Rory Weinfurther
Cornelius, NC, Midlothian, VA
E
72
Joliana Elias / Melany Chong
Canada,, Greensboro, NC
+1
73
Katherine Schuster / Nicole Adam
Pinehurst, NC, Kill Devil Hills, NC
+2
74
About the Carolinas Golf Association (CGA)
The CGA is a 501(c)(3) not-for-profit educational organization that was founded in 1909 to promote and to protect the game of golf in the Carolinas by providing competitions, education, support and benefits to golf clubs and golfers. The CGA is the second largest golf association in the country with over 700 member clubs represented by nearly 150,000 individuals.
The CGA annually conducts 48 championships and five team match competitions for men, women, juniors, and seniors. It also runs over 150 One-Day (net and gross) events as well as qualifying for USGA national championships. The CGA serves golf in the Carolinas with numerous programs such as: the USGA Handicap System; tournament management software and support; course measuring and course/slope ratings; agronomy consultation; answers about the Rules of Golf, Rules of Amateur Status, and Handicapping; Carolinas Golf Magazine; Interclub series; Tarheel Youth Golf Association; Carolinas Golf Hall of Fame; expense assistance for USGA Junior and Girls' Junior qualifiers from the Carolinas; and the Carolinas Golf Foundation (CGF). The CGF has distributed nearly $2,000,000 since 1977 to benefit Carolinas' golf initiatives including junior and women's programs.
For more information about the CGA, visit our website.
##30##