Detweiler and Simson Win the 7th Carolinas Super Senior Four-Ball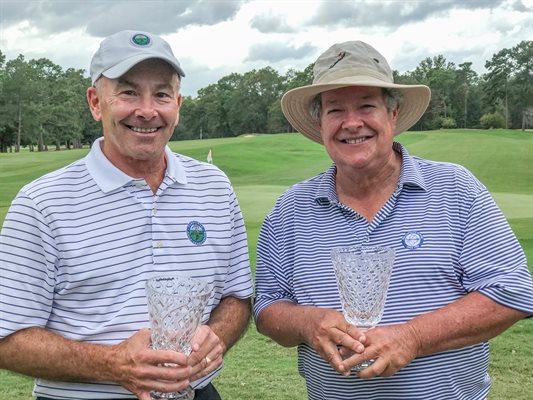 Don Detweiler and Paul Simson win the 7th Carolinas Super Senior Four-Ball Championship.
CAMDEN, S.C. (October 9, 2018) -- Final round results of the 7th Carolinas Super Senior Four-Ball Championship hosted by Camden Country Club in Camden, S.C. on Tuesday, October 9, 2018 (Championship Division: 5,700 yards, Par 35-35--70, 70+ Division: 5,400 yards, par 35-35--70)
Related: Championship Web Site | Results
Don Detweiler and Paul Simson of Raleigh, N.C. shot a final round 65 to capture the 7th Carolinas Super Senior Four-Ball Championship at Camden Country Club in Camden, S.C.
"We are thrilled," Simson said about his 36th CGA Championship title. "It's been four or five years since we've won one together, so we told each other a couple weeks ago that this was one that we really wanted."
Simson and Detweiler battled it out in September at the 11th North Carolina Super Senior Championship hosted at Alamance Country Club. Both men held the lead at some point in the final round, but at the end of the day, Simson won the championship by one shot over Detweiler.
"I made Paul promise if he was going to beat me in Alamance, that he was going to have to show up and be the real Paul Simson in Camden," Detweiler said. "And he showed up. When you're coming down the stretch you want a real winner on your side and Paul obviously knows how to close the deal."
One key element of any great four-ball team is always being able to depend on your partner. Over the two rounds, the two carded 10 birdies, an eagle and only one bogey.
"Don was there making very valuable pars when I was in the woods chasing squirrels," Simson jokingly said. "Honestly, we partnered very, very well. That was the key to us winning. Another key was that we got three shots ahead (in round one) of Ford and Burgess."

Jim Burgess of Murrells Inlet, S.C. and Frank Ford of Charleston, S.C. have an unparalleled success at Camden Country Club. The pair have won four CGA four-balls events at Camden Country Club.
The two groups had together dinner on Monday night after round one. The dinner conversation must have fired up Burgess and Ford because they followed up their first round 68 with a final round 63; the lowest score of the tournament. The late charge wasn't enough to win the title but it was good enough for a solo second place finish.

Simson keeps raising the bar for all-time CGA championship wins with 36 but in November, he'll have a chance to break another record. With a win at the 57th Carolinas Senior Amateur hosted at the Golf Club at Briar's Creek, Simson is aiming to get a record-breaking fourth championship title of the year (Carolinas Super Senior, North Carolina Super Senior, Carolinas Super Senior Four-Ball). He'll have to get through a tough field including his four-ball partner, Detweiler, if he's going to do it.
Newton and Boswell Win 70+ Division
Ernie Newton of Winston-Salem, N.C. and Larry Boswell of Jamestown N.C. fired a final round 68 to win the 70+ Division of the Carolinas Super Senior Four-Ball Championship.
The duo found themselves tied for the lead after round one with Jamie Frazier of Winnsboro, S.C. and Lanny Correll of Pawleys Island, S.C. but both teams struggled early in round two.
"The good thing for us, is that we didn't make but one bogey in two days," Netwon said. "We never really got into too much trouble. We just had trouble making putts and birdies. We had a lot of birdie opportunities from inside ten feet but the greens at Camden (Country Club) are pretty tough to putt."
Frazier and Correll fell behind early but were able to recover and get back to one-shot down. A double bogey on the 15th hole knocked Frazier and Correll out of the race for first place.
Netwon and Boswell were able to coast to a three-shot victory over the second place finishers, Michael Egan and Jon Abbett of Wilmington, N.C. and Al Edwards of North Myrtle Beach, S.C. and Arnold Edwards of Charlotte, N.C.
I like (four-ball events) because I know I'm going to have a couple bad holes a round," Boswell said. "It's always nice to have a good partner to lean on. I would take Larry anytime."
The CGA wishes to thank the members and staff of Camden Country Club, especially the General Manager, Rob Butler, Head Golf Professional, Matt McCarley and Head Golf Course Superintendent, Danny Allen.
7th Carolinas Super Senior Four-Ball Championship
Camden Country Club | Camden, N.C.
Final Round Results
Championship Division
Pos.
Team
City, State
To Par
R1
R2
Total
1
Paul Simson / Don Detweiler
Raleigh, NC
-11
64
65
129
2
Jim Burgess / Frank Ford
Murrells Inlet, SC, Charleston, SC
-9
68
63
131
3
Wayne Howle / John Welker
Darlington, SC, Florence, sc
-8
65
67
132
T4
Wayne Pyrtle / Ray Womack
Burlington, NC
-7
65
68
133
T4
Charlie Parks / Arlis Pike
Asheboro, NC, Kernersville, NC
-7
68
65
133
6
Lawrence Hicks / Alan Dirk
Greensboro, NC, Pittsboro, NC
-6
66
68
134
7
Billy Hoylen / Allen McCall
Florence, SC
-5
71
64
135
8
Robert Desjardins / Bill Boles
Matthews, NC, Wilson, NC
-4
67
69
136
T9
Bob Albus / John Long
Kiawah Island, SC, Murrells Inlet, SC
-3
68
69
137
T9
Vardaman Banks / Jerry Hartsell
Matthews, NC, Midland, NC
-3
68
69
137
T11
Bob Varn / Bob Rickman
Orangeburg, SC, N. Augusta, SC
-2
68
70
138
T11
Cliff Seastrunk / Mike Wilson
Raleigh, NC, Ocean Isle Beach, NC
-2
70
68
138
T11
Mark Giles / Tom Fulmer
Columbia, SC, N. Myrtle Beach, SC
-2
72
66
138
T11
Michael Daniels / Robert Fisk
Murrells Inlet, SC, Seabrook Island, SC
-2
72
66
138
15
Jim Hunsuck / Mark Wagner
Statesville, NC
-1
69
70
139
T16
Jeryl Johnson / Gary Ramage
N. Myrtle Beach, SC, Summerville, SC
E
69
71
140
T16
Jack Marin / George Leight
Durham, NC, Apex, NC
E
71
69
140
T18
Chuck Latham / Kenneth Eichele
Vass, NC, Pinehurst, NC
+1
70
71
141
T18
Niles Brancati / Bill Weeks
Greenville, SC
+1
71
70
141
T18
Norman Davis / Todd Turner
Charlotte, NC, West End, NC
+1
72
69
141
T18
Bill James / Eric Higgins
Leland, NC, Wilmington, NC
+1
73
68
141
22
Bill Thaxton / Charlie Moore
Monroe, NC, N. Myrtle Beach, SC
+2
73
69
142
T23
Bo Leslie / Jim Faulkner
Simpsonville, SC, Greenville, SC
+3
69
74
143
T23
Rick Aldous / Mo York
Lexington, SC, Mt Pleasant, SC
+3
70
73
143
T23
Charles Hodges / Bill Smunk
Charlotte, NC, Kingstree, SC
+3
72
71
143
T23
Roger Taylor / Bob Yow
Conover, NC, Clinton, NC
+3
74
69
143
T27
Tom Thorpe / Jim Gress
Clemmons, NC
+4
73
71
144
T27
Frank Golden / Neill Pollock
Charlotte, NC
+4
72
72
144
T27
Ron Carpenter / Tim Pope
Creedmoor, NC, Spartanburg, SC
+4
76
68
144
30
Willard Dorriety / Dennis Dorman
Florence, SC
+5
71
74
145
31
Billy Poteat / Rick Chapman
Hickory, NC, Granite Falls, NC
+8
76
72
148
32
Paul Stroup / Russ Hunt
Charlotte, NC, Greensboro, NC
+11
76
75
151
T33
Don King / Marion King
Rock Hill, SC, Edgemoor, SC
+13
79
74
153
T33
Garland Yates / Sam Patterson
Asheboro, NC, Greensboro, NC
+13
81
72
153
70+ Division
Pos.
Team
City, State
To Par
R1
R2
Total
1
Ernie Newton / Larry Boswell
Winston Salem, NC, Jamestown, NC
-6
66
68
134
T2
Michael Egan / Jon Abbett
Wilmington, NC
-3
71
66
137
T2
Al Edwards / Arnold Edwards
North Myrtle Beach, SC, Charlotte, NC
-3
69
68
137
4
Jamie Frazier / Lanny Correll
Winnsboro, SC, Pawleys Island, SC
-2
66
72
138
5
John Walters / Gary Schatz
Charlotte, NC, Fort Mill, SC
E
71
69
140
T6
Gene Grubb / Rick Wesley
Greensboro, NC, Winston Salem, NC
+1
72
69
141
T6
Carey Hite / Bill McDougall
Columbia, SC
+1
70
71
141
8
Scott Schwarz / Nick Avery
Mt. Pleasant, SC, Goose Creek, SC
+4
75
69
144
9
Eddie Dyer / James Brown
Myrtle Beach, SC, High Point, NC
+8
74
74
148
T10
Steve Spiegler / Dave Moser
Charlotte, NC
+9
79
70
149
T10
Tom Rowland / Ron Conway
Wilmington, NC
+9
78
71
149
12
Robert Kinsey / Nelson Raimondo
Murrells Inlet, SC
+10
75
75
150
13
Jim Dameron / Bob Lynch
Florence, SC
+16
80
76
156