41st Carolinas Club Championship - Preview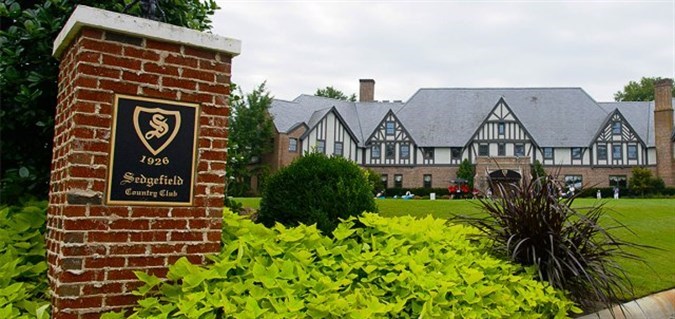 The Ross Course at Sedgefield Country Club hosts the Carolinas Club Championship for the fifth consecutive year.
SOUTHERN PINES, N.C. -- The 41th Carolinas Club Championship will be played on the Ross course at Sedgefield Country Club in Greensboro, N.C. on Monday, October 15th.
Related: Championship Web Site | Full Field of Players | History | Starting Times | Hole-by-hole scoring
Last year's champion team of Scott Harvey and Eric Ferguson shot an impressive nine-under 62 on the par-71 layout. The duo also won the event in 2015.
Ferguson, Sedgefield's Head Professional, and Harvey carded nine birdies on their round to secure a three-shot victory. The pair beat out the Colonial Country Club team consisting of amateur Davis Womble and Professional Ben Miller by three strokes to capture their second Carolinas Club Championship. Womble and Miller will return this year in hopes to inprove on their 2017 results.
66 sides will compete in the 41st edition of this championship. The host club will also be represented by Rocky Brooks and Chris Costas. 2016 Champions
This is the fifth consecutive year that the Carolinas Club Championship will be held on the Ross Course. A great friend to the Carolinas Golf Association, this marks the 19th CGA championship hosted by Sedgefield Country Club. Sedgefield was the first home to the Greater Greensboro Open golf tournament when it started in 1938, alternating with Starmount Country Club until 1961, and hosting every year until 1976. The tournament returned to Sedgefield in 2008 with the name Wyndham Championship.
The Carolinas Club Championship format is 18 holes of four-ball stroke play. Teams can be comprised of: a) A male or female golf professional who is a member of the club's golf professional staff employed by a CGA Member Club and a male or female amateur golfer who is a member in good standing of the same CGA Member Club. b) Two amateur golfers, male or female, who are members in good standing of the same CGA Member Club. Only two team entries is allowed per member club. Entry is open to any male or female legal resident of North Carolina or South Carolina who has reached their 13th birthday.
Championship Facts
Event: 41st Carolinas Club Championship
Playing Dates: October 15 , 2018
Host Site: Sedgefield Country Club (Ross), Greensboro, N.C.
6,794 yards (Men); 5,554 yards (Women), Par 35-36-71
Defending Champions: Sedgefield Country Club, Scott Harvey and Eric Ferguson

About the Carolinas Golf Association (CGA)
The CGA is a 501(c)(3) not-for-profit educational organization that was founded in 1909 to promote and to protect the game of golf in the Carolinas by providing competitions, education, support and benefits to golf clubs and golfers. The CGA is the second largest golf association in the country with over 700 member clubs represented by nearly 150,000 individuals.
The CGA annually conducts 48 championships and five team match competitions for men, women, juniors, and seniors. It also runs over 150 One-Day (net and gross) events as well as qualifying for USGA national championships. The CGA serves golf in the Carolinas with numerous programs such as: the USGA Handicap System; tournament management software and support; course measuring and course/slope ratings; agronomy consultation; answers about the Rules of Golf, Rules of Amateur Status, and Handicapping; Carolinas Golf Magazine; Interclub series; Tarheel Youth Golf Association; Carolinas Golf Hall of Fame; expense assistance for USGA Junior and Girls' Junior qualifiers from the Carolinas; and the Carolinas Golf Foundation (CGF). The CGF has distributed nearly $2,000,000 since 1977 to benefit Carolinas' golf initiatives including junior and women's programs.
For more information about the CGA, visit our website .
##30##