Simson Off to Hot Start at Senior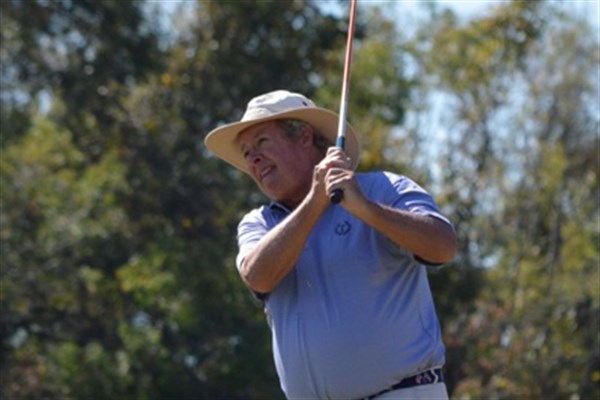 OHNS ISLAND, S.C. (October 31, 2018) – First round results of the 57th Carolinas Senior Amateur Championship at the Golf Club at Briar's Creek on Johns Island, S.C. on October 31, 2018.
Related: Championship Web Site | Starting Times | Scoring | Championship History |
Two-time Carolinas Senior Champion, Paul Simson of Raleigh, NC, started his quest for a third Senior Championship with an eight-under, par 64. Simpson used nine birdies on the day to propel him into a four-shot lead. The Insurance Executive was not able to make it for a practice round but relied on fellow accomplished amateur, Frank Ford of Charleston, SC on course knowledge. The 36 time CGA Champion used the advice to get around the course with ease, "I just avoided the areas I knew would be trouble." "Today just seemed easy to me, it was a good day" added the 67 year old. Ford currently sits tied for fifth with an opening round 70. Rich Weston of Pawleys Island, SC started out his first round with four birdies on his outward nine. With a back side even par, Weston finished with a four-under 68 leaving him in solo second. Gary Robinson of Fayetteville, NC and Russ Perry of Winston-Salem, NC finished with three-under par 69's to put them in a tie at third place.
Scoring will be provided by the CGA throughout the championship. Live updates will also be available on the CGA's official Twitter account, @cgagolf1909. Continue to visit the CGA website throughout this championship and all year long for complete championship coverage including scores, interviews, photos, and recaps.
57th Carolinas Senior Amateur Championship
Golf Club at Briar's Creek, Johns Island, SC
First Round Results
| | | | | |
| --- | --- | --- | --- | --- |
| Pos. | Player | City, State | To Par | R1 |
| 1 | Paul Simson | Raleigh, NC | -8 | 64 |
| 2 | Rich Weston | Pawleys Island, SC | -4 | 68 |
| T3 | Gary Robinson | Fayetteville, NC | -3 | 69 |
| T3 | Russ Perry | Winston Salem, NC | -3 | 69 |
| T5 | Macon Moye | Pinehurst, NC | -2 | 70 |
| T5 | Frank Ford, III | Charleston, SC | -2 | 70 |
| T5 | Nolan Mills, III | Charlotte, NC | -2 | 70 |
| 8 | Todd Hendley | Columbus, NC | -1 | 71 |
| T9 | Walter Todd, Sr | Laurens, SC | E | 72 |
| T9 | Dave Davis | Asheboro, NC | E | 72 |
| T11 | Mike Gravley | Greer, SC | +1 | 73 |
| T11 | Dean Channell | Cary, NC | +1 | 73 |
| T11 | Harrison Rutter | Winston-Salem, NC | +1 | 73 |
| T14 | John Fritz | Mint Hill, NC | +2 | 74 |
| T14 | Kevin Walsh | Blowing Rock, NC | +2 | 74 |
| T14 | Jeff Rausch | Waxhaw, NC | +2 | 74 |
| T14 | Joe Padgette | N. Charleston, SC | +2 | 74 |
| T14 | Mike Arnold | Mooresville, NC | +2 | 74 |
| T19 | Kevin King | Bluffton, SC | +3 | 75 |
| T19 | Phil Bland | Waynesville, NC | +3 | 75 |
| T19 | Preston Edmondson | Morrisville, NC | +3 | 75 |
| T19 | John Rudolph | Charlotte, NC | +3 | 75 |
| T23 | Bert Atkinson | Charleston, SC | +4 | 76 |
| T23 | Bobby Newman | Roebuck, SC | +4 | 76 |
| T23 | Eddie Hargett | Blythewood, SC | +4 | 76 |
| T23 | Keith Waters | Raleigh, NC | +4 | 76 |
| T23 | Neal Morrison | Charlotte, NC | +4 | 76 |
| T23 | Pat Thompson | Asheville, NC | +4 | 76 |
| T23 | Tim Pope | Spartanburg, SC | +4 | 76 |
| T30 | Bob Wilson | Archdale, NC | +5 | 77 |
| T30 | Jerry Horton | Wilmington, NC | +5 | 77 |
| T30 | Mark Macejko | Pinehurst, NC | +5 | 77 |
| T30 | Brian Harris | Newton, NC | +5 | 77 |
| T30 | Edward Galbavy | Johns Island, SC | +5 | 77 |
| T30 | Geno Berchiatti | Greenville, SC | +5 | 77 |
| T30 | John Cottrell, Jr | Gilbert, SC | +5 | 77 |
| T30 | John Dennis, III | Greenville, SC | +5 | 77 |
| T30 | Mike Forrest | Rock Hill, SC | +5 | 77 |
| T39 | Charlie Parks | Asheboro, NC | +6 | 78 |
| T39 | Mark Carey | Bluffton, SC | +6 | 78 |
| T39 | Gary Roberson | Burlington, NC | +6 | 78 |
| T39 | Johnny Elam | Charlotte, NC | +6 | 78 |
| T39 | Matt Grandy | Greenville, SC | +6 | 78 |
| T39 | Steve Wilson | Wilmington, NC | +6 | 78 |
| T39 | Tim Teaster | Cayce, SC | +6 | 78 |
| T46 | Chuck Parker | Raleigh, NC | +7 | 79 |
| T46 | Jim Gallagher | Charlotte, NC | +7 | 79 |
| T46 | Jim Tarulli | Waxhaw, NC | +7 | 79 |
| T46 | Sean McAvoy | Johns Island, SC | +7 | 79 |
| T46 | Terry Rathman | Gastonia, NC | +7 | 79 |
| T46 | Norman Page | Woodruff, SC | +7 | 79 |
| T46 | Robert Parrott | Raleigh, NC | +7 | 79 |
| T46 | Stan Sill | Spartanburg, SC | +7 | 79 |
| T54 | David Brown | Conover, NC | +8 | 80 |
| T54 | James Motsinger | Wilkesboro, NC | +8 | 80 |
| T54 | Jeff Koziol | Charlotte, NC | +8 | 80 |
| T54 | Mike Wilson | Ocean Isle Beach, NC | +8 | 80 |
| T54 | Tom Fitzgerald | Travelers Rest, SC | +8 | 80 |
| T54 | Ben Whipple | Marietta, SC | +8 | 80 |
| T54 | Bob Edens | Columbia, SC | +8 | 80 |
| T54 | Craig Cathey | Burlington, NC | +8 | 80 |
| T54 | Gregory McLain | Hollywood, SC | +8 | 80 |
| T54 | Tom Dutton | Leland, NC | +8 | 80 |
| T64 | David Camadine | Charlotte, NC | +9 | 81 |
| T64 | David Reece | Fort Mill, SC | +9 | 81 |
| T64 | Don Detweiler | Raleigh, NC | +9 | 81 |
| T64 | Gus Sylvan | Columbia, SC | +9 | 81 |
| T64 | Kelly Stimart | Charlotte, NC | +9 | 81 |
| T64 | Mark Moore | Fort Mill, SC | +9 | 81 |
| T64 | Tony Nichols | Reidsville, NC | +9 | 81 |
| T64 | David Bordiuk | Summerville, SC | +9 | 81 |
| T64 | Dennis Dowd | Mount Pleasant, SC | +9 | 81 |
| T64 | Joe McGee | Ridgeland, SC | +9 | 81 |
| T64 | Terry Vereen | Caswell Beach, NC | +9 | 81 |
| T75 | Blake Bickford | Hendersonville, NC | +10 | 82 |
| T75 | James Brown | High Point, NC | +10 | 82 |
| T75 | John Baldea, III | Myrtle Beach, SC | +10 | 82 |
| T75 | Scott Neely | Winston Salem, NC | +10 | 82 |
| T75 | David Eaker | Forest City, NC | +10 | 82 |
| T75 | Ken Shelton | Denver, NC | +10 | 82 |
| T81 | Andy Burnette | Raleigh, NC | +11 | 83 |
| T81 | Ed Donlin | Kannapolis, NC | +11 | 83 |
| T81 | Holley Wallace | Columbia, SC | +11 | 83 |
| T81 | Jim Ayersman | Pinehurst, NC | +11 | 83 |
| T81 | John Stratton | Greensboro, NC | +11 | 83 |
| T81 | Mike Bivins | High Point, NC | +11 | 83 |
| T81 | Robert Fisher | Johns Island, SC | +11 | 83 |
| T81 | Buck Adams | Pinehurst, NC | +11 | 83 |
| T81 | James Morgan, III | Greensboro, NC | +11 | 83 |
| T81 | Ken Taylor | Columbia, SC | +11 | 83 |
| T81 | Robert Heavner | Greensboro, NC | +11 | 83 |
| T92 | Barry Mullinax | Travelers Rest, SC | +12 | 84 |
| T92 | Bret Mangum | Garner, NC | +12 | 84 |
| T92 | Eric Taylor | Greensboro, NC | +12 | 84 |
| T95 | Mark Kozel | Chapel Hill, NC | +13 | 85 |
| T95 | Barry Cheek | High Point, NC | +13 | 85 |
| T95 | Bill Long | Southern Pines, NC | +13 | 85 |
| T95 | Morris Marshburn | Vass, NC | +13 | 85 |
| T95 | Richard Condrey | Nebo, NC | +13 | 85 |
| T100 | Brandon Godfrey | Marion, NC | +14 | 86 |
| T100 | Doug Michal | Raleigh, NC | +14 | 86 |
| T100 | Gary Upton | Simpsonville, SC | +14 | 86 |
| T100 | Greg Powell | Charlotte, NC | +14 | 86 |
| T100 | Martin Penson | Pinehurst, NC | +14 | 86 |
| T105 | Jack Stanley | Summerfield, NC | +15 | 87 |
| T105 | Joe Harten | Charlotte, NC | +15 | 87 |
| 107 | Jeff Adams | Charlotte, NC | +16 | 88 |
| T108 | Don White Jr | Winston Salem, NC | +17 | 89 |
| T108 | William Hesmer | Atlantic Beach, NC | +17 | 89 |
| T108 | Lennie Younce | Lenoir, NC | +17 | 89 |
| 111 | Harry Moore | Leland, NC | +19 | 91 |
| 112 | Johnny Moffett | Catawba, NC | +21 | 93 |
| 113 | Michael Greene | Hickory, NC | +23 | 95 |
| WD | Joseph Horne | Columbia, SC | - | WD |
| WD | Walker Taylor, IV | Wrightsville Beach, NC | - | WD |
| WD | Frank Wrenn, III | Greenville, SC | - | WD |