Hendley Wins 2018 Carolinas Senior Am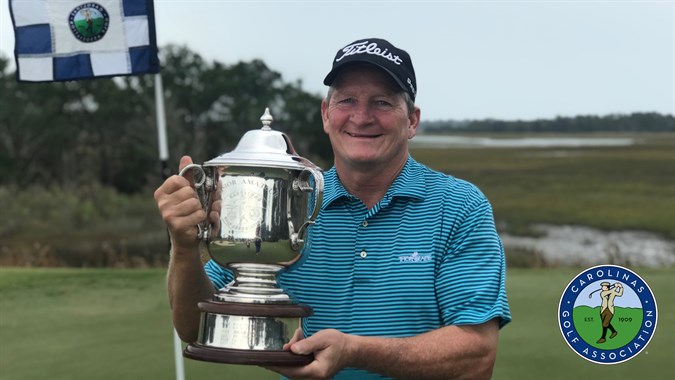 JOHNS ISLAND, S.C. (November 2, 2018) - Final round results from the Carolinas Golf Association's 57th Carolinas Senior Amateur Championship hosted by the Golf Club at Briar's Creek in Johns Island, S.C. on Friday, November 2, 2018.
Related: Championship Web Si | Scoring | Championship History
It was an uphill climb, but veteran amateur golfer Todd Hendley rallied from four strokes back on Friday to capture his first CGA victory at the 57th Carolinas Senior Amateur Championship hosted at the Golf Club at Briar Creek in Johns Island, S.C.
Hendley of Columbus, N.C. has done what many might consider an impossible task; He battled against the all-time winningest CGA golfer, Paul Simson of Raleigh, N.C. in the final round of a CGA Championship and he came out on top.
"I hit it really good and putted good all week," Hendley said. "It feels really good because it's a big tournament and a big win. There were a lot of great players in that tournament and it feels pretty cool."
Hendley only made one big mistake all week, when he made a quadruple bogey on his 8th hole, the par three 17th hole, in round one.
"I was hitting it really good going into that hole, I just made two dumb mistakes," Hendley said. "After I made the quad, I just started bearing down."
Hendley rallied back quickly, holing out for eagle on the par four, first hole. He'd finish that first round by shooting a 31 on his second nine.
Simson came out of the gate strong this week, firing an 8-under-par, 64 on Wednesday to take an early four-shot lead after round one. Hendley's first round of one-under-par, 71 put him seven strokes back of the lead in eighth place.
Thursday's and Friday's rounds were tougher for everyone due to increased winds and a tougher course set up.
Scoring averages for golfers that made the cut were 76.48 in round one. The course played a half stroke harder on day two for those golfers at an average score of 76.98. Scoring averages in round three climbed to 77.81.
Where Hendley was able to separate himself from the field was through consistent ball striking all week long. He was the only golfer in the field to shoot under par in all three rounds of the championship.
A second round two-under-par, 70 propelled Hendley into second place and within striking distance of the leader going into the final round.
Also in the final group on Friday was the two-time defending Carolinas Senior Amateur Champion, Preston Edmondson of Morrisville, N.C. and four-time CGA Champion, Walter Todd of Laurens, S.C.
Hendley started the final round four strokes back of the lead but a front-nine score of 34 compared to Simsons's 37 cut the lead down to one. A birdie on the par five, 10th hole gave Hendley his first lead of the tournament, after Simson bogeyed the hole.
Simson recaptured the lead quickly after making three birdies in a four-hole stretch on the 11th, 12th and 14th holes, but gave up four shots and the lead after a double bogey on the 15th hole and bogeys on the 16th and 17th holes. Even after the disastrous stretch, Simson found himself only one shot back of Hendley heading into the par five, 18th hole.
A birdie on the 18th hole sealed the deal for Hendley giving him his first CGA Championship title and the feeling of concurring an amateur golf legend.
"It's a big honor to win the CGA Senior," Hendley said. "It helps your confidence when you win a big tournament like that. I'm looking forward to having a chance to win some more tournaments next year."
Hendley is also the winner of the 2017 North and South Senior Men's Championship, the 2017 Chanticleer National Senior Invitational and several SCGA events.
The Carolinas Golf Association would like to thank the members and staff at the Golf Club at Briar's Creek for hosting the 57th Carolinas Senior Championship. Special thanks to Director of Golf, Eve VanderWeele and Golf Course Superintendent, Kyle Bibler.
57th Carolinas Senior Amateur Championship
Golf Club at Briar's Creek, Johns Island, S.C.
Final Round Results
Pos.
Player
City, State
To Par
R1
R2
R3
Total
1
Todd Hendley
Columbus, NC
-6
71
70
69
210
2
Paul Simson
Raleigh, NC
-4
64
73
75
212
3
Walter Todd, Sr
Laurens, SC
-2
72
71
71
214
4
Macon Moye
Pinehurst, NC
-1
70
77
68
215
T5
Gary Robinson
Fayetteville, NC
1
69
75
73
217
T5
Preston Edmondson
Morrisville, NC
1
75
69
73
217
7
Frank Ford, III
Charleston, SC
2
70
82
66
218
8
Nolan Mills, III
Charlotte, NC
3
70
75
74
219
9
Dean Channell
Cary, NC
4
73
74
73
220
T10
Eddie Hargett
Blythewood, SC
6
76
73
73
222
T10
Kevin King
Bluffton, SC
6
75
75
72
222
12
Geno Berchiatti
Greenville, SC
7
77
72
74
223
13
Rich Weston
Pawleys Island, SC
9
68
81
76
225
T14
Harrison Rutter
Winston-Salem, NC
11
73
78
76
227
T14
Johnny Elam
Charlotte, NC
11
78
75
74
227
T14
Tim Pope
Spartanburg, SC
11
76
75
76
227
T14
Jerry Horton
Wilmington, NC
11
77
76
74
227
T18
John Dennis, III
Greenville, SC
12
77
75
76
228
T18
Stan Sill
Spartanburg, SC
12
79
74
75
228
T18
Mike Gravley
Greer, SC
12
73
76
79
228
T18
Russ Perry
Winston Salem, NC
12
69
81
78
228
T22
John Rudolph
Charlotte, NC
13
75
78
76
229
T22
Mike Arnold
Mooresville, NC
13
74
76
79
229
T22
Pat Thompson
Asheville, NC
13
76
74
79
229
T22
Bobby Newman
Roebuck, SC
13
76
77
76
229
T22
Joe Padgette
N. Charleston, SC
13
74
80
75
229
T27
Dave Davis
Asheboro, NC
14
72
78
80
230
T27
Kevin Walsh
Blowing Rock, NC
14
76
76
78
230
T27
Phil Bland
Waynesville, NC
14
75
75
80
230
T27
Keith Waters
Raleigh, NC
14
76
81
73
230
31
Mike Forrest
Rock Hill, SC
15
77
76
78
231
T32
Matt Grandy
Greenville, SC
16
78
74
80
232
T32
Charlie Parks
Asheboro, NC
16
78
79
75
232
34
Robert Parrott
Raleigh, NC
17
79
80
74
233
T35
John Fritz
Mint Hill, NC
18
74
79
81
234
T35
Mark Macejko
Pinehurst, NC
18
77
76
81
234
T35
Neal Morrison
Charlotte, NC
18
76
79
79
234
T38
Bob Edens
Columbia, SC
19
80
77
78
235
T38
David Eaker
Forest City, NC
19
82
78
75
235
T38
John Cottrell, Jr
Gilbert, SC
19
77
78
80
235
T41
David Reece
Fort Mill, SC
20
81
78
77
236
T41
Don Detweiler
Raleigh, NC
20
80
78
78
236
T41
Jim Tarulli
Waxhaw, NC
20
79
78
79
236
T44
Brian Harris
Newton, NC
21
77
83
77
237
T44
Dennis Dowd
Mount Pleasant, SC
21
81
78
78
237
T44
Gregory McLain
Hollywood, SC
21
80
79
78
237
T44
Jeff Rausch
Waxhaw, NC
21
74
83
80
237
T44
Jim Gallagher
Charlotte, NC
21
79
81
77
237
T44
Robert Fisher
Johns Island, SC
21
83
74
80
237
T44
Terry Rathman
Gastonia, NC
21
79
81
77
237
T51
Edward Galbavy
Johns Island, SC
22
77
76
85
238
T51
Bob Wilson
Archdale, NC
22
77
82
79
238
T51
Mark Carey
Bluffton, SC
22
78
77
83
238
54
Mark Kozel
Chapel Hill, NC
23
85
74
80
239
55
Ken Shelton
Denver, NC
24
82
76
82
240
56
Sean McAvoy
Johns Island, SC
25
79
78
84
241
57
Tom Dutton
Leland, NC
26
80
78
84
242
58
Mike Wilson
Ocean Isle Beach, NC
28
80
79
85
244
59
Tom Fitzgerald
Travelers Rest, SC
30
80
79
87
246
60
James Motsinger
Wilkesboro, NC
31
80
78
89
247
DNF
Greg Powell
Charlotte, NC
-
86
74
WD
WD
WD
Bert Atkinson
Charleston, SC
-
76
75
WD
WD
WD
Gus Sylvan
Columbia, SC
-
81
76
WD
WD
Missed Cut
CUT
Norman Page
Woodruff, SC
17
79
82
161
CUT
David Brown
Conover, NC
17
80
81
161
CUT
Tony Nichols
Reidsville, NC
17
81
80
161
CUT
David Bordiuk
Summerville, SC
18
81
81
162
CUT
Joe McGee
Ridgeland, SC
18
81
81
162
CUT
Robert Heavner
Greensboro, NC
18
83
79
162
CUT
Tim Teaster
Cayce, SC
18
78
84
162
CUT
Jeff Koziol
Charlotte, NC
18
80
82
162
CUT
John Stratton
Greensboro, NC
18
83
79
162
CUT
Steve Wilson
Wilmington, NC
19
78
85
163
CUT
Blake Bickford
Hendersonville, NC
19
82
81
163
CUT
James Brown
High Point, NC
19
82
81
163
CUT
Ben Whipple
Marietta, SC
20
80
84
164
CUT
John Baldea, III
Myrtle Beach, SC
20
82
82
164
CUT
Mark Moore
Fort Mill, SC
20
81
83
164
CUT
Barry Mullinax
Travelers Rest, SC
21
84
81
165
CUT
Craig Cathey
Burlington, NC
21
80
85
165
CUT
Eric Taylor
Greensboro, NC
21
84
81
165
CUT
James Morgan, III
Greensboro, NC
21
83
82
165
CUT
Martin Penson
Pinehurst, NC
21
86
79
165
CUT
Morris Marshburn
Vass, NC
21
85
80
165
CUT
Richard Condrey
Nebo, NC
21
85
80
165
CUT
Bret Mangum
Garner, NC
22
84
82
166
CUT
Terry Vereen
Caswell Beach, NC
22
81
85
166
CUT
Chuck Parker
Raleigh, NC
22
79
87
166
CUT
Ed Donlin
Kannapolis, NC
22
83
83
166
CUT
Doug Michal
Raleigh, NC
23
86
81
167
CUT
Gary Roberson
Burlington, NC
23
78
89
167
CUT
Gary Upton
Simpsonville, SC
23
86
81
167
CUT
Ken Taylor
Columbia, SC
23
83
84
167
CUT
Brandon Godfrey
Marion, NC
24
86
82
168
CUT
Mike Bivins
High Point, NC
24
83
85
168
CUT
Barry Cheek
High Point, NC
25
85
84
169
CUT
Jeff Adams
Charlotte, NC
25
88
81
169
CUT
Lennie Younce
Lenoir, NC
25
89
80
169
CUT
Andy Burnette
Raleigh, NC
25
83
86
169
CUT
Joe Harten
Charlotte, NC
26
87
83
170
CUT
Scott Neely
Winston Salem, NC
26
82
88
170
CUT
Don White Jr
Winston Salem, NC
29
89
84
173
CUT
Holley Wallace
Columbia, SC
29
83
90
173
CUT
William Hesmer
Atlantic Beach, NC
29
89
84
173
CUT
Michael Greene
Hickory, NC
30
95
79
174
CUT
David Camadine
Charlotte, NC
30
81
93
174
CUT
Jack Stanley
Summerfield, NC
32
87
89
176
CUT
Johnny Moffett
Catawba, NC
35
93
86
179
CUT
Harry Moore
Leland, NC
37
91
90
181
WD
Kelly Stimart
Charlotte, NC
-
81
WD
WD
WD
Buck Adams
Pinehurst, NC
-
83
WD
WD
WD
Jim Ayersman
Pinehurst, NC
-
83
WD
WD
WD
Bill Long
Southern Pines, NC
-
85
WD
WD
WD
Frank Wrenn, III
Greenville, SC
-
WD
WD
WD
Joseph Horne
Columbia, SC
-
WD
WD
WD
WD
Walker Taylor, IV
Wrightsville Beach, NC
-
WD
WD
WD