Spicer and Proveaux Win the Carolinas Young Am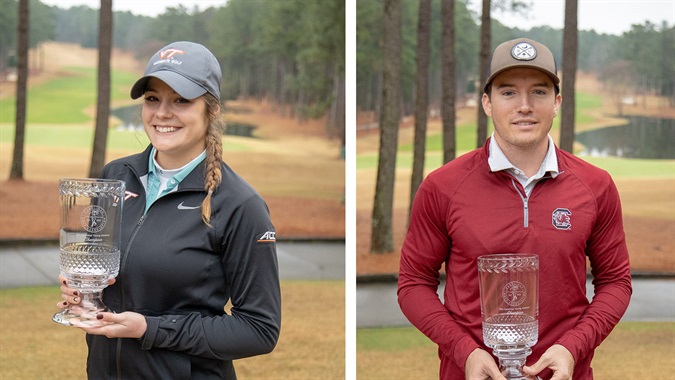 PINEHURST, N.C. (January 3, 2019) – Final results of the Carolinas Golf Association's 10th Carolinas Young Amateur Championship at Pinewild Country Club (Magnolia) in Pinehurst, N.C. on Thursday, January 3, 2019.

Related: Championship Homepage | Participants | Scoring

With record rain pouring in, the 10th Carolinas Young Amateur has been decided after 18-holes of play. Still, wet conditions and a steady drizzle throughout Thursday's round couldn't hold back the Carolinas' best young golfers.

Jessica Spicer of Bahama, N.C. shot a smooth 70 (-2) at Pinewild Country Club's Magnolia Course to win the women's title by one shot. Caleb Proveaux of Lexington, S.C. shot a solid 68 (-4) to win the men's title by two.
Spicer Wins the Carolinas Young Amateur Women's Division
Knowing the torrential rains forecasted for Friday, Spicer had spoken with her sister and Virginia Tech Women's Golf teammate, Sarah Spicer, the night before about the possibility of a rainout and what that could mean for the tournament.

"We knew that tomorrow might be bad and we might not get a chance to finish," Spicer said. "So, we knew that today was going to be important. I just tried to do what I always do which is focus on my own game, shoot the best score I could shoot and see how it ends up."

Spicer was able to get off to a hot start making three birdies in her first four holes. With two more birdies and only three bogeys in the round, Spicer was able win the championship by one shot over College of Charleston sophomore, Jodee Tindal of Rock Hill, S.C.
"The course played relatively scorable today," Spicer said. "It was set up pretty short for us with the soft greens from the rain. I just did a good job of taking advantage of the wedges I had in and leaving myself good distances...Anytime you win a tournament it gives you so much confidence and we're so fortunate to have so many good players from the Carolinas. It's a huge confidence boost going into the spring season."
Proveuax Wins the Carolinas Young Amateur Men's Division
Proveaux's round was all about consistency; "Fairways, greens and good putts," he said.

"It helped that I was hitting it really well," Proveaux said. "I wasn't really hitting it well on the range but I was able to hit it really well out here. I think I probably hit 16 greens and if I missed the green, I was only a foot or so off. So, that's probably what separated me."

Proveaux will use this momentum from the win as he goes back to play for the University of South Carolina Men's Golf Team where he is currently a junior.

"It's definitely a great way to start off 2019 and since it's my last winter tournament it feels good to finish strong," Proveux said.

Proveaux brought in a mostly-clean scorecard making five birdies and only one bogey to finish two shots ahead of Coastal Carolina University freshman, Tyler Gray of Lugoff, S.C.

The Carolinas Young Amateur was conducted on the Magnolia course at Pinewild Country Club in Pinehurst, N.C. and is open to any male or female amateur golfer ages 18 to 25 as of January 4, 2019, who has finished high school, is a legal resident of North or South Carolina, and has a current USGA Handicap Index® at a CGA member club.
10th Carolinas Young Amateur
Pinewild Country Club, Pinehurst, N.C.
Final Results
Men's Division
| | | | | |
| --- | --- | --- | --- | --- |
| | Player | City, State | To Par | Total |
| 1 | Caleb Proveaux | Lexington, SC | -4 | 68 |
| 2 | Tyler Gray | Lugoff, SC | -2 | 70 |
| T3 | Evans Lewis | Sumter, SC | -1 | 71 |
| T3 | McClure Thompson | Little River, SC | -1 | 71 |
| T5 | Christian Park | Charlotte, NC | E | 72 |
| T5 | Patrick Stephenson | Four Oaks, NC | E | 72 |
| T5 | Will Stewart | Charlotte, NC | E | 72 |
| T5 | Michael Childress | Salisbury, NC | E | 72 |
| T5 | Aaron Walker | Charlotte, NC | E | 72 |
| T5 | Mark Goodall | Pinehurst, NC | E | 72 |
| T11 | A.J. Beechler | Pinehurst, NC | +1 | 73 |
| T11 | Patrick Schweitz | Clayton, NC | +1 | 73 |
| T11 | Nick Russell | Hilton Head Island, SC | +1 | 73 |
| T14 | Mason Elmore | Charlotte, NC | +2 | 74 |
| T14 | Carson Ownbey | Canton, NC | +2 | 74 |
| T14 | Michael Wicker | Rougemont, NC | +2 | 74 |
| T14 | Michael Rials | Florence, SC | +2 | 74 |
| T18 | Bryce Hendrix | Greensboro, NC | +3 | 75 |
| T18 | Brady Hinkle | Lancaster, SC | +3 | 75 |
| T18 | Jordan Smith | Summerfield, NC | +3 | 75 |
| T18 | Harry Corbin | Inman, SC | +3 | 75 |
| T18 | Jack Brea | Charlotte, NC | +3 | 75 |
| T18 | Joshua Allen | Wilson, NC | +3 | 75 |
| T18 | Vijay Mishra | N Myrtle Beach, SC | +3 | 75 |
| T18 | Brantley Phillips | Greensboro, NC | +3 | 75 |
| T18 | Trey Capps | Garner, NC | +3 | 75 |
| T27 | Benjamin Crow | Pinehurst, NC | +4 | 76 |
| T27 | Andrew Wilmoth | Raleigh, NC | +4 | 76 |
| T27 | Jack Massei | Pinehurst, NC | +4 | 76 |
| T27 | Dylan Lukes | Chapel Hill, NC | +4 | 76 |
| T27 | Alex Parker | Valdese, NC | +4 | 76 |
| T27 | Grant Sellers | McBee, SC | +4 | 76 |
| T27 | Justin Poole | Wendell, NC | +4 | 76 |
| T34 | Mark Johnston | Lewisville, NC | +5 | 77 |
| T34 | Seve Anfindsen | Apex, NC | +5 | 77 |
| T34 | Attie Giles | Pinehurst, NC | +5 | 77 |
| T34 | Cody Transou | Gaffney, SC | +5 | 77 |
| T34 | Devon Horne | Hendersonville, NC | +5 | 77 |
| T34 | Bradley Calloway | Asheboro, NC | +5 | 77 |
| T34 | Zack Byers | Shelby, NC | +5 | 77 |
| T41 | Tanner Gross | Archdale, NC | +6 | 78 |
| T41 | Preyer Fountain | Raleigh, NC | +6 | 78 |
| T41 | Jimbo Stanley | Raleigh, NC | +6 | 78 |
| T44 | Jack Parrott | Columbia, SC | +7 | 79 |
| T44 | Austin Duncan | Bessemer City, NC | +7 | 79 |
| T44 | Deven Cerda | Charlotte, NC | +7 | 79 |
| T44 | John Del Priore | Charlotte, NC | +7 | 79 |
| T44 | Dock Jarman | Myrtle Beach, SC | +7 | 79 |
| T44 | Braxton Tracy | Huntersville, NC | +7 | 79 |
| T44 | PJ Kester | Wrightsville Beach, NC | +7 | 79 |
| T44 | Evan Greenplate | Hilton Head Island, SC | +7 | 79 |
| T44 | Kobie Morton | Greenwood, SC | +7 | 79 |
| T44 | Thomas Storbeck | Ventura, IA | +7 | 79 |
| T54 | Will Blalock | Gastonia, NC | +8 | 80 |
| T54 | Tim Bunten | Concord, NC | +8 | 80 |
| T54 | Cameron Alge | Mooresville, NC | +8 | 80 |
| T54 | Solomon Park | Greensboro, NC | +8 | 80 |
| T58 | Austin Inman | Wilmington, NC | +9 | 81 |
| T58 | Phillip Dean | Goldsboro, NC | +9 | 81 |
| T58 | Avery Papalia | Kernersville, NC | +9 | 81 |
| T58 | Michael McKee | Ware Shoals, SC | +9 | 81 |
| T62 | Grant Powell | Colfax, NC | +10 | 82 |
| T62 | Christian Bailey | Matthews, NC | +10 | 82 |
| T62 | Chris Akers | Asheville, NC | +10 | 82 |
| T62 | Alec Vardas | Lexington, SC | +10 | 82 |
| T66 | Zakariya Butt | Summerville, SC | +11 | 83 |
| T66 | Bradford Childers | Granite Falls, NC | +11 | 83 |
| T68 | Benjamin Buben | Charlotte, NC | +12 | 84 |
| T68 | Ezra Park | Greensboro, NC | +12 | 84 |
| T68 | Trevor Mitchell | Oak Ridge, NC | +12 | 84 |
| T71 | Jordan Reeves | Asheboro, NC | +13 | 85 |
| T71 | John Paul Sullivan | Belmont, NC | +13 | 85 |
| 73 | Trey Schneider | Mooresville, NC | +14 | 86 |
| T74 | Justin Emmons | Asheboro, NC | +16 | 88 |
| T74 | Jay Minter | Sanford, NC | +16 | 88 |
| T74 | Owen Guard | Cary, NC | +16 | 88 |
| 77 | Jaret Arneson | Charlotte, NC | +18 | 90 |

Women's Division
| | | | | |
| --- | --- | --- | --- | --- |
| | Player | City, State | To Par | Total |
| 1 | Jessica Spicer | Bahama, NC | -2 | 70 |
| 2 | Jodee Tindal | Rock Hill, SC | -1 | 71 |
| 3 | Rachael Mast | Lexington, NC | +1 | 73 |
| T4 | Madison Isaacson | Greensboro, NC | +2 | 74 |
| T4 | Gracyn Burgess | Lexington, SC | +2 | 74 |
| T6 | Alexis Jarrell | Davidson, NC | +3 | 75 |
| T6 | Yanghua Ou | West End, NC | +3 | 75 |
| T6 | Caroline Cahill | Wilmington, NC | +3 | 75 |
| T6 | Mackenzie Battle | Charleston, SC | +3 | 75 |
| T6 | Natalie Petersen | Holly Springs, NC | +3 | 75 |
| T6 | Sarah Spicer | Bahama, NC | +3 | 75 |
| T12 | Kate Hill | Clemson, SC | +4 | 76 |
| T12 | Riley Smyth | Cary, NC | +4 | 76 |
| T12 | Emily Cox | Lancaster, SC | +4 | 76 |
| T12 | Grace Yatawara | Salisbury, NC | +4 | 76 |
| T12 | Sarah Bae | Pinehurst, NC | +4 | 76 |
| 17 | Jenna Nagy | Apex, NC | +5 | 77 |
| 18 | Charleigh Hodges | Mooresville, NC | +7 | 79 |
| 19 | Nicole Kramer | Charlotte, NC | +10 | 82 |
| 20 | Hailey Cleary | Lexington, SC | +12 | 84 |
| 21 | Cameron Wood | Waxhaw, NC | +16 | 88 |
Schedule of events:
Thursday, January 3, 2019
10:30 am First-round of stroke play (18 holes) shotgun start
Tournament lunch for players immediately following play

Friday, January 4, 2019
Cancelled Due to Weather
Pinewild CC information:
Address: 1 Pinewild Country Club Drive, Pinehurst, NC 28374
Golf shop phone: 910-295-5145
Architect: Gene Hamm
Men's yardage/par: 6,925 yards/par 72
Women's yardage/par: 5,796 yards/par 72