Woodard Captures 39th Carolinas Mid-Amateur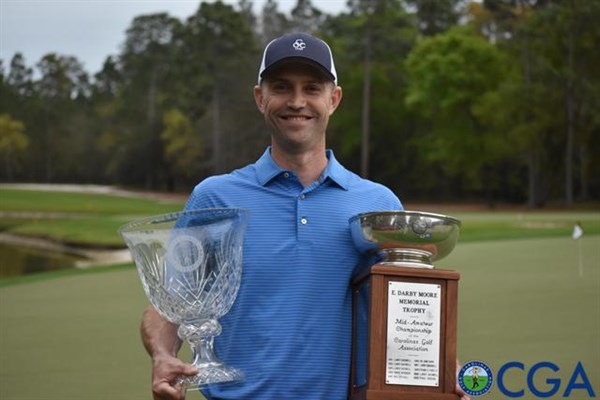 PAWLEYS ISLAND, S.C. (April 7) -- Final results of the Carolinas Mid-Amateur Championship at The Reserve Club in Pawleys Island, S.C. on Sunday, April 7 (6,790 yards, Par 36-36--72, Course Rating 72.4/135).
Related: Championship Web Site | Full Field of Players | Starting Times | Scoring | History
Stephen Woodard of Charlotte, NC captured the 39th Carolinas Mid-Amateur Championship hosted by McConnell Golf's The Reserve Club in Pawleys Island, SC. Not able to play on his Friday due to the opening round being cancelled, Woodard bogeyed his opening hole of the tournament, "I played a practice round on Thursday and was excited to play on Friday, my birthday, so I was anxious after having to wait." The 46 year-old quickly rebounded by birding his next hole. Woodard started the final round one-shot off the lead, after an opening round three-under par, 69.
Woodard kick started his final round with an opening nine two-under 34. "I knew the second round was going to be a shootout, so I wanted to see how many birdies I could make." After hitting it in the water on his ninth hole, he made an up and down to save par to keep the momentum. "I was putting well all week so that helped with scoring." Woodard did not look at the leader board until his final hole. After leaving himself with a four footer on his final hole, the good putting week was solidified as he drained the eventual winning putt.
The first time Carolinas Golf Association champion was thrilled about his win and added, "I grow up in Charlotte and have been playing in CGA events since I was 11 years old. This one means a lot to put my name on this trophy with a lot of great names."
Daniel Neveu of Pinehurst, NC and Thomas Owen of Fayetteville, NC finished tied for second at four-under par for the tournament. Neveu shot an opening round 68 and backed it up with a second round even-par, 72. Owen played his first 18 holes in one-over par but came out firing in his second round. Owen birdied three of his first four holes to start the day. After adding two more birdies, Owen finished the day with a five-under, 67 and a two round total of 140
Woodard also collects the trophy for finishing first in the 40+ Division. The CGA added a 40+ Division to the Mid-Amateur Championships this year.
The 39th Mid-Amateur Championship was shortened to 36 holes due to weather. The Carolinas Golf Association wishes to thank the members and staff of McConnell Golf's The Reserve Club, especially the Club Manager, Donald Clement, Head Golf Professional, Ryan Tyndall, and Golf Course Superintendent, Ronald Crowe.


39th Carolinas Mid-Amateur Championship
The Reserve Club | Pawleys Island, S.C.
Final Results
| | | | | | | |
| --- | --- | --- | --- | --- | --- | --- |
| Pos. | Player | Affiliation | Total | R1 | R2 | Total |
| 1 | Stephen Woodard | Charlotte, NC | -5 | 69 | 70 | 139 |
| T2 | Daniel Neveu | Pinehurst, NC | -4 | 68 | 72 | 140 |
| T2 | Thomas Owen | Fayetteville, NC | -4 | 73 | 67 | 140 |
| 4 | Matthew Crenshaw | Burlington, NC | -3 | 73 | 68 | 141 |
| T5 | Chad Wilfong | Charlotte, NC | -2 | 69 | 73 | 142 |
| T5 | Thomas Todd III | Laurens, SC | -2 | 68 | 74 | 142 |
| T5 | Chris Eassy | Greer, SC | -2 | 71 | 71 | 142 |
| 8 | Raymond Wooten | Clemson, SC | -1 | 70 | 73 | 143 |
| T9 | Timothy Driver | Holly Springs, NC | E | 68 | 76 | 144 |
| T9 | Todd Hendley | Columbus, NC | E | 73 | 71 | 144 |
| T11 | Brock Elder | Randleman, NC | +1 | 75 | 70 | 145 |
| T11 | Matt O'Quinn | Beaufort, SC | +1 | 74 | 71 | 145 |
| T11 | Brandon Mader | Greenville, NC | +1 | 71 | 74 | 145 |
| T11 | Chris Cassetta | High Point, NC | +1 | 71 | 74 | 145 |
| T11 | Joe Jaspers | Huntersville, NC | +1 | 71 | 74 | 145 |
| T11 | Sherrill Britt | West End, NC | +1 | 74 | 71 | 145 |
| T17 | Brandon Reece | Rolesville, NC | +2 | 73 | 73 | 146 |
| T17 | Greg Earnhardt | Greensboro, NC | +2 | 71 | 75 | 146 |
| T17 | Jeremy Ray | Pfafftown, NC | +2 | 73 | 73 | 146 |
| T17 | Adam Langford | Murrells Inlet, SC | +2 | 73 | 73 | 146 |
| T17 | Joe Kastelic | Hickory, NC | +2 | 76 | 70 | 146 |
| T17 | Jonathan Maull | Charleston, SC | +2 | 71 | 75 | 146 |
| T17 | Jordan Sease | Lexington, SC | +2 | 73 | 73 | 146 |
| T17 | Kyle Bearden | Barnwell, SC | +2 | 72 | 74 | 146 |
| T17 | Mitch Robinette | Greensboro, NC | +2 | 75 | 71 | 146 |
| T17 | Rich Weston | Pawleys island, SC | +2 | 72 | 74 | 146 |
| T27 | Dustin Moore | Burlington, NC | +3 | 75 | 72 | 147 |
| T27 | Brad Mangum | Iron Station, NC | +3 | 73 | 74 | 147 |
| T27 | Jason Smith | Raleigh, NC | +3 | 74 | 73 | 147 |
| T27 | Stephen Lavenets | Willow Spring, NC | +3 | 74 | 73 | 147 |
| T31 | Andrew Ward | Charlotte, NC | +4 | 73 | 75 | 148 |
| T31 | Brian Hayes | High Point, NC | +4 | 74 | 74 | 148 |
| T31 | Evan Boyer | Morrisville, NC | +4 | 71 | 77 | 148 |
| T31 | Jack Radley | Bear Creek, NC | +4 | 74 | 74 | 148 |
| T31 | Sean Marks | Charlotte, NC | +4 | 76 | 72 | 148 |
| T31 | Matt Kilgo | Charlotte, NC | +4 | 72 | 76 | 148 |
| T37 | Brandon Bradosky | Ladson, SC | +5 | 79 | 70 | 149 |
| T37 | Eric Williams | Goldsboro, NC | +5 | 75 | 74 | 149 |
| T37 | Anthony Conn | Raleigh, NC | +5 | 76 | 73 | 149 |
| T37 | Scott park | Charlotte, NC | +5 | 72 | 77 | 149 |
| T37 | Terrain Gill | Charlotte, NC | +5 | 75 | 74 | 149 |
| T42 | Jarrett Grimes | Columbia, SC | +6 | 73 | 77 | 150 |
| T42 | Matthew Younts | Greensboro, NC | +6 | 76 | 74 | 150 |
| T42 | Michael Sims | Lexington, SC | +6 | 76 | 74 | 150 |
| T42 | Ryan Reynolds | Camden, SC | +6 | 74 | 76 | 150 |
| T42 | Scott Burnett | Charlotte, NC | +6 | 76 | 74 | 150 |
| T42 | Walt Todd, Jr | Greenville, SC | +6 | 72 | 78 | 150 |
| T42 | Daniel Ezelle | Taylors, SC | +6 | 77 | 73 | 150 |
| T42 | John Bearrie | Landrum, SC | +6 | 77 | 73 | 150 |
| T42 | John Pitt | Raleigh, NC | +6 | 75 | 75 | 150 |
| T42 | Jonathan Hockaday | Sanford, NC | +6 | 70 | 80 | 150 |
| T42 | Weston Bell | Piedmont, SC | +6 | 79 | 71 | 150 |
| T53 | Brandon Truesdale | Rock Hill, SC | +7 | 74 | 77 | 151 |
| T53 | Chris Culler | Camden, SC | +7 | 74 | 77 | 151 |
| T53 | Josh Branyon | Honea Path, SC | +7 | 71 | 80 | 151 |
| T53 | Dean Channell | Cary, NC | +7 | 74 | 77 | 151 |
| T53 | Kevin Herring | La Grange, NC | +7 | 72 | 79 | 151 |
| T53 | Phil Pfeiffer | Murrells Inlet, SC | +7 | 76 | 75 | 151 |
| T59 | Jim Aughtry | Concotd, NC | +8 | 75 | 77 | 152 |
| T59 | Matt Drinkhahn | Charlotte, NC | +8 | 77 | 75 | 152 |
| T59 | Nick Thompson | Vass, NC | +8 | 75 | 77 | 152 |
| T59 | Simon Boteler | Raleigh, NC | +8 | 75 | 77 | 152 |
| T59 | William Jamieson | Cary, NC | +8 | 75 | 77 | 152 |
| T59 | Banks Wood | Charlotte, NC | +8 | 75 | 77 | 152 |
| T59 | Eric Lipson | Charlotte, NC | +8 | 72 | 80 | 152 |
| T59 | Gregg Jones | Florence, SC | +8 | 74 | 78 | 152 |
| T59 | John O'Brien | Columbia, SC | +8 | 78 | 74 | 152 |
| T60 | Rob Hukill | Raleigh, NC | +9 | 71 | 82 | 153 |
| T60 | Robert Dargan | Columbia, SC | +9 | 76 | 77 | 153 |
| T60 | Lee Palms | Greenville, SC | +9 | 73 | 80 | 153 |
| T63 | Greg Brastow | Myrtle Beach, SC | +10 | 78 | 76 | 154 |
| T63 | Reid Clark | Raleigh, NC | +10 | 76 | 78 | 154 |
| T63 | Robert Lutomski | Simpsonville, SC | +10 | 80 | 74 | 154 |
| T63 | Scott Patnode | Belmont, NC | +10 | 76 | 78 | 154 |
| T63 | Joe Brooks | Franklin, NC | +10 | 79 | 75 | 154 |
| T63 | Sam Echikson | Charlotte, NC | +10 | 77 | 77 | 154 |
| T63 | Scott Roberts | Lancaster, SC | +10 | 77 | 77 | 154 |
| T70 | Hank Sieling | Summerville, SC | +11 | 74 | 81 | 155 |
| T70 | Brent McKenzie | Wake Forest, NC | +11 | 75 | 80 | 155 |
| T70 | Gary Pugh | Asheboro, NC | +11 | 75 | 80 | 155 |
| T70 | Ken Knowles | Mooresville, NC | +11 | 81 | 74 | 155 |
| T70 | Ryan Hub | Charlotte, NC | +11 | 78 | 77 | 155 |
| T70 | Zac Lewis | Fuquay Varina, NC | +11 | 79 | 76 | 155 |
| T76 | Adam Arnett | Belmont, NC | +12 | 79 | 77 | 156 |
| T76 | Patrick McConville | Winston-Salem, NC | +12 | 77 | 79 | 156 |
| T76 | Ryan Wyble | Oak Ridge, NC | +12 | 78 | 78 | 156 |
| T76 | Jason Woodard | Greer, SC | +12 | 75 | 81 | 156 |
| T80 | Brad Dawson | Mebane, NC | +13 | 81 | 76 | 157 |
| T80 | Scott Lincicome | Pinehurst, NC | +13 | 79 | 78 | 157 |
| T80 | Tim Washburn | Raleigh, NC | +13 | 80 | 77 | 157 |
| T80 | Brian Hepler | Wilmington, NC | +13 | 80 | 77 | 157 |
| T80 | Fred Gahl | Raleigh, NC | +13 | 78 | 79 | 157 |
| T80 | James Lightsey | Indian Land, SC | +13 | 82 | 75 | 157 |
| T80 | Jarrin Josue | Surfside Beach, SC | +13 | 79 | 78 | 157 |
| T87 | Jeff Tyrrell | Lyman, SC | +14 | 75 | 83 | 158 |
| T87 | Jarrod Conard | Canton, NC | +14 | 83 | 75 | 158 |
| T89 | Brian Swenson | Charlotte, NC | +15 | 79 | 80 | 159 |
| T89 | Christopher Sigler | Mount Pleasant, SC | +15 | 75 | 84 | 159 |
| T89 | Eric Nord | Blythewood, SC | +15 | 79 | 80 | 159 |
| T89 | Andy Bower | Greensboro, NC | +15 | 80 | 79 | 159 |
| T89 | Jay Sylvan | Charlotte, NC | +15 | 79 | 80 | 159 |
| T89 | Paul Slomkowski | Colfax, NC | +15 | 82 | 77 | 159 |
| T95 | Adam Bailey | New Hill, NC | +16 | 76 | 84 | 160 |
| T95 | JD McNeill | Raleigh, NC | +16 | 78 | 82 | 160 |
| T95 | Samuel Ring | Carthage, NC | +16 | 80 | 80 | 160 |
| T95 | Eric Ardery | Durham, NC | +16 | 83 | 77 | 160 |
| T99 | Andres Lopez | Bluffton, SC | +17 | 83 | 78 | 161 |
| T99 | Brian Mull | Wilmington, NC | +17 | 78 | 83 | 161 |
| T99 | Corey Iacofano | Charlotte, NC | +17 | 80 | 81 | 161 |
| T99 | Stefan Brewer | Charlotte, NC | +17 | 77 | 84 | 161 |
| T99 | David Boyce | Charlotte, NC | +17 | 78 | 83 | 161 |
| T99 | Mike Wilson | Ocean Isle Beach, NC | +17 | 87 | 74 | 161 |
| T105 | Michael Wilson | Fuquay Varina, NC | +18 | 81 | 81 | 162 |
| T105 | Steve Wilson | Wilmington, NC | +18 | 84 | 78 | 162 |
| T107 | Kevin Burton | Chapin, SC | +19 | 84 | 79 | 163 |
| T108 | Shaw James | Chapin, SC | +20 | 80 | 84 | 164 |
| T109 | Damon Postal | Charlotte, NC | +21 | 87 | 78 | 165 |
| T109 | Michael Neece | Gastonia, NC | +21 | 82 | 83 | 165 |
| T111 | Chad Frye | Davidson, NC | +22 | 83 | 83 | 166 |
| T111 | Jeremy Boggs | Fort Mill, SC | +22 | 84 | 82 | 166 |
| T113 | Douglas Perkins | Gastonia, NC | +23 | 82 | 85 | 167 |
| T114 | Chris Campbell | Charleston, SC | +24 | 83 | 85 | 168 |
| T114 | Hunter Freeman | Raleigh, NC | +24 | 83 | 85 | 168 |
| T116 | Steve Patterson | Charlotte, NC | +25 | 84 | 85 | 169 |
| T117 | Brian Urban | Holly Springs, NC | +30 | 88 | 86 | 174 |
| T118 | Walter Love | Monroe, NC | +31 | 90 | 85 | 175 |
| WD | George Kornegay | Charlotte, NC | +6 | 78 | | 78 |
| WD | Harrison Ashworth | Raleigh, NC | +6 | 78 | | 78 |
| WD | Steven Sherck | Charlotte, NC | +9 | 81 | | 81 |
| WD | Taylor Ferguson | Charlotte, NC | +9 | 81 | | 81 |
| WD | Cody Drake | Charlotte, NC | +11 | 83 | | 83 |
| WD | Thomas Kennaday | Aiken, SC | - | 76 | WD | WD |
| WD | Walker Taylor | Wilmington, NC | - | 77 | WD | WD |
| WD | Jerell Fields | Pineville, NC | - | 79 | WD | WD |
| WD | Bobby Few | Lugoff, SC | - | 79 | WD | WD |
| WD | John Hurt | Pawleys Island, SC | - | 85 | WD | WD |
| WD | Brian Sanders | Greensboro, NC | - | WD | | WD |
| WD | Paul Brewer | Raleigh, NC | - | WD | | WD |
| WD | Tim Dean | Ocean Isle Beach, NC | - | WD | | WD |