Payne Receives Charles E. Lynch, Jr. Distinguished Service Award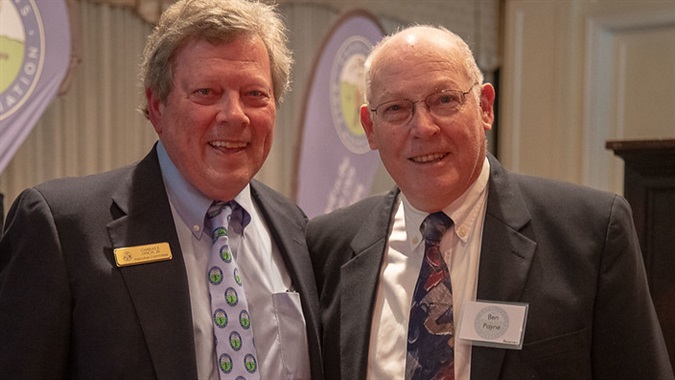 Charles E. Lynch, Jr. (left) presents Ben Payne (right) with the 2019 Distinguished Service Award at the Carolinas Golf Night
SOUTHERN PINES, N.C. (January 16, 2019) - Ben Payne of Greensboro, NC has been selected as the recipient of the 2019 Charles E. Lynch, Jr. Distinguished Service Award by the Carolinas Golf Association (CGA).
This award, established in 2016 honors an individual or group whose actions have shown a commitment to the game of golf by going above and beyond the call to make the CGA and amateur golf better in the Carolinas.
Payne, a member of Forest Oaks Country Club in Greensboro, N.C. grew up in Winston-Salem, N.C. and graduated from North Carolina State University with a degree in electrical engineering. His degree took him to California in 1969 where he worked as a software manager for AT&T Bell labs. He continued with the company but returned to Greensboro in 1989. He retired from AT&T after 32 years.
Payne's accomplishments as a CGA volunteer are extensive as he has immersed himself for 30-plus years in the areas of rules, handicapping and course rating.
Soon after his return to Greensboro, he was trained and certified as a USGA Course Rating volunteer captain. He also qualified himself as a rules of golf official in addition to creating a hole handicapping (stroke allocation) service for golf clubs.
Payne also created the Carolinas Interclub golf series, allowing clubs across the Carolinas to compete in friendly match-play competitions. The Interclub program was assumed by the CGA 10 years later and has grown to 167 participating clubs.
Payne is past chairman of the Board of Governors at Forest Oaks Country Club (FOCC) and also the founding president of the FOCC Men's Golf Association.
An active CGA player, Payne carries a 10.7 handicap index and serves as a panelists for the North Carolina Golf Rating panel.
Payne has been married for 61 years to his high school sweetheart Wilma. He has two sons, seven grandchildren and three great grandchildren.
Payne will receive the Lynch DSA award on February 9 at Carolinas Golf Night held at Forest Lake Club in Columbia, SC.
To learn more about Carolinas Golf Night, visit www.carolinasgolf.org or click on https://bit.ly/2RTaKTM.
About the Charles E. Lynch, Jr. Distinguished Service Award
The Carolinas Golf Association established the Charles E. Lynch, Jr. Distinguished Service Award at its 2016 Annual Meeting. Mr. Lynch has gone above and beyond the call as a CGA volunteer, executive committee member, and legal counsel to make the association so much better. This award will honor an individual or group whose actions have done just that.
Mr. Lynch is an attorney in High Point, NC who grew up in Bennettsville, SC. He played in many CGA events and even carded a runner-up finish in the 1967 Carolinas Amateur.
His many contributions to the CGA include:
Serving as legal counsel since 1977 for the Carolinas Golf Association (CGA) and Carolinas Golf Foundation (CGF).
Creating, chairing, and overseeing the Carolinas Golf Foundation since 1977. This included getting 501(c) (3) designations for the CGF. The CGF has since donated about $2 million for golf projects in the Carolinas.
New Non Profit Status for the CGA – In 2008, Charlie refiled the CGA's 501(c)(4) status with the IRS and ultimately received a new 501(c)(3) designations for the CGA. This proved to be incredibly beneficial to our donors and volunteers regarding their tax deductions with the CGA.
He was instrumental in the creation of our agronomy program in 1982. He has been engaged ever since including the hiring of three qualified agronomists Carl Blake, Leon Lucas and Bill Anderson.
Charlie donated his legal time and expertise in handling all the legal concerns that came with constructing of Carolinas Golf House.
Handled all the Carolinas Golf Foundation 990 Year End forms for about 35 years.
He guided us through merging, selling, acquiring and separation of Golfnet, our handicapping vendor.
He has been a steady contributor financially to the CGA and CGF.
Oversaw the merging of the handicapping systems with the SCGA and WSCGA.
The creation of the Golf Association Services of the Carolinas (GASC), our GHIN handicapping arm.
Assisting with subpoenas regarding CGA
Continually revising and overseeing changes to our bylaws.
The transfer of ownership of the CGA magazine "Carolinas Golf" from Speccomm to the CGA
Created and distributed the Conflict of Interest forms and guidelines to the EC required by new IRS laws
Assisted with the implementation of a CGA merchandise program
Assisted with the legal work with the formation of the Tar Heel Youth Golf Association (TYGA) in 1996
Assisted with the dissolution of the Women's Carolinas Golf Association
Helped with advice to finalize the sale of the West End CGA building.
Assisted with the Tax Reduction request which was granted for Carolinas Golf House (17% reduction in property taxes)
Handles countless calls and emails from CGA staff regarding advice on a variety of issues
##30##