U.S. Senior Women's Open Qualifying Results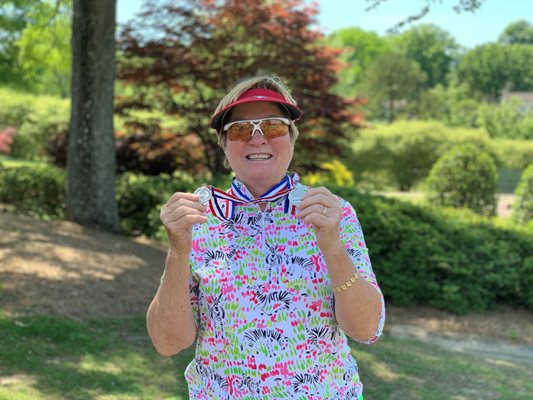 2019 U.S. Senior Women's Open Qualifying
from Country Club of Salisbury in Salisbury, N.C.

SALISBURY, N.C. (April 24, 2019) -- Final results from 2019 U.S. Senior Women's Open Qualifying at Country Club of Salisbury in Salisbury, N.C. on Wednesday, April 24, 2019 (5708 yards, par 35-36--71, Course/Slope rating: 73.4/127).
Patty Moore of Pinehurst, N.C. carded a one-over-par 72 to claim Medalist and Low Amateur honors at the 2019 U.S. Senior Women's Open Qualifier hosted by Country Club of Salisbury. Moore was one-over-par as she started made the turn to the back nine and stayed steady through the remaining holes. Moore was steady throughout the round, carding two birdies and two bogeys on the day. Moore will compete for the U.S. Senior Women's Open trophy right down the road from her home at Pine Needles Lodge & Golf Club in Southern Pines, N.C. Also qualifying were Kimberly Williams of Bethesda, M.D. (73), Terrill Samuel of Canada (75) and Sally Austin of Pinehurst, N.C. (77). Austin, the former UNC Women's Golf Coach, is currently an instructor at the championship host site, Pine Needles Lodge & Golf Club.
Kim Briele of New Bern, N.C. finished with a 79 and is the first alternate. Jill Briles-Hinton of Midlothia, V.A. carded an 80 and is second alternate.
Four qualifying spots and two alternate positions were available at this qualifying site.
The championship proper will be held at Pine Needles Lodge & Golf Club in Southern Pines, N.C. on May 16-19, 2019.
This qualifier was conducted by the Carolinas Golf Association on behalf of the United States Golf Association.
Results
Player
City, State
To Par
Total
Medalist
Patty Moore
Pinehurst, NC
+1
72
Kimberly Williams (p)
Bethesda, MD
+2
73
Terrill Samuel
Canada
+4
75
Sally Austin (p)
Pinehurst, NC
+6
77
The following players did not make the cut
1st Alternate
Kim Briele
New Bern, NC
+8
79
2nd Alternate
Jill Briles-Hinton (p)
Midlothian, VA
+9
80
Dianne Dailey (p)
Winston-Salem, NC
+9
80
Anne Marie Goslak (p)
Winston-Salem, NC
+10
81
Lea Anne Brown
Mt. Pleasant, SC
+12
83
Lenore Rittenhouse (p)
Southern Pines, NC
+12
83
Kristina Blaylock
Cary, NC
+12
83
Angela Stewart
Greenville, NC
+13
84
Susan Beaupied
Pittsboro, NC
+13
84
Debby Pinnell (p)
Leland, NC
+15
86
Patty Waszak (p)
Pigeon Forge, TN
+15
86
Karen Jansen (p)
Mooresville, NC
+17
88
Stephanie Kornegay (p)
Charlotte, NC
+18
89
Evie Jo Larrimore
Monroe, NC
+20
91
About the Carolinas Golf Association (CGA)
The CGA is a 501(c)(3) not-for-profit educational organization that was founded in 1909 to promote and to protect the game of golf in the Carolinas by providing competitions, education, support and benefits to golf clubs and golfers. The CGA is the second largest golf association in the country with over 700 member clubs represented by nearly 150,000 individuals.
The CGA annually conducts 48 championships and five team match competitions for men, women, juniors, and seniors. It also runs over 150 One-Day (net and gross) events as well as qualifying for USGA national championships. The CGA serves golf in the Carolinas with numerous programs such as: the USGA Handicap System; tournament management software and support; course measuring and course/slope ratings; agronomy consultation; answers about the Rules of Golf, Rules of Amateur Status, and Handicapping; Carolinas Golf Magazine; Interclub series; Tarheel Youth Golf Association; Carolinas Golf Hall of Fame; expense assistance for USGA Junior and Girls' Junior qualifiers from the Carolinas; and the Carolinas Golf Foundation (CGF). The CGF has distributed nearly $2,000,000 since 1977 to benefit Carolinas' golf initiatives including junior and women's programs.
For more information about the CGA, visit our website.
##30##