Griz and Dunlap Win the 68th Carolinas Four-Ball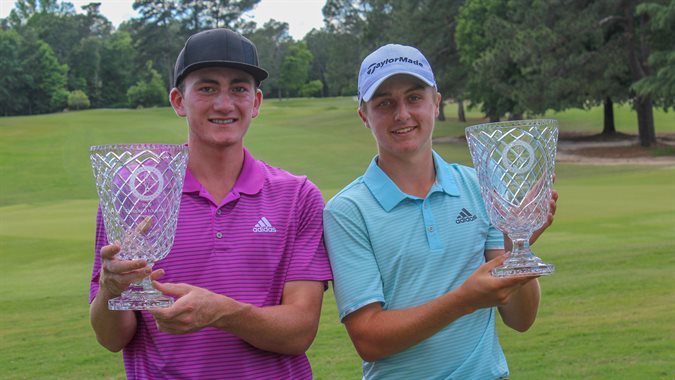 The 2019 Carolinas Four-Ball Champions Nick Dunlap of Greer, S.C. (left) and Jonathan Griz of Hilton Head Island, S.C.
CAMDEN, S.C. (May 6, 2019) -- Final results of the 68th Carolinas Four-Ball Championship at Camden Country Club in Camden, S.C. on Monday, May 6, 2019.
Related: Championship Website | Full Field of Players | Starting Times | Scoring | History
It was a long week marked by several weather delays but after 36 holes of stroke play and four grueling matches, Jonathan Griz, 15, of Hilton Head Island, S.C. and Nick Dunlap, 15, of Greer, S.C. are the winners of the 68th Carolinas Four-Ball Championship.

Griz and Dunlap shot a solid 9-under-par in the stroke play portion of the event, but it was in match play where the two really shined. The duo only found themselves behind for one hole out of all four match play rounds.
"We've played a lot of golf together, but we've haven't played a lot of team golf together. We didn't really know how well we would gel together this week," Dunlap said. "Sometimes people play better together than others but every time I was out of a hole he would step up and make birdie or par. And every time he was out of a hole, I would help him out. We ended up really gelling well together this week."
A 3 & 2 win in their first match meant they would face off against the stroke play medalists, Clay Watkins of Willow Spring, N.C. and Stephen Lavenets of Hillsborough, N.C., in the quarterfinals. The champs made quick work of the medalists defeating them 7 & 6.
"It felt really good. Nick and I had a lot of fun out there this week," Griz said. "We both don't like to lose and we both played pretty solid. When one of us was struggling we were able to pick the other up and be able to continue to win holes."

The only match they had this week that made it a full 18 holes was against Michael Sims of Lexington, S.C. and Garland Ferrell of Greenville, S.C. in the semifinals. They were able to close it out on the 18th hole to get into the championship match.

In the final match they faced off against Thomas Todd III of Laurens, S.C. and James Lightsey of Indian Land, S.C. The match got off to a hot start when Griz birdied the first hole and Dunlap birdied the second to quickly go 2 up in the match. A chip-in birdie by Todd III on No. 9, tied up the match heading into the final nine.
"It was a bit of a momentum change," Dunlap said. "James wasn't really in for par yet and it was one of those situations where (Todd) could have made a five and ended up with a birdie. To win the next two holes was huge. If they had won 10, we could have had a completely different outcome."
The match ended on the par 3, 16th hole after Todd and Lightsey failed to get up and down after missing the green. Griz and Dunlap both had makeable birdie putts but were safely in with pars to close out the match.

Griz and Dunlap are two of the brightest stars coming out of the Carolinas and national junior circuit. Both are members of the 2022 graduating class and have committed to the University of Alabama. They plan to play together in the sectional qualifying for the USGA's U.S. Four-Ball Championship later this summer.

68th Carolinas Four-Ball Championship
Camden Country Club, Camden, S.C.
Semifinals and Finals Results
| | | | |
| --- | --- | --- | --- |
| Players | | Players | Score |
| Jonathan Griz / Nick Dunlap | def. | Garland Ferrell / Michael Sims | 1 up |
| James Lightsey / Thomas Todd III | def. | John Asay / Rob Butler | 1 up |
| Players | | Players | Score |
| Jonathan Griz / Nick Dunlap | def. | James Lightsey / Thomas Todd III | 3 & 2 |
| | | | |
Schedule of rounds:
Friday, May 3
Stroke Play Qualifying Round 1
Tee times off #1 and #10 tees (8:00AM/12:45PM)
Saturday, May 4
Stroke Play Qualifying Round 2
Tee times off #1 and #10 tees (8:00AM/12:45PM)
Field cut to low 16 teams for match play
Sunday, May 5
Playoffs for medalist and last match play positions
Round of 16 Match Play (18 Holes): 8:00AM-8:40AM Tee times off #1 and #10
Quarterfinals (18 Holes). PM Tee times off #1
Saturday, May 6
Semifinals (18 Holes). 8:00AM and 8:10AM off #1 tee
Championship Match (18 Holes). PM tee time off #1
Awards ceremony following play at scoreboard