Ladies' Play Day Results - Waynesville Resort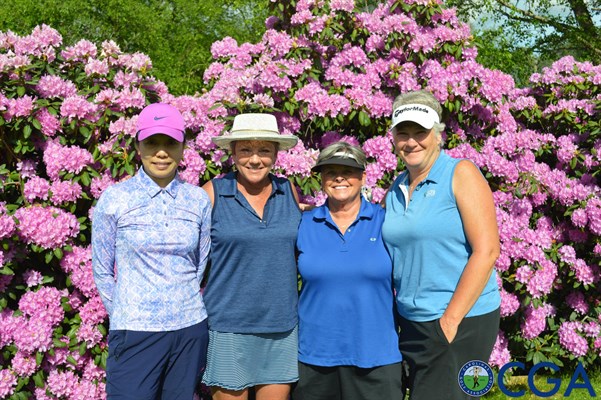 Ladies' Four-Ball Play Day Results
from Waynesville Inn & Golf Resort
SOUTHERN PINES, N.C. (May 8, 2019) -- Final results from the Ladies' Four-Ball Play Day hosted by Waynesville Inn & Golf Resort in Waynesville, N.C. on Tuesday, May 7, 2019.
104 players competed in the ladies' four-ball play day at Waynesville Inn & Golf Resort in Waynesville, N.C. Winners in each flight received gross and net prizes. The first place gross and net team in each flight also gained an exemption to the year-end Carolinas Cup Tournament that will be held at Kiawah Island Resort (Ocean) on December 2, 2019. All players also received points in the Race to the Carolinas Cup.
Ladies' Four-Ball Play Days are 18-hole events of four-ball stroke play, with prizes given for gross and net winners in each flight. The field is flighted based on team Handicap Index®.
Results
First Flight
Pos.
Players
City, State
Gross
Net
1st Gross
Pam Prescott + Nancy Holcombe
Piedmont, SC, Pickens, SC
73
64
1st Net
Mary Ann Brown + Karen Keatley
Waxhaw, NC, Charlotte, NC
81
60
2nd Gross
Cindy Shetter + Nancy Cooper
Graham, NC, Burlington, NC
74
61
2nd Net
Carolyn Snead + Cathy Martin
Mt Holly, NC, Johns Island, SC
77
61
3rd Net
Kathy Reynolds + Pam Congelosi
Hickory, NC, Conover, NC
79
61
Robbie Knotts + June Wang
Huntersville, NC
75
67
Laura Rawl + Teddy Stockwell
Charleston, SC
78
64
Sue McDermott + Debbie Hockman
Pinehurst, NC
81
65
Susan Christian + Luke Myers
Simpsonville, SC, Greer, SC
81
65
Kay Campbell + Vicky Farrell
Asheville, NC, Brevard, NC
82
63
Julie Christianson + Sally Gauntlett
Hendersonville, NC
84
64
Paula Steele + Sue Isaacs
Statesville, NC
86
66
Sara Thomas + Kate Fogel
Cornelius, NC, Conover, NC
88
68
Second Flight
Pos.
Players
City, State
Gross
Net
1st Gross
Rhonda Rusch + Elizabeth Thom
Greenville, SC, Simpsonville, SC
80
61
1st Net
Maureen Watkins + Susan Bachman
Pisgah Forest, NC, Brevard, NC
81
58
2nd Gross
Vicki Cyr + Rebecca Peterson
McCormick, SC, Lexington, SC
81
59
2nd Net
June Groh + Kathy Littlejohn
Fairview, NC, Asheville, NC
81
60
3rd Net
Jennifer Obrien + Cathy Robinson
Mount Pleasant, SC, Sumter, SC
83
60
Jane Webb + Linda Nix
Anderson, SC, Liberty, SC
83
61
Charlotte Clayton + Rebecca Nuckols
Raleigh, NC, Wendell, NC
83
60
Sandra Hood + Patti Luckey
Pawleys Island, SC
85
64
Ginny Glazer + Colleen Witmer
Statesville, NC, Conover, NC
86
67
Leeann Malaussena + Sharon Hawkes
Mt Pleasant, SC, Mt. Pleasant, SC
87
66
Teresa Prestwood + Alice Queen
Waynesville, NC
88
66
Kathy Ceruti + Nancy Neubeiser
Chapin, SC
90
65
Kathy Sullivan + Diane Glassberg
Lancaster, SC
90
66
Third Flight
Pos.
Players
City, State
Gross
Net
1st Gross
Pam Stercay + Kimberly Wolcoveick
Westminster, SC
83
58
1st Net
Karen Starbuck + Robin Barker
Landrum, SC
83
55
2nd Gross
Darlene Seguin + Cynthia Remington
Lexington, SC
85
67
2nd Net
Marie Ballard + Barbara Sjodin
Etowah, NC
88
59
3rd Net
Diane Roemer + Cheryl Scullin
Landrum, SC
86
59
Cason Maccubbin + Phyllis Gill
Charlotte, NC
87
60
Judie McKown + Barbara Tapley
Brevard, NC
88
63
Paula Hinger + Debbie Baughman
Sunset, SC
89
63
Benjie Fowler + Carol Brown
Wendell, NC, Raleigh, NC
91
64
Debbie Tilley + Martha Hollady
Kernersville, NC, Jamestown, NC
91
67
Karen Walters + Gloria Wright
Statesville, NC
92
68
Lynda Brophy + Mary Anne Sovesky
Cornelius, NC, Concord, NC
92
65
Caroline Buswell + Connie Parker
Greenwood, SC, Laurens, SC
95
70
Fourth Flight
Pos.
Players
City, State
Gross
Net
1st Gross
Nell Gay + Mason Nichols
Middlesex, NC, Cary, NC
86
57
1st Net
Tamera Elam + Jill Robbins
Hendersonville, NC
87
55
2nd Gross
Christine Passen + Jeri Peterson
Etowah, NC, Hendersonville, NC
86
65
2nd Net
Lonny Dolin + Nancy Hassid
Landrum, SC
92
57
3rd Net
Cheryl Lands + Garnett Shlafer
Davidson, NC, Huntersville, NC
87
58
Pam Goldsworthy + Mindy Schult
Hendersonville, NC
91
59
Laura Johnson + Charlotte Tripoli
Landrum, SC
93
65
Virgene Wildner + Carolyn Peterson
Penrose, NC, Pisgah Forest, NC
94
61
Sandy Dixon + Dawn Anderson
Burlington, NC, Pawleys Island, SC
95
62
Betsy Rushing + Phyllis Jarvis
Lancaster, SC
96
68
Elizabeth Bethel + Betty Ligon
Greenwood, SC
96
63
Patricia Furman + Nancy Engstrom
Hendersonville, NC
100
64
Cherrie Knight + Dianne Schuler
Biltmore Lake, NC, Mt Pleasant, SC
101
71
About the Race to the Carolinas Cup and Ladies' Four-Ball Play Days
The Race to the Carolinas Cup is a season-long points competition in which players accumulate points based on team finish and participation in CGA Ladies' Four-Ball Play Days.
Four-Ball Play Days are ladies-only four-ball (better ball) competitions that are conducted at member clubs across North and South Carolina. Play Days are designed for players of all skill levels and abilities. These events are flighted by team Handicap Index and include gross and net prizes. Most events will be a shotgun start and all events will include lunch.
Every team at every Four-Ball Play Day earns points in the Race to the Carolinas Cup based on their gross or net finish in their respective flight. Each team will also receive participation points. Team points will be split between players to apply to each player's individual standing in the Race to the Carolinas Cup. Players may play with any partner in any of the play days and earn points toward her individual standing. At the end of the Race to the Carolinas Cup regular season, the player with the most points will be named the Race to the Carolinas Cup champion. This award will be given at the year-end Carolinas Cup Tournament. Players in the Top 50 of the Race to the Carolinas Cup standings, as well as each gross and net flight winners at every play day, will be invited to participate in the Carolinas Cup Tournament at Kiawah Island Resort (Ocean). Players may compete with any partner that is also eligible for the tournament. The Carolinas Cup Tournament will be held on December 2, 2019 and will include a banquet and luncheon to celebrate the Race to the Carolinas Cup Champion as well as the Carolinas Cup Tournament winners.
More Information about the Race to the Carolinas Cup
2019 Ladies' Four-Ball Play Days Schedule
About the Carolinas Golf Association (CGA)
The CGA is a 501(c)(3) not-for-profit educational organization that was founded in 1909 to promote and to protect the game of golf in the Carolinas by providing competitions, education, support and benefits to golf clubs and golfers. The CGA is the second largest golf association in the country with over 700 member clubs represented by nearly 150,000 individuals.
The CGA annually conducts 48 championships and five team match competitions for men, women, juniors, and seniors. It also runs over 150 One-Day (net and gross) events as well as qualifying for USGA national championships. The CGA serves golf in the Carolinas with numerous programs such as: the USGA Handicap System; tournament management software and support; course measuring and course/slope ratings; agronomy consultation; answers about the Rules of Golf, Rules of Amateur Status, and Handicapping; Carolinas Golf Magazine; Interclub series; Tarheel Youth Golf Association; Carolinas Golf Hall of Fame; expense assistance for USGA Junior and Girls' Junior qualifiers from the Carolinas; and the Carolinas Golf Foundation (CGF). The CGF has distributed nearly $2,000,000 since 1977 to benefit Carolinas' golf initiatives including junior and women's programs.
For more information about the CGA, visit our website.
##30##