US Open Local Q Results Pinewild(Magnolia)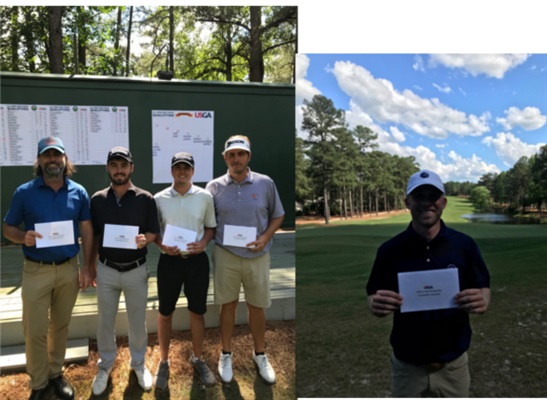 Matthew Goggin, Spencer Skiff, Alex Goff, Taylor Dickson, Michael Mcgowan
PINEHURST, NC– Final results from U.S. Open Championship Local Qualifying hosted by Pinewild Country Club(Magnolia) in Pinehurst, NC on Monday, May 13, 2019 (7,313 yards, par 36-36—72).
Five qualifying spots were available at Pinewild Country Club for sectional qualifying of the 119th U.S. Open Championship. Alex Goff of Kings Mountain, NC and Spencer Skiff of Aiken, SC won the qualifying medalist awards with rounds of three-under par, 69. Taylor Dickson of Gastonia, NC and Matthew Goggin of Charlotte, NC also advanced to sectional qualifying with rounds of 68. Michael McGowan of Southern Pines, NC and claimed the final spot in a three-hole playoff.
These five players will advance to U.S. Open sectional qualifying, conducted over 36 holes, which will be held on Monday, June 3, at 10 sites in the U.S. and one in Europe. The 119th U.S. Open Championship will be played on June 13-16, 2019 at Pebble Beach Golf Links in Pebble Beach, CA.
Hole-by-hole scoring can be viewed here: https://cga.golfgenius.com/pages/1797361
This qualifier was conducted by the Carolinas Golf Association and the United States Golf Association.
2019 U.S. Open Championship Local Qualifying
Pinewild Country Club (Magnolia), Pinehurst, NC
Qualifying Results (7,331 yards, par 36-36—72)
Pos.

Player

City, State

To Par

Total

Details

T1

Alex Goff

Kings Mountain, NC

-3

69

T1

Spencer Skiff (p)

Aiken, SC

-3

69

T3

Taylor Dickson (p)

Gastonia, NC

-2

70

T3

Mathew Goggin (p)

Charlotte, NC

-2

70

5

Michael McGowan (p)

Southern Pines, NC

-1

71

The following players did not make the cut

CUT

Jon Weiss II (p)

Florence, SC

-1

71

1st Alternate

CUT

Thomas Eldridge (p)

Raleigh, NC

E

72

2nd Alternate

CUT

Joe Jaspers

Huntersville, NC

E

72

CUT

Preston Cole (p)

Charlotte, NC

1

73

CUT

Michael Cromie (p)

Athens, GA

1

73

CUT

William Dull

Charlotte, NC

1

73

CUT

Daniel Claytor (p)

Rocky Mount, NC

1

73

CUT

William Rainey (p)

Charlotte, NC

1

73

CUT

Frank Adams III (p)

Salisbury, NC

2

74

CUT

Drew Perry (p)

Charlotte, NC

2

74

CUT

Attie Giles

Pinehurst, NC

2

74

CUT

Jimbo Stanley

Raleigh, NC

3

75

CUT

Chandler White (p)

Clemmons, NC

3

75

CUT

John McFadyen (p)

Fayetteville, NC

3

75

CUT

Steven Brame

Henderson, NC

3

75

CUT

Darren Malicki (p)

Cornelius, NC

3

75

CUT

Jordan Smith

Summerfield, NC

3

75

CUT

Chad Wilfong

Charlotte, NC

3

75

CUT

John Massei

Pinehurst, NC

3

75

CUT

August Joshua Beechler

Pinehurst, NC

3

75

CUT

Matt Carter

Easley, SC

4

76

CUT

David Germann (p)

Clayton, NC

4

76

CUT

Nick Popely (p)

Raleigh, NC

4

76

CUT

Timothy Driver

Holly Springs, NC

5

77

CUT

Nemanja Savic (p)

Raleigh, NC

5

77

CUT

Marco Nieto

Eynon, PA

5

77

CUT

Mark Kriston (p)

Clemmons, NC

5

77

CUT

Will Lewis

Raleigh, NC

6

78

CUT

Todd Mallorey

Myrtle Beach, SC

6

78

CUT

Luke Haithcock

Burlington, NC

6

78

CUT

James Whitaker

Roswell, GA

6

78

CUT

Matthew Sander

Florence, KY

6

78

CUT

Dalton Rich (p)

Durham, NC

6

78

CUT

John (Jay) McGhee III

Greensboro, NC

7

79

CUT

John-Paul Hansen

West End, NC

7

79

CUT

Taylor Ingle (p)

Winnsboro, SC

7

79

CUT

Chris Kopack

Ramsey, NJ

7

79

CUT

Matt Nunez (p)

Pinehurst, NC

7

79

CUT

Nick Kroustalis (p)

Clemmons, NC

7

79

CUT

Benjamin Crow

Pinehurst, NC

7

79

CUT

Sean Branagan (p)

Winston-Salem, NC

7

79

CUT

Stephen Carroll

Concord, NC

8

80

CUT

Bryce Young (p)

New Bern, NC

8

80

CUT

Aaron Walker

Charlotte, NC

8

80

CUT

Aaron Williams (p)

Huntersville, NC

8

80

CUT

Chris Haarlow (p)

Greensboro, NC

8

80

CUT

Charles Gonet-Sedillot

Winston Salem, NC

9

81

CUT

Frank Holly (p)

Blackmountain, NC

9

81

CUT

Brandon Twigg

Charleston, SC

9

81

CUT

Nathaniel Eaton (p)

Raleigh, NC

9

81

CUT

Andrew Graham (p)

Mooresville, NC

9

81

CUT

William Straub

Huntersville, NC

10

82

CUT

Sam Jenkins

Hingham, MA

10

82

CUT

Josh Jackson (p)

Conway, SC

10

82

CUT

Justin Lenzini

Algonquin, IL

10

82

CUT

Joel Cutlip (p)

Myrtle Beach, SC

11

83

CUT

Renny Buddin (p)

Garner, NC

11

83

CUT

Colin Andrade

New York, NY

12

84

CUT

Tanner Gross (p)

Archdale, NC

12

84

CUT

Anthony Spivey (p)

McColl, SC

12

84

CUT

Benjamin Selkin

Greenwich, CT

13

85

CUT

Tyler Shuler

Bryson City, NC

13

85

CUT

Thomas Brundage

Charlotte, NC

14

86

CUT

Daniel Triplett (p)

Bristol, VA

14

86

CUT

Ben Campbell

Wytheville, VA

14

86

CUT

Hyun Shik Chung (p)

Charlotte, ND

15

87

CUT

Paul Kester

Wrightsville Beach, NC

15

87

CUT

Cole Stiles (p)

Pinehurst, NC

16

88

CUT

James Bartol (p)

Florence, SC

16

88

CUT

Kevin Duffy

Carthage, NC

18

90

CUT

Solomon Park

Martinsville, VA

18

90

CUT

Will Hanna

Raleigh, NC

-

WD

CUT

Zachary Douglas (p)

Christiansburg, VA

-

WD

CUT

Troy Kennedy (p)

Fort Mill, SC

-

WD

CUT

Michael Baker

Concord, NC

-

WD