Preview: 7th Creed Boys' Invitational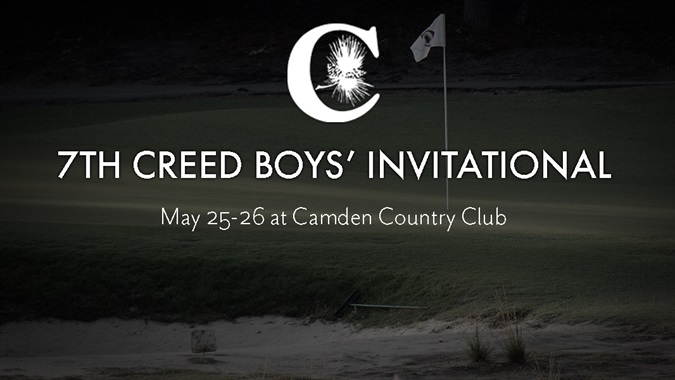 SOUTHERN PINES, N.C. (May 23, 2019) -- The Carolinas Golf Association will conduct the 7th Creed Boys' Invitational at Camden Country Club in Camden, S.C. from May 25-26, 2019. Camden CC has hosted the tournament since its inception. This year's field includes a total of 80 players.
Related: Championship Web Site | Full Field of Players | Starting Times | Scoring | History
Players to watch:
Manning Sloop of Rock Hill, S.C. finished in the top 20 for this event last year with a final round score of 71. Sloop is ranked 53rd in the Carolinas Junior Rankings with a scoring average of 75. Sloop had a steady finish in the AAAAA State Championship placing in 8th position with a total of 147.
Keegan Vaugh of Myrtle Beach, S.C. is working to move his finish into the top 10 this weekend. Vaugh finished his final round at two-over-par last year. He is our reigning South Carolina Junior Match Play champion.
Mason Tucker of Lancaster, S.C. finished tied for third position last year with a final round of two-under-par, 68. Mason is ranked in the top 20 of the Carolinas Junior Rankings and is expected to make an impression this weekend.
Eston Lee of Four Oaks, N.C. is looking to have a better finish this year after finishing in the top five last year with a total score of 143.
Randall Hudson, a rising junior from Newborn, N.C. is in good shape going into this weekend after consistent performances in the NCHSAA AAAA State Championship where he tied for third place and the AAAA East Regional Championship where he finished tied for second place.
Tyler DeChellis of Clayton, N.C. finished runner up last year in this championship. He placed first in the Boys' 13-15 category with a two-under-par, 138 total.
Zach Roberts of Holly Springs, N.C. is ranked 61st in the Carolinas Junior Boys Rankings and had steady performances in the TYGA N.C. High School Invitational and the NCHSAA AAAA Mideast Regional Championship.
Carlos Garre a S.C. Native from Myrtle Beach, S.C. is ranked 19th in Carolinas Junior Rankings with a scoring average of 73. Garre scored a total of 147 in last year's event with a first round score of one-over-par, 71.
Alex Heffner of Harrisburg, N.C. won the NCHSAA Midwest Regional Championship with a score of level par, 70 and won the TYGA Sapona Junior Open in April.
Zachary Reuland of Rock Hill, S.C. is a strong contender as he has already had two first place finishes in the GA/SC Cup and the High School AAAA State Championship. Reuland finished both events under par.
The course will play as a par 70 (71.1 / 125), stretching 6,358 yards. The Donald Ross design was recently renovated in 2013 by Kris Spence, giving it a challenging, but inviting layout with pristine conditions and scenic landscapes.
The Creed Boys' Invitational is a 36-hole, stroke play event.
Entry is open to any male amateur golfer ages 13 to 18 as of May 26, 2019, who has not started college, who has a USGA handicap of 15.0 or lower, and maintains a residence in North Carolina or South Carolina.
Scoring will be provided by the CGA throughout the championship, offering 9 and 18-hole updates. Live updates will also be available on the CGA's official Twitter account, @cgagolf1909. Continue to visit the CGA website throughout this championship and all year long for complete championship coverage including scores, interviews, photos, and recaps.
Schedule of rounds:
Saturday May, 23
First Round Starting Times: Begin at 12:30 pm on hole #1 and #10
Sunday May, 24
Second Round Starting Times: Begin at 8:00 am on hole#1 and #10