Martin Successfully Defends at the Carolinas Amateur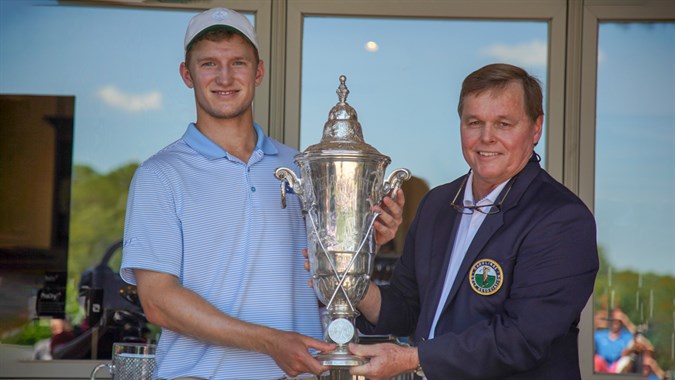 CHAPEL HILL, N.C. (July 14, 2019) -- Final results of the 105th Carolinas Amateur Championship at Governors Club in Chapel Hill, N.C. on Sunday, July 14, 2019.
Related: Championship Web Site | Full Field of Players | Starting Times | Scoring | History | Photos
Josh Martin of Pinehurst, N.C. has done it again. Martin was able to successfully defend his Carolinas Amateur title in the same town that he played his college golf for the last four years – Chapel Hill. Last year, Martin won the 104th Carolinas Amateur just down the road from where he grew up at the Country Club of North Carolina in Pinehurst.
"It's crazy to think about but it's awesome to do it last year at home in Pinehurst and then to do it here where I went to school - my second home - it's pretty special," said Martin.
Martin is only the second golfer in the stroke-play era of the Carolinas Amateur Championship to defend the title. His former University of North Carolina men's golf teammate, Carter Jenkins is the other ('13, '14 and '15).
Not only was Martin able to successfully defend the title but he was able to do so in a runaway fashion. Martin won this year's championship by seven strokes which ties the record for margin of victory in the stroke play era of the championship. Last year, he won the championship by three shots.
While it appears that Martin ran away with the title, his competitors were a lot closer than the final score shows. Martin got off to a hot start making birdies on three of his first four holes, but he gave two shots back after making bogeys on Nos. 5 and 8. He then put his foot on the gas at the turn and didn't let off.
Martin made birdies on Nos. 10, 11, 13, 16 and 17. By the time he reached the treacherous par-4, 18th hole the title was as good as his. Martin two-putted to victory on the final green.
"Coming down the stretch I saw I had a big lead coming in," said Martin. "It was just a relief just to get in and not spoil that. I finished not how I wanted to the last two days so my goal was just to keep my head down and do what I do and finish strong."
Martin's 6-under-par, 66 on Sunday was the low round of the day. He finished at 16-under-par, 272 total for the championship.
Former Wake Forest men's golfer, Davis Womble of Winston-Salem, N.C. was hot on Martin's heels in the final round. Womble made the turn at 9-under-par total for the championship and was only two shots off the lead at the time. Unfortunately for Womble, Martin's bad holes were behind him and an even-par, 36 on the back nine was not enough to catch the leader. Womble finished in solo second place at 9-under-par, 279 for the championship.
Peter Fountain of Raleigh, N.C. was looking to claim his second CGA championship title of the summer but came up two places shy of the win. Fountain fired a 2-under-par, 70 on Sunday to finish the championship at 8-under-par, 280 total to finish in third place. Fountain won the North Carolina Junior Boys' Championship at Lonnie Poole Golf Course only two weeks prior to the start of the Carolinas Amateur. Fountain will follow in the footsteps of Martin and will begin his freshman year at the University of North Carolina this fall.
Martin, a recent college graduate, is continuing his education and his amateur golf career. Starting in September he's going to the University of Nottingham where he received a scholarship to play on their golf team while he completes an eleventh-month graduate degree program.
"I'm not even sure if I'll be back in the U.S. to defend depending on how the program is, but if there's a will there's a way and I'll try to get back," said Martin.
The Club at 12 Oaks team took home the Capers Cup at this year's competition. The Capers Cup competition is held during the first two rounds of the championship. Teams are comprised of three or four bona fide members from the same club, and the low three scores count. Zach Roberts of Holly Springs, N.C., Timothy Driver of Holly Springs, N.C. and Garrett Risner of Holly Springs, N.C. comprised the winning team and finished with a eight-over-par 440 to take home the trophy.
The Carolinas Golf Association would like to thank the club members and staff of Governors Club for hosting this event. The tournament would not be possible without their dedication and hard work. A special thank you to General Manager, Doug Shifflet, Golf Course Superintendent, Kevin Redfern, Director of Golf, Thomas Brinson and Club President Meribeth Robb. A special thank you to Charlotte Leidy and Charlie Sandora who coordinated the club volunteer staff.
105th Carolinas Amateur Championship
Governors Club | Chapel Hill, N.C.
Final Results
Pos.

Player

City, State

To Par

R1

R2

R3

R4

Total

1

Joshua Martin

Pinehurst, NC

-16

69

67

70

66

272

2

Davis Womble

Winston-Salem, NC

-9

68

75

65

71

279

3

Peter Fountain

Raleigh, NC

-8

70

68

72

70

280

4

Jack Parrott

Columbia, SC

-7

68

72

66

75

281

T5

Walker Jones

Sumter, SC

-5

72

71

67

73

283

T5

Ben Woodruff

Huntersville, NC

-5

66

78

71

68

283

T7

Sherrill Britt

West End, NC

-4

70

75

70

69

284

T7

Jake Carter

Aiken, SC

-4

69

74

71

70

284

T7

Austin Bonfiglio

Holly Springs, NC

-4

74

73

68

69

284

10

Jamie Wilson

Mount Pleasant, SC

-2

68

74

64

80

286

T11

Scott Lincicome

Pinehurst, NC

-1

71

73

71

72

287

T11

Luke Hackworth

Charlotte, NC

-1

68

71

70

78

287

T13

Joe Jaspers

Huntersville, NC

+1

72

73

71

73

289

T13

Timothy Driver

Holly Springs, NC

+1

76

71

69

73

289

T13

Jordan Sease

Lexington, SC

+1

76

70

71

72

289

16

Zach Bishop

Travelers Rest, SC

+2

71

75

72

72

290

T17

Daniel Neveu

Pinehurst, NC

+3

69

76

74

72

291

T17

Pierce Robinson

Kings Mountain, NC

+3

75

71

73

72

291

T17

Raymond Wooten

Clemson, SC

+3

71

72

73

75

291

T17

Michael Childress

Salisbury, NC

+3

71

73

74

73

291

T17

Avery Price

Gastonia, NC

+3

75

72

74

70

291

22

Matthew Crenshaw

Burlington, NC

+4

76

68

70

78

292

23

Harry Reynolds

Greenville, SC

+5

72

73

73

75

293

T24

Robert Lutomski

Simpsonville, SC

+6

76

69

72

77

294

T24

Scott Park

Charlotte, NC

+6

75

75

69

75

294

T24

Spencer Oxendine

Fayetteville, NC

+6

75

73

70

76

294

T24

Henry Augenstein

Columbia, SC

+6

76

72

74

72

294

T24

James Lightsey

Indian Land, SC

+6

75

72

74

73

294

T29

Brandon Reece

Rolesville, NC

+7

71

75

74

75

295

T29

Garrett Risner

Holly Springs, NC

+7

70

74

74

77

295

T29

Christian Park

Charlotte, NC

+7

69

78

74

74

295

T29

Thomas Todd III

Laurens, SC

+7

77

71

70

77

295

T29

Will Stewart

Charlotte, NC

+7

70

71

80

74

295

T29

Preston Ball

Raleigh, NC

+7

78

72

71

74

295

T29

Andrew Sapp

Greenville, NC

+7

74

75

75

71

295

T29

Chris Akers

Asheville, NC

+7

77

70

75

73

295

37

Davis Richards

Oak Island, NC

+8

73

77

72

74

296

T38

Ike Joy

Denver, NC

+9

74

72

71

80

297

T38

Brian Langley

Bluffton, SC

+9

77

71

72

77

297

T38

Nick Willis

Cowpens, SC

+9

74

75

75

73

297

T38

Blake Taylor

Atkinson, NC

+9

75

73

77

72

297

T38

Dylan Lukes

Chapel Hill, NC

+9

71

79

74

73

297

T38

Zach Roberts

Holly Springs, NC

+9

72

77

72

76

297

T44

Chris Cassetta

High Point, NC

+10

74

76

77

71

298

T44

Carson Ownbey

Canton, NC

+10

79

69

73

77

298

T44

Clayson Good

Durham, NC

+10

75

75

76

72

298

T44

Ryan Marter

Columbia, SC

+10

80

69

77

72

298

48

Pierce Fox

Greenville, SC

+11

75

75

76

73

299

T49

Sam Echikson

Charlotte, NC

+12

74

72

76

78

300

T49

Jake Scruggs

Shelby, NC

+12

75

74

74

77

300

T49

Patrick Stephenson

Four Oaks, NC

+12

75

74

79

72

300

T49

Devon Horne

Hendersonville, NC

+12

73

76

78

73

300

53

Jack Massei

Pinehurst, NC

+14

77

72

75

78

302

54

Elliott Johnson

Beaufort, SC

+15

73

77

78

75

303

T55

Paul Simson

Raleigh, NC

+16

76

68

80

80

304

T55

Steven Brame

Henderson, NC

+16

73

77

82

72

304

T57

Brett McLamb

Coats, NC

+17

72

75

79

79

305

T57

Brian Hicks

Cary, NC

+17

74

76

80

75

305

59

Bobby Few

Lugoff, SC

+26

71

75

84

84

314

WD

Jonathan Jackson

Siler City, NC

-

78

67

WD

WD

The following players did not make the cut

CUT

John Nieters

Clemmons, NC

+7

75

76

151

CUT

Will Dull

Charlotte, NC

+7

79

72

151

CUT

Addison Manring

Stoneville, NC

+7

80

71

151

CUT

Cameron Akers

Asheville, NC

+7

74

77

151

CUT

Eric Williams

Goldsboro, NC

+7

76

75

151

CUT

Greg Earnhardt

Greensboro, NC

+7

79

72

151

CUT

Seth Taylor

Gaffney, SC

+7

70

81

151

CUT

Kurtis Grant

Southern Pines, NC

+8

74

78

152

CUT

Parker Fain

Boiling Springs, SC

+8

76

76

152

CUT

Randall Hudson

New Bern, NC

+8

75

77

152

CUT

Riley Boyette

Charleston, SC

+8

76

76

152

CUT

Ronnie Uszenski

Cornelius, NC

+8

72

80

152

CUT

Austin Duncan

Bessemer City, NC

+8

73

79

152

CUT

Connor Moore

Bluffton, SC

+8

78

74

152

CUT

Gray Matthews

Raleigh, NC

+8

77

75

152

CUT

Harrison Frye

High Point, NC

+8

75

77

152

CUT

John O'Brien

Columbia, SC

+8

74

78

152

CUT

Anthony Conn

Raleigh, NC

+9

78

75

153

CUT

Hunter Oxendine

Fayetteville, NC

+9

74

79

153

CUT

Luke Perrino

Mooresville, NC

+9

74

79

153

CUT

Nicholas Boone

Clyde, NC

+9

73

80

153

CUT

Colin Trahan

North Augusta, SC

+9

75

78

153

CUT

Brock Elder

Whitsett, NC

+10

73

81

154

CUT

Gary Pugh

Asheboro, NC

+10

79

75

154

CUT

John Bearrie

Landrum, SC

+10

75

79

154

CUT

Nic Brown

Wendell, NC

+10

80

74

154

CUT

Connor Armistead

Charlotte, NC

+10

78

76

154

CUT

Jackson Brimfield

Chapel Hill, NC

+10

80

74

154

CUT

Thomas Owen

Fayetteville, NC

+10

78

76

154

CUT

Fred Gahl

Raleigh, NC

+11

75

80

155

CUT

Mason Elmore

Charlotte, NC

+11

77

78

155

CUT

Reid Clark

Raleigh, NC

+11

79

76

155

CUT

Stephen Abrams

Wilson, NC

+11

74

81

155

CUT

Brad Clark

Durham, NC

+12

79

77

156

CUT

Britt Mitchell

Creedmoor, NC

+12

80

76

156

CUT

Robert Dargan

Columbia, SC

+12

74

82

156

CUT

Jimbo Stanley

Raleigh, NC

+12

79

77

156

CUT

Louis Lambert

Charlotte, NC

+12

77

79

156

CUT

Mickey Lankford

North Charleston, SC

+12

75

81

156

CUT

Seth Robertson

Inman, SC

+12

79

77

156

CUT

William Jamieson

Cary, NC

+12

78

78

156

CUT

Caden Baker

Mebane, NC

+13

76

81

157

CUT

George Kilgore

Morrisville, NC

+13

80

77

157

CUT

Brad Dawson

Mebane, NC

+13

76

81

157

CUT

Kell Graham

Greensboro, NC

+13

81

76

157

CUT

Matt Teaster

Spartanburg, SC

+13

75

82

157

CUT

Rafe Reynolds

Greenville, SC

+13

77

80

157

CUT

Stephen Lavenets

Willow Spring, NC

+13

82

75

157

CUT

Walker Simas

Charlotte, NC

+13

78

79

157

CUT

Austin Northern

Blowing Rock, NC

+14

82

76

158

CUT

Chance Watson

Newland, NC

+14

78

80

158

CUT

Garett Heffner

Apex, NC

+14

76

82

158

CUT

John Del Priore

Charlotte, NC

+14

81

77

158

CUT

Jonathan Maull

Charleston, SC

+14

77

81

158

CUT

James Wiley

Raleigh, NC

+15

78

81

159

CUT

Jackson Bode

Pinehurst, NC

+15

81

78

159

CUT

Trey Capps

Garner, NC

+15

76

83

159

CUT

Eston Lee

Four Oaks, NC

+16

85

75

160

CUT

Joey Funderburg

Wilmington, NC

+16

78

82

160

CUT

Jordan Smith

Summerfield, NC

+16

77

83

160

CUT

Zac Lewis

Wilmington, NC

+17

79

82

161

CUT

Benjamin Buben

Charlotte, NC

+17

81

80

161

CUT

Cameron Hall

Kings Mountain, NC

+17

84

77

161

CUT

Michael Rials

Florence, SC

+18

77

85

162

CUT

Jackson Steiner

Charlotte, NC

+18

83

79

162

CUT

Josh Nichols

Apex, NC

+19

79

84

163

CUT

Thomas Eubanks

Charlotte, NC

+19

84

79

163

CUT

Tyler Shuler

Bryson City, NC

+19

78

85

163

CUT

Ryan Burk

Chapel Hill, NC

+20

85

79

164

CUT

Brandon Bradosky

Ladson, SC

+21

84

81

165

CUT

Christopher Wooten

Winston-Salem, NC

+21

82

83

165

CUT

Drew Haywood

Chapel Hill, NC

+21

78

87

165

CUT

Jordan Reeves

Asheboro, NC

+22

82

84

166

CUT

Luke Cashion

Waxhaw, NC

+24

85

83

168

CUT

Grayson Cheek

Wilkesboro, NC

+25

81

88

169

CUT

Richard Youden

Winston-Salem, NC

+26

84

86

170

CUT

Simon Boteler

Raleigh, NC

+26

82

88

170

CUT

Drew Wood

Pinehurst, NC

+30

84

90

174

WD

Brad Coleman

Jamestown, NC

-

89

WD

WD