US Senior Amateur Qualifying Results Biltmore Forest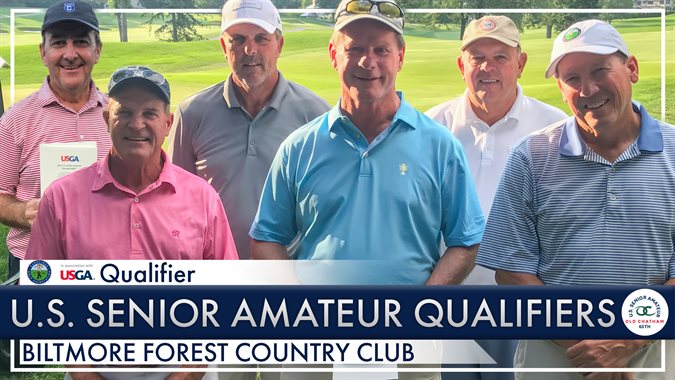 ASHVEVILLE, N.C. (July 29, 2019) -- Final results from 2019 USGA U.S. Senior Amateur Sectional Qualifying at Biltmore Forest Country Club in Asheville, N.C. on Monday, July 29, 2019 (6500 yards, par 35-35--70, Course/Slope rating: 72.4/139).
Six qualifying spots and two alternate positions were available at this qualifying site.
One player finished under par at Biltmore Forest; Rick Cloninger from McDonough, GA finished one-under par 69 and earned medalist honors. Four players finished at one-over par 71 to earn the second through fifth spots into the US Senior Amateur Championship. Those four players were Kevin King from Bluffton, SC, Robby Kirby from Charlotte, NC, Tony Green from Kingsport, TN and Gary Pugh from Asheboro, NC. Eight players finished two-over par 72 and went through a five-hole playoff where Tom Schreiner from Chattanooga, TN won the final qualifying spot. Tony Lacamera from Ormonda Beach, FL was first alternate and Robert Allen from Johns Creek, GA was second alternate.
The six qualifiers will advance to the US Senior Amateur Championship at Old Chatham Golf Club in Durham, NC from August 24-29, 2019.
Hole-by-hole scoring can be viewed here: https://www.golfgenius.com/pages/1800260
This qualifier was conducted by the Carolinas Golf Association on behalf of the United States Golf Association.
U.S. Senior Amateur Sectional Qualifying Results
Biltmore Forest Country Club
Asheville, NC
Pos.

Player

City, State

To Par

Total Score

Details

1

Rick Cloninger

McDonough, GA

-1

69

Medalist

T2

Kevin King

Bluffton, SC

+1

71

T2

Robby Kirby

Charlotte, NC

+1

71

T2

Tony Green

Kingsport, TN

+1

71

T2

Gary Pugh

Asheboro, NC

+1

71

6

Tom Schreiner

Chattanooga, TN

+2

72

The following players did not make the cut

CUT

Tony Lacamera

Ormond Beach, FL

+2

72

1st Alt.

CUT

Robert M. Allen II

Johns Creek, GA

+2

72

2nd Alt.

CUT

Harrison Rutter

Winston-Salem, NC

+2

72

CUT

Michael Ford

Durham, NC

+2

72

CUT

Rick Riddle

Charlotte, NC

+2

72

CUT

Scott Smith

Knoxville, TN

+2

72

CUT

Danny Hopkins

Roanoke, VA

+2

72

CUT

Allen Peake

Macon, GA

+3

73

CUT

William Jamieson

Cary, NC

+3

73

CUT

Michael Caprio

Greer, SC

+3

73

CUT

Gary Robinson

Fayetteville, NC

+3

73

CUT

Steven Schiro

Signal Hill, CA

+3

73

CUT

Roger Dean

Ormond Beach, FL

+3

73

CUT

Phil Bland

Waynesville, NC

+3

73

CUT

Dick Stimart

Charlotte, NC

+4

74

CUT

Jimmy Squires

Victoria, TX

+4

74

CUT

Alan Kline

Lewisburg, PA

+4

74

CUT

Don Detweiler

Raleigh, NC

+4

74

CUT

Kelly Stimart

Charlotte, NC

+4

74

CUT

Mike Shoffner

Burlington, NC

+4

74

CUT

Ben Whipple

Marietta, SC

+4

74

CUT

Pat Thompson

Asheville, NC

+4

74

CUT

Russ Perry

Winston Salem, NC

+4

74

CUT

Tim Dinwiddie

Afton, TN

+4

74

CUT

James Pearson

Charlotte, NC

+4

74

CUT

Logan Jackson

Winston Salem, NC

+4

74

CUT

Patrick Coyne

Orange Park, FL

+4

74

CUT

Bob Lacey

Charlotte, NC

+4

74

CUT

Steven Hudson

Birmingham, AL

+4

74

CUT

Bill Argabrite

Kingsport, TN

+5

75

CUT

Andy Bower

Greensboro, NC

+5

75

CUT

Lawrence Cunningham

Chapel Hill, NC

+5

75

CUT

Joseph Sadowski

Hickory, NC

+5

75

CUT

Steve Wilson

Wilmington, NC

+5

75

CUT

Billy Williford

Durham, NC

+5

75

CUT

James Motsinger

Boomer, NC

+5

75

CUT

Craig Cathey

Burlington, NC

+5

75

CUT

Frederick Councill

High Point, NC

+5

75

CUT

Geno Berchiatti

Greenville, SC

+6

76

CUT

Scott Danals

Bryson City, NC

+6

76

CUT

Patrick Brady

Reidsville, NC

+6

76

CUT

Tom Provow

College Grove, TN

+6

76

CUT

Bob Wansker

Charlotte, NC

+6

76

CUT

Rob Wilson

Mount Pleasant, SC

+6

76

CUT

Barry Mullinax

Travelers Rest, SC

+6

76

CUT

Danny Nelson

Savannah, GA

+6

76

CUT

Jackson Hughes

Greenville, SC

+6

76

CUT

Gordon Jones

Asheville, NC

+6

76

CUT

James Justus

Simpsonville, SC

+6

76

CUT

John Mears

Atlanta, GA

+6

76

CUT

Jeff Jaeggi

Simpsonville, SC

+7

77

CUT

Paul Spadafora

Charlotte, NC

+7

77

CUT

Bobby Barben

Avon Park, FL

+7

77

CUT

Jim Walker

Atlanta, GA

+7

77

CUT

Steve Misenheimer

Huntersville, NC

+7

77

CUT

John Boatwright

Mount Pleasant, SC

+8

78

CUT

Dennis Scott

Greenville, SC

+8

78

CUT

Joe Maher

Tignall, GA

+8

78

CUT

Matthew Avril

Vero Beach, FL

+8

78

CUT

Jeff Golliher

Knoxville, TN

+8

78

CUT

John Caulfield

Sunset Beach, NC

+8

78

CUT

John Rudolph

Charlotte, NC

+8

78

CUT

John Salerno

Charlotte, NC

+8

78

CUT

David Brown

Conover, NC

+9

79

CUT

Kyle Obrien

Raleigh, NC

+9

79

CUT

Walter Odiorne

Blythewood, SC

+9

79

CUT

Mark Arrington

Chapel Hill, NC

+9

79

CUT

Tom Case

Fort Myers, FL

+9

79

CUT

Tony Nichols

Reidsville, NC

+9

79

CUT

Joseph Clark

Charlotte, NC

+9

79

CUT

Jim Ayersman

Pinehurst, NC

+9

79

CUT

Garrett Garland

Huntersville, NC

+9

79

CUT

John Frazier

Burlington, NC

+9

79

CUT

Chip Williamson

Wilmington, NC

+9

79

CUT

Thomas Murphy

Athens, GA

+9

79

CUT

David Mabee

Huntsville, AL

+10

80

CUT

Eddie Harmon

Greeneville, TN

+10

80

CUT

Joe Boals

Pinehurst, NC

+11

81

CUT

Jim Hegarty

Grand Rapids, MI

+11

81

CUT

David Waggoner

Holly Ridge, NC

+11

81

CUT

Casey Alexander

Harrisburg, NC

+11

81

CUT

Brent Cooper

Dallas, TX

+11

81

CUT

Chuck Davis

Tampa, FL

+12

82

CUT

Scott Alexander

Charlotte, NC

+12

82

CUT

Steven Shelton

Kingsport, TN

+12

82

CUT

Mark Walker

Greensboro, NC

+13

83

CUT

Michael Dooner

Havana, FL

+14

84

CUT

Eugene Spencer

Blythewood, SC

+14

84

CUT

Glenn Sexton

Greensboro, NC

+14

84

CUT

Garland Yates

Asheboro, NC

+15

85

CUT

Chuck Parker

Raleigh, NC

+15

85

CUT

Henry Darby

Highlands, NC

+15

85

CUT

Tom Hegarty

Greensboro, NC

+15

85

CUT

Ty Balkcum

Taylors, SC

+16

86

CUT

Evan Long

Charlotte, NC

+16

86

CUT

Ken Eichele

Pinehurst, NC

+17

87

CUT

Jeff Ferguson

Waynesville, NC

+17

87

CUT

Roger Chadwell

Kingsport, TN

+19

89

CUT

Robert Surratt

Concord, NC

+19

89

CUT

Dick Owen

Orlando, FL

+22

92

CUT

George Pushnik

Ormond Beach, FL

+22

92

CUT

Donald Hawkins

Sunset, SC

+23

93

CUT

Ronald Halvorsen

Fairview, NC

+29

99

WD

Michael Funk

Pooler, GA

-

WD

WD

Brian Johnston

Peachtree Corners, GA

-

WD

WD

Richard McPhail

Gastonia, NC

-

WD

NS

David Godchaux

Arden, NC

-

NS