Preview: 2nd Hope Valley Junior Invitational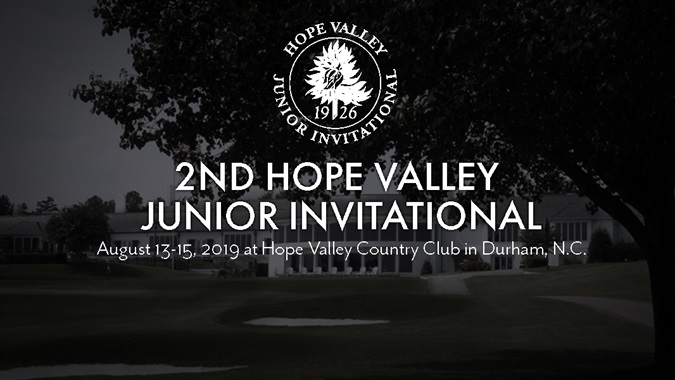 SOUTHERN PINES, N.C. (August 12, 2019) -- The Carolinas Golf Association will conduct the 2nd Hope Valley Junior Invitational at Hope Valley Country Club in Durham, N.C. from August 13-15, 2019.
Related: Championship Web Site | Starting Times | Scoring
Hope Valley Country Club will again welcome top junior golfers to the annual Hope Valley Junior Invitational, conducted on their Donald Ross designed course. The event is a 54-hole stroke play tournament for boys and girls who earn their berth through invitation criteria categories that include junior tournaments and rankings.
The field for the 2019 championship is expected to consist of 24 girls and 60 boys. The tournament is conducted at 54-holes of individual stroke play. Here are some of the top-ranked players in this year's field:
Boys' Division
Peter Fountain of Raleigh, N.C., won the 2019 NC Junior Boys' Championship this summer and is ranked third in the Carolinas Junior Boys' Rankings. Fountain also won the 2019 Neuse High School Invitational, the TYGA Pinehurst High School Invitational, and the NCHSAA 4A State Championship. He finished third at the 2019 Carolinas Amateur Championship.
Jackson Van Paris of Pinehurst, N.C. is the top-ranked, junior boys' golfer in the Carolinas. He already has three victories under his belt this year including the TYGA NC High School Invitational, the Wedgewood High school Shootout and the AJGA Simplify Boys Championship.
Keegan Vaugh, of Myrtle Beach, S.C., won the 2018 South Carolina Junior Match Play Championship and tied for second at the 2019 Creed Junior Boys' Invitational. He also tied for eighth at the Dustin Johnson World Junior, second at the SCJGA Morgan Lucas Championship and tied for 18th at the 2019 South Carolina Junior Championship.
Garrett Risner of Holly Springs, N.C. has had a string of top finishes this summer including a win at the Bojangles' Junior Open, a T10 finish at the Carolinas Junior Boys' Championship and a solid T29 at the Carolinas Amateur Championship.
Caleb Surratt of Matthews, N.C. is on a winning streak after bringing home the trophy three events in a row at the Tarheel Golf Foundation - 10th Annual Golf Pride Tour Championship, the NCHSAA 1A State Championship and the NCHSAA 1A Midwest Regional Tournament. Surrat made it to the Round of 16 at the N.C. Junior Boys' Championship.
Pake June of Florence, S.C. has won his last two tournaments, the 2019 Grace Bennett Junior and the 2019 Florence Chapter at Traces, and is looking to continue this hot streak with a strong performance in this event.
Zach Roberts of Holly Springs, N.C. won the Donald Ross Junior tournament in 2018 and earned runner-up at the NCHSAA 4A Mideast Regional in May.
Todd Moyer of Cornelius, N.C. claimed the title at the NCISAA 4A State Champion in May. This win was preceded with two third place finishes in the TYGA Sandhills Flyers Shoot Out and Tarheel State Junior tournament.
Girls' Division
Katherine Schuster of Kill Devil Hills, N.C. is the reigning Carolinas Junior Girls' Player of the Year and is ranked 3rd in the Carolinas Junior Girls' Rankings. She is also ranked 2nd in the North Carolina Junior Girls' Rankings. Schuster is the reigning North Carolina Junior Girls' champion, North and South Junior Girls' champion and Beth Daniel Junior Azalea champion.
Sasha Hayes of Winston Salem, N.C. is the 2017 Dogwood State Junior Girls' Champion and will be competing in this event in her final summer as a junior player. Hayes is the 29th ranked junior girl in the Carolinas.
Maria Atwood of Holly Springs, N.C. is currently ranked 13th in the Carolinas Junior Girls' Rankings and ranked 7th among junior girls in North Carolina. Atwood was the runner-up at the North Carolina Junior Girls' Championship and finished T3 at the CGA Twin States Junior Girls' Championship. She was also the 2018 Carolinas Junior Girls' champion.
Carley Haines of Rye Brook, NY has four top-ten finishes in the PGA Metropolitan section this summer including a T8 at the Bethpage Spring Challenge, a sixth place at the Girls Met Junior PGA Championship and a T5 at the New York City Championship.
Trinity Ahing of New Bern, N.C. is coming in hot off a win at the TYGA Roy Jones Junior Golf Classic. Ahing won the TYGA Coastal Plains Junior Amateur in June.
Hope Valley Country Club was founded in 1926 and the course was designed by the world-famous golf course architect, Donald J. Ross, in coordination with landscape architect Robert Cridland. Unlike many of his projects, Ross personally supervised the planning and construction of Hope Valley. Centered around its Aymar Embury II Clubhouse, the course has hosted many significant golf events. They include the U.S. Amateur Qualifying for both Men and Women, the U.S. Senior Men's Qualifying, the North Carolina Amateur Championship, Carolinas Junior Boy's Championship, Women's Western Junior National Championship and Carolinas Junior Girl's Championship.
The tournament moment, of which the club members may be most proud, took place on April 1, 1945 when Byron Nelson won the Durham Open at Hope Valley. This was his fourth victory out of winning eleven tournaments in a row, a PGA Tour record. Hope Valley membership recognizes that proud stewardship of these outstanding traditions requires that their club continue to revere the old and embrace the new in order to share their commitment to the great game of golf with upcoming generations.
For more information about the Hope Valley Junior Invitational, please visit the tournament home page at http://www.hopevalleyjuniorinvitational.com.
Championship Quick Facts
Event: 2nd Hope Valley Junior Invitational
Playing Dates: August 12-15, 2019
Host Site: Hope Valley Country Club, Durham, NC (6,635 yards, par 70)
Format: 36-holes of stroke play qualifying. After 36 holes, 32 players will move on to the match play to determine the champion.
Eligibility: Entry is open to any male amateur golfer who has reached his 13th birthday by July 31, 2019, is a legal resident of North Carolina, is a member in good standing of a club which is a member of the CGA and has an active GHIN® USGA Handicap Index® at a CGA member club that does not exceed 10.4.
Past Champions in the Field:
Katherine Schuster, Kill Devil Hills, N.C. (2018)
SCHEDULE OF EVENTS
Tuesday, August 13, 2019
8:00 am - 12:00 pm Round 1 Starting Times off #1
10:30 am - 3:00 pm Players' Lunch
Wednesday, August 14, 2019
8:00 am - 10:00 am Round 2 Starting Times off #1 and #10
12:30 pm - 2:30 pm Players' Lunch
Thursday, August 15, 2019
8:00 am - 10:00 am Round 3 Starting Times off #1 and #10
12:30 pm - 2:30 pm Tournament Lunch for Players and Parents
2:30 pm Awards Presentation