Holder Holds on to Win Vicki DiSantis Girls'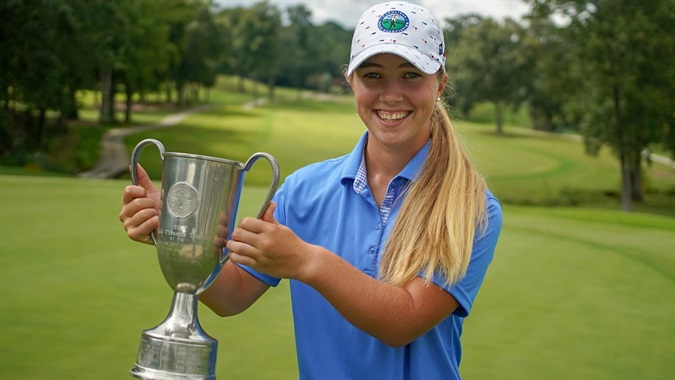 CHARLOTTE, N.C. (August 25, 2019) – Final results of the 14th Vicki DiSantis Junior Girls' Championship at Pine Island Country Club in Charlotte, N.C. on August 25, 2019.
Related: Championship Website | Starting Times | Scoring | History | Photos
The sun shined brightly on Chloe Holder of Williamston, S.C. on an otherwise cloudy weekend. Holder held on to her 18-hole lead to capture the 14th Vicki DiSantis Girls' Championship by two shots
"I'm feeling pretty great. I'm excited for sure," said Holder. "Honestly to me it kind of proves that I can come out here and win. I can do this. I can hang with everybody and I can win."
The day started out a little rocky for Holder after a bogey on No. 3 pulled Katherine Schuster of Kill Devil Hills, N.C. within one shot of the lead.

"I thought, 'Okay, I gotta focus a little bit here,'" said Holder. "So, I was able to make birdie on number seven, the par 5. That gave me back some momentum but then I turned around and bogeyed number 8."
That's the point that Holder got into the zone birdieing the next three holes in a row. The birdies on Nos. 9, 10 and 11 gave Holder a five-shot lead heading into the par-4 12th hole.
"That really pushed me to the top and to stay there," said Holder. "I was just playing steady golf after that."
Holder never relinquished her lead on Sunday but she wasn't in the clear at that point. Alexia Siehl of Fort Mill, S.C. started the round four shots back of Holder, but was able to finish within two.

They matched each other with a pair of 1-under-par, 35s on the front nine. A birdie on the par-3, 17th hole by Siehl got her back within two shots of the lead heading into No. 18. She would finish round two with a 1-under-par, 71 and 145 total for the championship to claim the runner-up spot.
Siehl and Kelly Topiwala of Mathews, N.C. both shot 1-under-par, 71; the low rounds of the day.
Kayleigh Reinke of Rock Hill, S.C., finished in solo third place with a 3-over-par, 147 total for the championship.
The Carolinas Golf Association would like to thank the members and staff of Pine Island Country Club for working with us to reschedule the Vicki DiSantis Girls' Championship, which is usually held in May. A special thank you to the Head Golf Professional, Joey Schneider and his Pro Shop staff, General Manager, Mike Riddle and Course Superintendent, Scott Cato.
The Vicki DiSantis Girls' Championship is 36 holes of stroke play competition. Entry is open to any female amateur golfer ages 12 to 18, who has not started college, maintains a residence in North Carolina or South Carolina, is a member in good standing of a club which is a member of the Carolinas Golf Association (CGA) and has a current USGA Handicap Index® at a CGA member club that does not exceed 18.3.
14th Vicki DiSantis Girls' Championship
Pine Island Country Club | Charlotte, N.C.
Final Result
| | | | | | | |
| --- | --- | --- | --- | --- | --- | --- |
| Pos. | Player | City, State, Grad Year | To Par | R1 | R2 | Total |
| 1 | Chloe Holder | Williamston, SC, 2021 | -1 | 71 | 72 | 143 |
| 2 | Alexia Siehl | Fort Mill, SC, 2022 | +1 | 74 | 71 | 145 |
| 3 | Kayleigh Reinke | Rock Hill, SC, 2021 | +3 | 75 | 72 | 147 |
| T4 | Katherine Schuster | Kill Devil Hills, NC, 2021 | +4 | 73 | 75 | 148 |
| T4 | Victoria Cook | Reidsville, NC, 2020 | +4 | 76 | 72 | 148 |
| 6 | Molly Hardwick | Lexington, SC, 2022 | +5 | 75 | 74 | 149 |
| T7 | Kelley Topiwala | Matthews, NC, 2020 | +6 | 79 | 71 | 150 |
| T7 | Macy Pate | Boone, NC, 2024 | +6 | 73 | 77 | 150 |
| T9 | Maria Atwood | Holly Springs, NC, 2022 | +7 | 77 | 74 | 151 |
| T9 | Mary Kathryn Talledo | Spartanburg, SC, 2021 | +7 | 76 | 75 | 151 |
| T11 | Cindy Song | Waxhaw, NC, 2023 | +8 | 76 | 76 | 152 |
| T11 | Isabella Britt | Chesnee, SC, 2021 | +8 | 76 | 76 | 152 |
| T11 | Mia Gray | Conway, SC, 2023 | +8 | 77 | 75 | 152 |
| T11 | Riley Hamilton | Reidsville, NC, 2020 | +8 | 79 | 73 | 152 |
| T15 | Morgan Ketchum | Winston-Salem, NC, 2022 | +9 | 76 | 77 | 153 |
| T15 | Adrian Anderson | Murrells Inlet, SC, 2022 | +9 | 78 | 75 | 153 |
| T17 | Sofia Carles | Clinton, SC, 2021 | +10 | 76 | 78 | 154 |
| T17 | Megan Morris | Cary, NC, 2021 | +10 | 80 | 74 | 154 |
| T19 | Kennedy Gooding | Lexington, SC, 2022 | +11 | 77 | 78 | 155 |
| T19 | Trinity Muthomi | Kernersville, NC, 2022 | +11 | 76 | 79 | 155 |
| T21 | Chloe Pittman | Davidson, NC, 2020 | +12 | 80 | 76 | 156 |
| T21 | Macie Burcham | Greensboro, NC, 2021 | +12 | 80 | 76 | 156 |
| T23 | Emily Mathews | Mebane, NC, 2023 | +13 | 77 | 80 | 157 |
| T23 | Lexi Bennett | Santee, SC, 2021 | +13 | 78 | 79 | 157 |
| T23 | Mattie Padgett | Seneca, SC, 2023 | +13 | 78 | 79 | 157 |
| T23 | Layla Meric | Wesley Chapel, NC, 2021 | +13 | 79 | 78 | 157 |
| T27 | Grace Holcomb | Wilmington, NC, 2021 | +14 | 79 | 79 | 158 |
| T27 | Karlee Vardas | Lexington, SC, 2021 | +14 | 78 | 80 | 158 |
| T27 | Kennedy McGaha | Honea Path, SC, 2021 | +14 | 79 | 79 | 158 |
| T27 | Sophie Holland | Cornelius, NC, 2020 | +14 | 79 | 79 | 158 |
| T27 | Katelyn Lee | Easley, SC, 2020 | +14 | 80 | 78 | 158 |
| T32 | Elizabeth Lohbauer | Huntersville, NC, 2021 | +15 | 77 | 82 | 159 |
| T32 | Sophie Lauture | Raleigh, NC, 2024 | +15 | 79 | 80 | 159 |
| T32 | Anna Howerton | Kernersville, NC, 2023 | +15 | 79 | 80 | 159 |
| T32 | Ella Kue | Kings Mountain, NC, 2023 | +15 | 79 | 80 | 159 |
| T32 | Madison Dixon | Inman, SC, 2023 | +15 | 80 | 79 | 159 |
| T32 | Sydney Roberts | Chesnee, SC, 2022 | +15 | 82 | 77 | 159 |
| T38 | Grayson Warren | Washington, NC, 2021 | +16 | 79 | 81 | 160 |
| T38 | Mara Hirtle | Pinehurst, NC, 2020 | +16 | 78 | 82 | 160 |
| T38 | Lauren Martin | Mooresville, NC, 2020 | +16 | 80 | 80 | 160 |
| T41 | Kayla Dowell | Mebane, NC, 2021 | +17 | 82 | 79 | 161 |
| T41 | Nicole Nash | Charlotte, NC, 2023 | +17 | 82 | 79 | 161 |
| T43 | Sarah Boteler | Greenville, SC, 2021 | +18 | 79 | 83 | 162 |
| T43 | Autumn Carey | Manning, SC, 2022 | +18 | 80 | 82 | 162 |
| T43 | Gabriela Cruz | High Point, NC, 2021 | +18 | 81 | 81 | 162 |
| T43 | Mary Sears Brown | Wake Forest, NC, 2021 | +18 | 82 | 80 | 162 |
| T47 | Abby Franks | Roebuck, SC, 2023 | +19 | 81 | 82 | 163 |
| T47 | Braelyn Pippin | Waxhaw, NC, 2020 | +19 | 84 | 79 | 163 |
| T47 | Lextyn Petz | Columbia, SC, 2021 | +19 | 81 | 82 | 163 |
| T47 | Sydney Bowes | Bluffton, SC, 2021 | +19 | 85 | 78 | 163 |
| T47 | Tyler Spriggs | Cary, NC, 2023 | +19 | 87 | 76 | 163 |
| T52 | Justine Pennycooke | Cary, NC, 2023 | +22 | 85 | 81 | 166 |
| T52 | Madison Logan | Brasstown, NC, 2022 | +22 | 80 | 86 | 166 |
| T54 | Lotte Fox | Raleigh, NC, 2020 | +23 | 81 | 86 | 167 |
| T54 | Heather Appelson | Wake Forest, NC, 2023 | +23 | 89 | 78 | 167 |
| T54 | Kallie Pavlish | Charlotte, NC, 2020 | +23 | 86 | 81 | 167 |
| 57 | Erin Singleton | Apex, NC, 2020 | +24 | 84 | 84 | 168 |
| 58 | Emma Curran | Greer, SC, 2021 | +25 | 84 | 85 | 169 |
| 59 | Anna Claire Bridge | Raleigh, NC, 2021 | +26 | 85 | 85 | 170 |
| 60 | Zoe Carles | Clinton, SC, 2023 | +27 | 81 | 90 | 171 |
| 61 | Caitlyn Cash | Chesnee, SC, 2020 | +28 | 85 | 87 | 172 |
| T62 | Katelyn Kenthack | Southern Pines, NC, 2020 | +30 | 87 | 87 | 174 |
| T62 | Paige Paolucci | Blythewood, SC, 2022 | +30 | 93 | 81 | 174 |
| 64 | Amber Capote | Waxhaw, NC, 2020 | +38 | 87 | 95 | 182 |
| WD | Deborah Spair | Raleigh, NC, 2020 | | WD | | WD |
| WD | Hailey Pendleton | Waxhaw, NC, 2020 | | WD | | WD |